People of Flanders: Ali El Moussaoui is the change he wants to see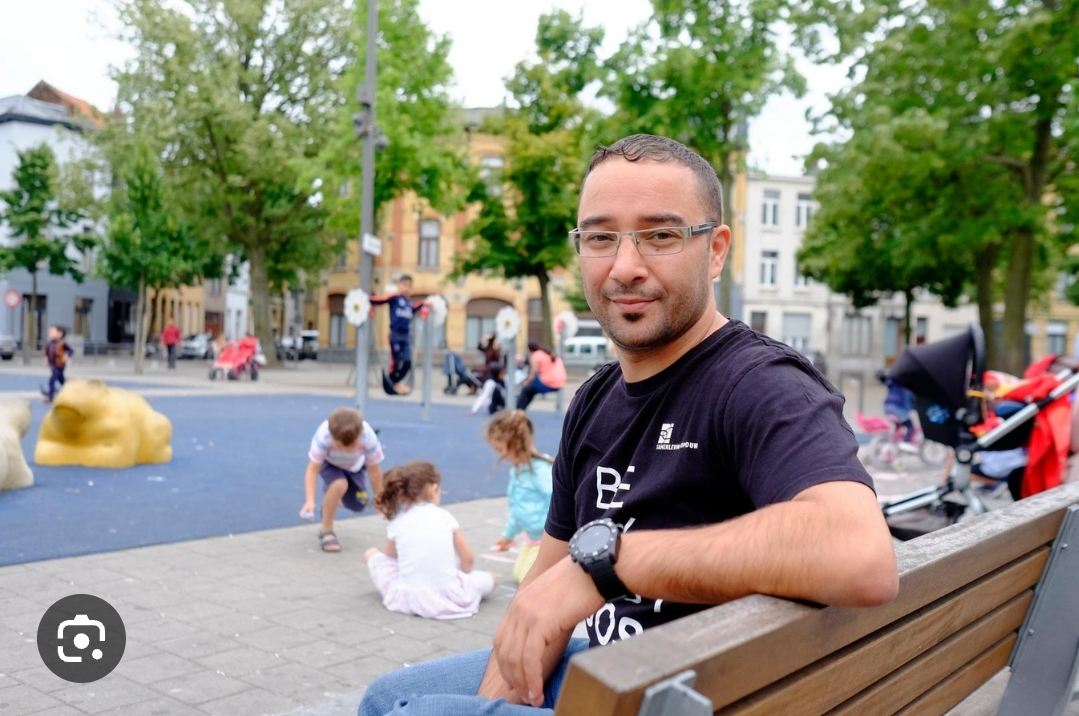 Feeling excluded from society can be difficult at any age, but for young people, a lack of belonging can have long-lasting effects. SAAMO, a non-profit founded in 1983, has made it its mission to bring together people from different communities to improve societal relations and strengthen neighbourhoods and cities. Platform member Ali El Moussaoui has been part of this change for 13 years.
El Moussaoui, born in 1975, moved from Morocco at the age of two to join his father, who had been living in Belgium since 1970. The eldest of eight children, he grew up in Borgerhout, where he had "a lot of love, shelter and food at home, but no budget for activities or vacation."
He describes this corner of Antwerp as a hub for Moroccan communities with high poverty and unemployment rates, large families in small homes and very little public space. He soon took on the role of translating interactions for his parents, who spoke limited Dutch and began to face what it meant to be an outsider.
"I felt especially that as a Moroccan/foreigner, I wasn't welcome everywhere, except in the youth club"
El Moussaoui saw how little attention Borgerhout received, leading to disadvantages in the neighbourhood such as drug dealing, dirty streets and little to do. He found comfort and belonging in a youth club that gave a group of about 20 young people a place to play and interact safely.
He credits his experiences here for the fact that he was drawn towards volunteering and eventually working in the youth sector. "Growing up in Borgerhout was not always easy," he says. "I felt especially that as a Moroccan/foreigner, I wasn't welcome everywhere, except in the youth club."
Like many, El Moussaoui faced racism in school and everyday life. He says those experiences shaped him into who he is today and gave him more reason to give back to the community, with the aim of changing the harmful narrative around foreigners.
He joined SAAMO in 2010 as a community-building worker with the sub-group Samen Op Straat in Antwerp. The organisation is committed to fundamental rights and fighting exclusion, two topics close to El Moussaoui's heart. It works towards structural change at policy level and its volunteers provide support in a number of areas, including housing, energy, water, health, education, neighbourhood safety, social life and finding work.
"SAAMO is an organisation that views exclusion as an error in the system," El Moussaoui says. Its goal is to engage and cooperate with the people who create the sense of exclusion and work with others to change how the system operates. By making people see what exclusion does to society, they slowly change the minds and actions of people who are not always receptive to immigrants and different cultures. This shift is especially important for people in positions to make policy change.
El Moussaoui points out that social problems are often related to poverty and that policy change must address this on a political level. Engaging in this type of discourse leads to what SAAMO refers to as "collective citizenship", where people feel they can depend on their neighbours and communities and be responsible for others' well-being.
The satisfaction El Moussaoui finds from his work is clear. "SAAMO means a lot to me," he says. "It's super important that we can, in our incredibly diverse society, work together through differences in culture, religion, economic status and so on."
The platform hopes to close the income and societal gap between people in communities more each year and continue to benefit excluded citizens. "Fighting discrimination and creating inclusion gives me a lot of strength," says El Moussaoui.
(MOH)
#FlandersNewsService | © BELGA PHOTO SAAMO
Related News