Uncertainty surrounds future of Brussels metro line 3 expansion
23 May 2023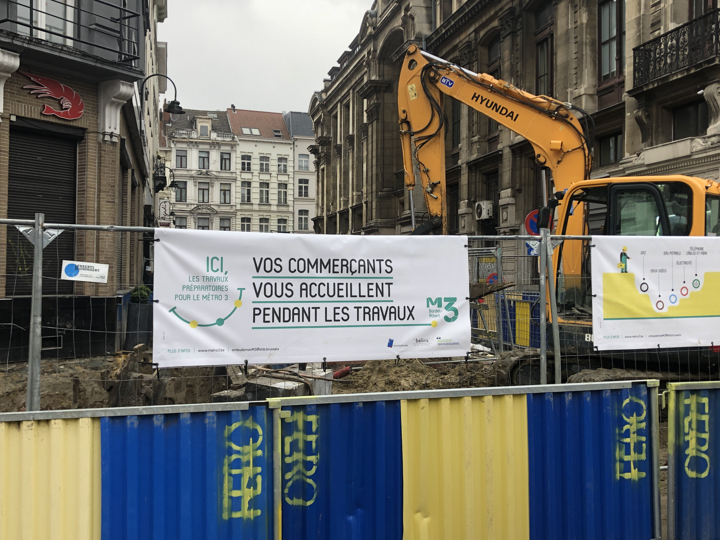 Brussels public infrastructure company Beliris is suspending construction on metro line 3 between North Station and Bordet, newspaper L'Echo reported on Tuesday. The decision to halt construction is attributed to a significant additional cost in the bids for constructing the tunnel and stations.
L'Echo writes that Beliris, in charge of the metro line 3 expansion, is looking for a supervisor to oversee a transition process in its human resources department. This would involve redeploying staff, who have worked for the metro project for years, to other departments.
Asked whether the project had been suspended, the office of federal minister Karine Lalieux, in charge of Beliris, told Belga on Tuesday afternoon that "no decision has been made". The cabinet added that notification had been sent to the Brussels government on Monday.
"The metro remains an important project for the Brussels government"
The Brussels regional government will discuss the issue at the council of ministers on Thursday. "We are very surprised. Beliris did present us with the proposals received at the beginning of this week," said a spokesperson for Mobility minister Elke Van den Brandt. "The metro remains an important project for the Brussels government. We will review and discuss it on Thursday. At the moment, no decision has been made yet."
The project for the North Station-Bordet section of metro line 3 was set to be awarded next year. Just two months ago, the Brussels government approved the mandate to start negotiations with the federal government on further funding for the construction works.
Work is under way on the North Station-Albert section, but the worksite has been at a standstill since mid-2021 due to technical difficulties.
(BRV)
Construction site for metro line 3 and the new underground station Toots Thielemans, March 2020 © BELGA PHOTO NILS QUINTELIER
Related news