Six union members arrested amid ongoing Delhaize protests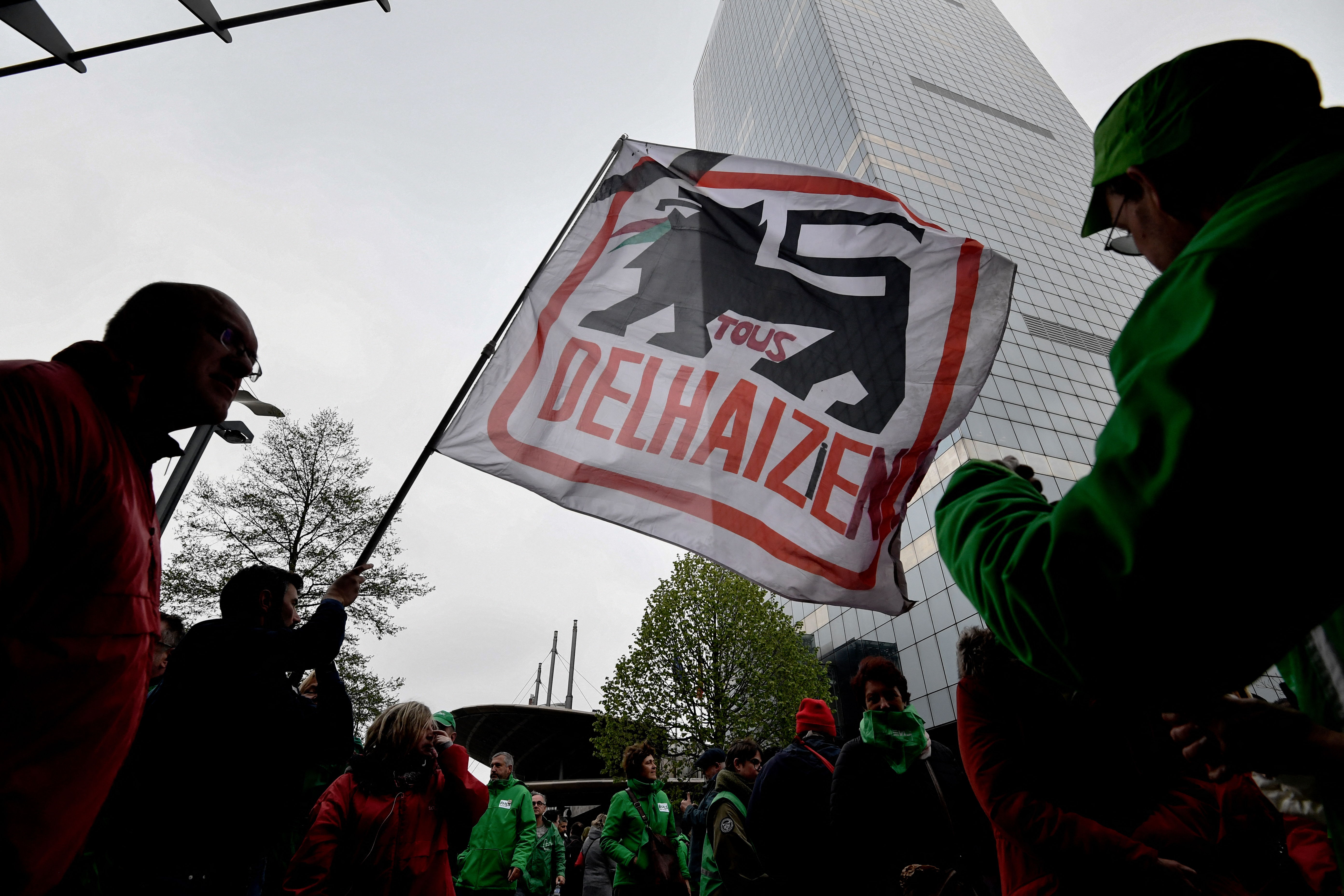 Six union members were arrested during a protest at a branch of Delhaize on Watersportbaan in Ghent on Saturday morning. They were released a few hours later and rejoined the demonstration.
Union members had attempted to block access to the shop after 10 bailiffs were sent to 10 separate branches, in response to stores threatening to remain closed on Saturday. Delhaize director of communications Roel Dekelver confirmed seven of the chain's 128 stores were closed as of Saturday morning.
This is not the first time bailiffs have been sent to reopen stores during the ongoing strikes. Union members took action after Delhaize's announcement on 7 March that it plans to franchise its stores, affecting around 9,000 jobs.
"It is unacceptable that employers today carry out restructuring without real social dialogue"
With the long weekend around the corner, Saturday promised to be a busy day in the supermarkets. Unions had already indicated they might carry out new actions, which Delhaize had anticipated. "We deployed bailiffs on a large scale because a dozen shops threatened to keep their doors closed. The local police were also deployed in some places," says Dekelver.
Two branches in Brussels and Mons have been closed by management until next Tuesday, while planned repairs are being carried out in Prince de Liège in Molenbeek. Four stores - Hippodrome (Antwerp), Deurne, Marcinelle and Montigny - will be closed on Saturday.
'Delhaize law'
Meanwhile, the General Labour Federation of Belgium (ABVV) wants to see a law introduced that would oblige Delhaize and other companies to engage in social dialogue. Miranda Ullens, the general secretary of ABVV, says the Renault law, which regulates the procedure after collective redundancy, must be amended.
"It is unacceptable that employers today carry out restructuring without real social dialogue," she says. "By limiting themselves to the legal terms, they ignore the social spirit of the Renault law entirely."
With Labour Day approaching, the socialist trade union launched the idea of introducing a "Delhaize law". If a large company decides to become independent, it should also respect the rules on collective redundancies, as laid down in the Renault law.
Management and trade unions are due to meet again on Tuesday to discuss the plans for the future, this time without a social mediator.
© JOHN THYS / AFP