Globachem, Plug Power and Loop take home first Flanders International Business Awards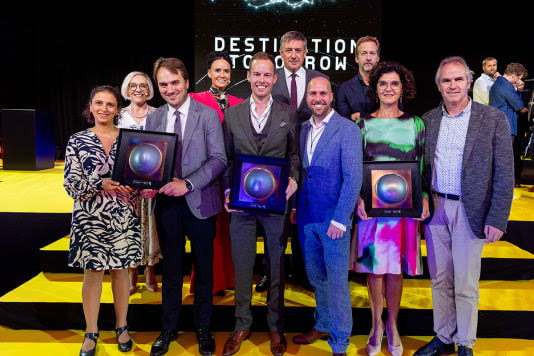 Flemish export agency Flanders Investment and Trade (FIT) presented the first Flanders International Business Awards on Wednesday. The awards celebrate an exporting company, a foreign investor and a start-up that "makes Flanders shine far beyond its borders". The first awards went to Globachem from Sint-Truiden, Plug Power from Antwerp and Loop Earplugs from Berchem.
Globachem is a family-owned company that develops a range of crop protection products. Since its inception 20 years ago, it has focused on major agricultural countries such as France, Germany, the UK, Poland and later Brazil.
Plug Power is building one of Europe's largest green hydrogen plants in the port of Antwerp-Bruges, and Loop Earplugs was founded by two childhood friends with tinnitus. They developed earplugs that always fit, which have since become a sought-after accessory worldwide.
Three companies were nominated in each category. A jury led by Yin Oei, the CEO of Living Tomorrow, and FIT chair Sonja Willems chose the three winners.
During the show, attended by Flemish minister president Jan Jambon, three "international high potentials" were also honoured: Henchman and OTIV, from Ghent, and B4Plastics from Dilsen-Stokkem. "They are organisationally, financially and technologically on the verge of scaling up internationally," said Olivier Van Orshoven, head of Start-up.Flanders.
FIT CEO Joy Donné called the winners and the other candidates "true ambassadors for Flanders in this strong first edition. Their achievements, innovations, creativity and commitment contribute to building a strong Flemish ecosystem".
#FlandersNewsService | Jan Jambon with representatives from Globachem, Plug Power and Loop Earplugs at the first Flanders International Business Awards © PHOTO FLANDERS INTERNATIONAL BUSINESS AWARDS
Related news