Car-Free Sunday brings pedestrians and cyclists to the streets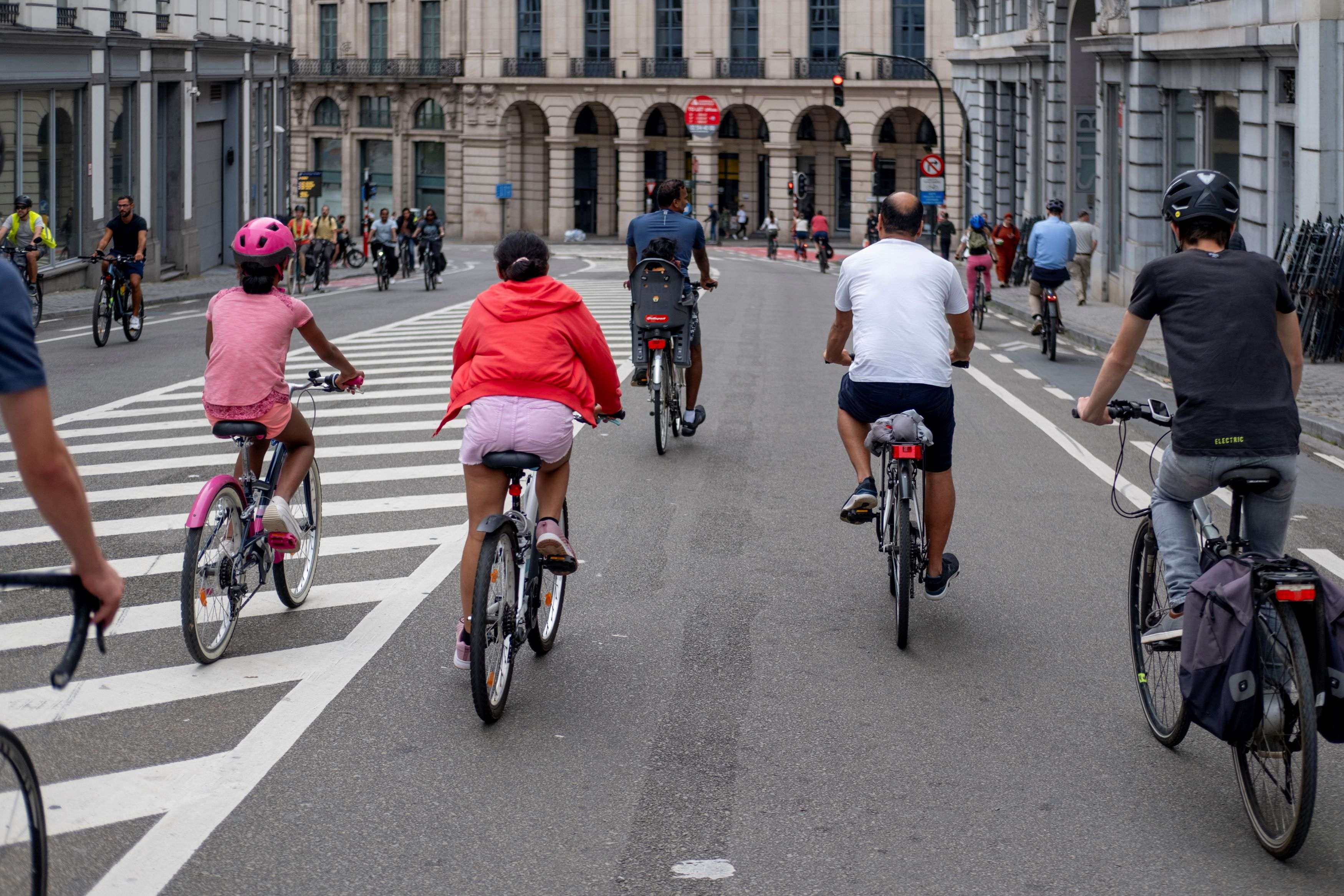 Millions of people took to the streets on foot, bike, roller skate and horseback to enjoy Car-Free Sunday in dozens of towns and cities across Belgium.
The event takes place each year during European Mobility Week, from 16-22 September. Roads are closed to motorised traffic, with the exception of public transport, emergency vehicles and individuals who apply in advance for an exemption. 
Public transport in Brussels is free during the day and communal events are organised, including workshops, poetry and a bike polo tournament. An open day at public transport operator STIB's depot in Haren attracted almost 3,000 visitors this year. 
Brussels Mobility minister Elke Van den Brandt (Groen) called the event in the capital "a great success". "I would like to organise a Car-Free Sunday every month," she said in a press release. "I've already suggested this to the mayors, starting with a second one during the Iris Festival in May. Unfortunately, I've not been able to convince them yet. Next year we will try again."
"If we rethink the use of our streets together, it adds value in terms of road safety, health and quality of life for the city and its inhabitants"
Sustainable mobility organisation Mobiel 21 called it "a day when the streets were given back to the people and public spaces once again provided social connection, relaxation and tranquillity". Its figures show that 3.6 million people took part in the day in Flanders and Brussels.
"A car-free Sunday inspires and motivates," said spokesperson Sanne Vanderstraeten. "It gives people a chance to see what is possible when the car no longer dictates the law on the roads. With all the climate targets and renewed focus on people-friendly mobility, Car-Free Sunday is more relevant today than ever."
Call for investment
An attempt by cyclists' associations Fietstersbond and GRACQ to form the longest bicycle chain in the world, from Brussels to Halle in Flanders and Tubize in Wallonia, was unsuccessful, due to too few participants. 
Their aim with the proposed 22 km chain was to show that "cyclists do not benefit from regional borders", said spokesperson Wies Callens. "All policy levels should continue to invest in cycle paths. Let's join forces and grease the chain properly so that cycling can be even more widespread."
Meanwhile, King Philippe and his eldest son, Prince Gabriel, took a ride through Antwerp, where Car-Free Sunday took place in the city centre. They started at the photography museum and visited several landmarks in the city, including Park Spoor Noord, fortress Het Steen and the Museum aan de Stroom. 
New work by local poets was published on six Antwerp streets, commissioned by Recht Op Lucht, a citizens' collective that calls for cleaner air in the city. The works were chalked on the ground in metre-high letters on streets that had been transformed into car-free play areas. 
Quality of life
"It's Car-Free Sunday in a lot of cities and towns, but in Antwerp only in the historic city centre," said Recht Op Lucht spokesperson Marlies Lenaerts. "If we rethink the use of our streets together, it adds value in terms of road safety, health and quality of life for the city and its inhabitants."
As well as Brussels, Ghent, Bruges, Aalst, Mechelen, Ypres and Kortrijk were among the 48 Flemish municipalities that went car-free for the day. In Wallonia, several town centres were closed to motorised traffic, with Ath in Hainaut and Ans in Liège province totally car-free.
© BELGA PHOTO HATIM KAGHAT / BELGA VIDEO KATLEEN VASTIAU
Related news