Young farmers protest throwing nitrogen in the port of Antwerp
3 August 2022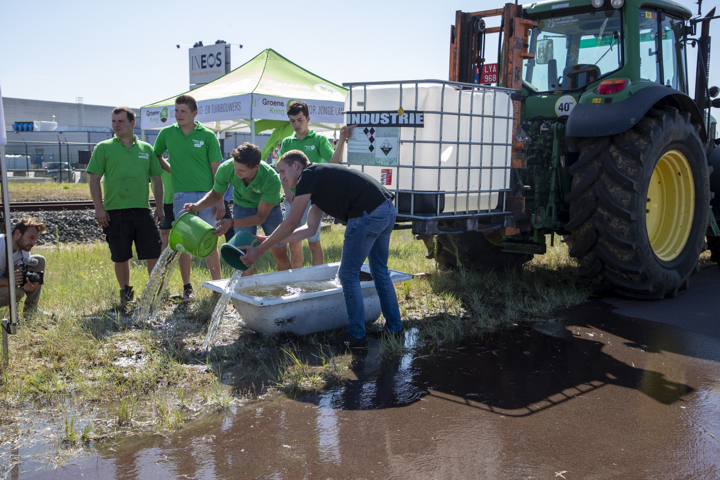 Groene Kring, the largest organization of young farmers and horticulturists in Flanders, protested this August 3 in the harbor of Antwerp. The protesters drove their tractors and symbolically overflowed a nitrogen bath next to the chemical company Ineos. The action meant to denounce the nitrogen agreement of the Flanders government.
"It is not fair that the industry has to comply with less stringent rules than our farms," says Lies Bernaerts of Groene Kring. "This nitrogen bath is a metaphor: it is filled by industry. We young farmers can take it, but the industry can continue to fill the bath."
According to Groene Kring, the nitrogen agreement completely sacrifices the agricultural sector. Ineos, on the other hand, understands the situation of young farmers, but stresses that their action is not the right one.
Groene Kring points out that a company like Ineos produces emissions equivalent to those of a hundred dairy farms. According to the young farmers, it is therefore clearly a "policy of double standards" and that they are not involved in the policy making. 
The organization speaks of a complete lack of prospects for young farmers due to the nitrogen agreement. "It is embarrassing that the industry is getting permits from the Flemish government," says Bernaerts.For Groene Kring, Ineos has simply become the symbol of an "unjust Flemish policy". 
Ineos defends that its "Project One" has a big advantage in terms of sustainability. The ethane cracker that Ineos will build will produce ethylene with the lowest carbon footprint in Europe. 
"We understand the difficult situation and the great challenge facing Flemish agriculture," said Nathalie Meert, spokeswoman for Ineos. "With Project One, we have set the bar particularly high. There is a radical commitment to sustainability through innovation." "It is three times less than the average European cracker", specifies Ineos. 
Project One emits 168 tonnes of nitrogen oxides (NOx) on an annual basis and, through the installation of the SCR (selective catalytic reduction) mechanism, 18 tonnes of ammonia. Flemish Environment Minister Zuhal Demir acknowledged the problem, but called these emissions the "lesser of two evils". 
(VIV)
#FlandersNewsService
© BELGA PHOTO (NICOLAS MAETERLINCK)