World first: Port of Antwerp-Bruges gets exclusive drone network
5 May 2023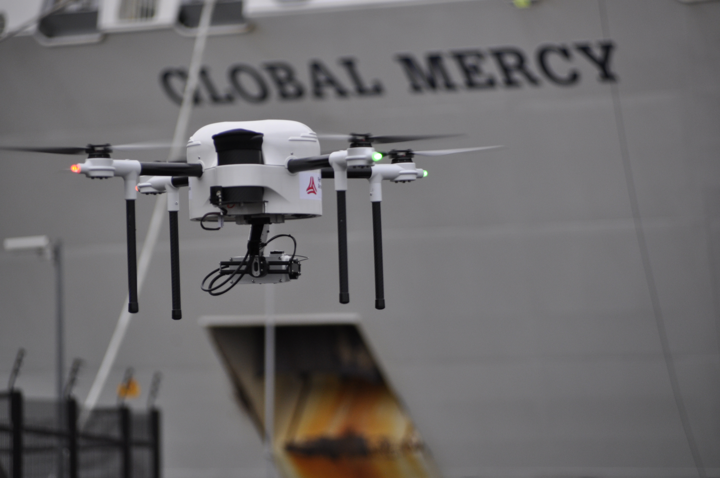 The Port of Antwerp-Bruges is getting an exclusive drone network to monitor all port activities in a live feed. "It is the world's first implementation of BVLOS flights on this scale in a complex industrial environment," the port authority says.
BVLOS stands for Beyond Visual Line of Sight and means the pilot cannot see the drone in flight. A total of six autonomous drones will fly in the port area every day. To make this possible, the Port of Antwerp-Bruges and its partners DroneMatrix, Skeydrone and Proximus have set up a drone network called D-Hive.
"Drones provide a unique aerial perspective and enable us to manage, inspect and control a large area quickly and safely," says the port authority. The drones will be used for berth management, infrastructure inspections and oil spill and drift detection, and to support security partners.
"Drones are a lever in the execution of our core tasks"
"Drones are a lever in the execution of our core tasks," Jacques Vandermeiren, CEO of Port of Antwerp-Bruges, says. "Given the huge surface of the port area, this network plays a crucial role in the further development of the digital port: a network of cameras, sensors and drones that provide a real-time picture of what is happening in the port every second." ​
Drone telematics services
To manage drone traffic, the port has partnered with Unifly, an Antwerp-based software company that provides a platform for drone telematics services for unattended traffic management.
In addition to developing the drone portal, Unifly is responsible for developing the system that monitors all drone flights. When a drone deviates from the specified flight path or a safety risk arises for any other reason, the system immediately issues an alert. The system also warns of unwanted drones.
#FlandersNewsService | © BELGA PHOTO JONAS VAN BOXEL © VIDEO PORT OF ANTWERP-BRUGES