'World's best beer' Westvleteren goes on sale in Dutch off-licences
22 May 2023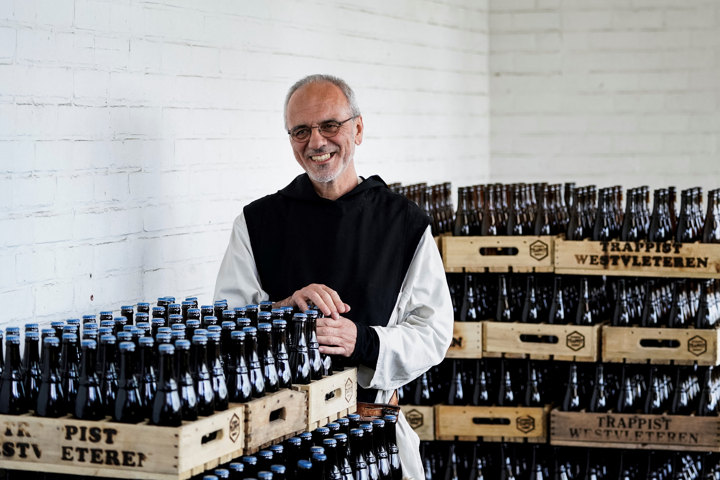 The renowned Westvleteren Trappist ale, which in Belgium is on sale only at the abbey in Westvleteren or via home delivery, will soon be available in shops throughout the Netherlands. The monks of St Sixtus Abbey in Westvleteren announced the move on Monday.
The monks are starting a one-year pilot project, in which around 790 hectolitres - the equivalent of 240,000 bottles - of the Blond, 8 and 12 varieties will be exported to the Netherlands. This accounts for more than 10 per cent of the annual production.
The exclusive beer, regularly voted the best in the world, will be sold in the Netherlands in "a large number of independent off-licences". By doing so, the monks say they want to "reduce the illegal profiteering of Trappist Westvleteren on the Dutch market".
"The brothers want as many people as possible to enjoy their Trappist beers at a normal, fair price"
People had been buying crates of Westvleteren beer at the abbey in West Flanders, only to resell them afterwards for many times the original price. "These profiteering practices are diametrically opposed to the values of the monastic community," the abbey said in a press release. "After all, the brothers want as many people as possible to enjoy their Trappist beers at a normal, fair price."
The beer should be on the shelves of off-licences by 18 June - Father's Day in the Netherlands. It will be sold in cardboard boxes rather than crates.
Belgian tradition
For Belgian beer lovers, nothing will change. They can reserve crates of Westvleteren online and collect them at the abbey gate. In addition, duo and six-packs are on sale at a nearby centre, and 24 bottles can be delivered to homes in Belgium.
The hard-to-come-by beer has been brewed at St Sixtus Abbey since 1839. The sale of Trappist beer is the monks' only source of income and covers living expenses, the wages of people working at the abbey and the monastery's upkeep. Whatever is left over goes to good causes.
Trappist beers, mostly a Belgian tradition, are beers made by or under the supervision of monks within the walls of a Benedictine abbey and not sold for profit. Only 13 Trappist monasteries in the world, six of which are in Belgium, brew officially recognised Trappist beers.
(BRV)
#FlandersNewsService © PHOTO Kenzo Tribouillard / AFP
Related news