World Artistic Gymnastics Championships kick off in Antwerp without Belgium's star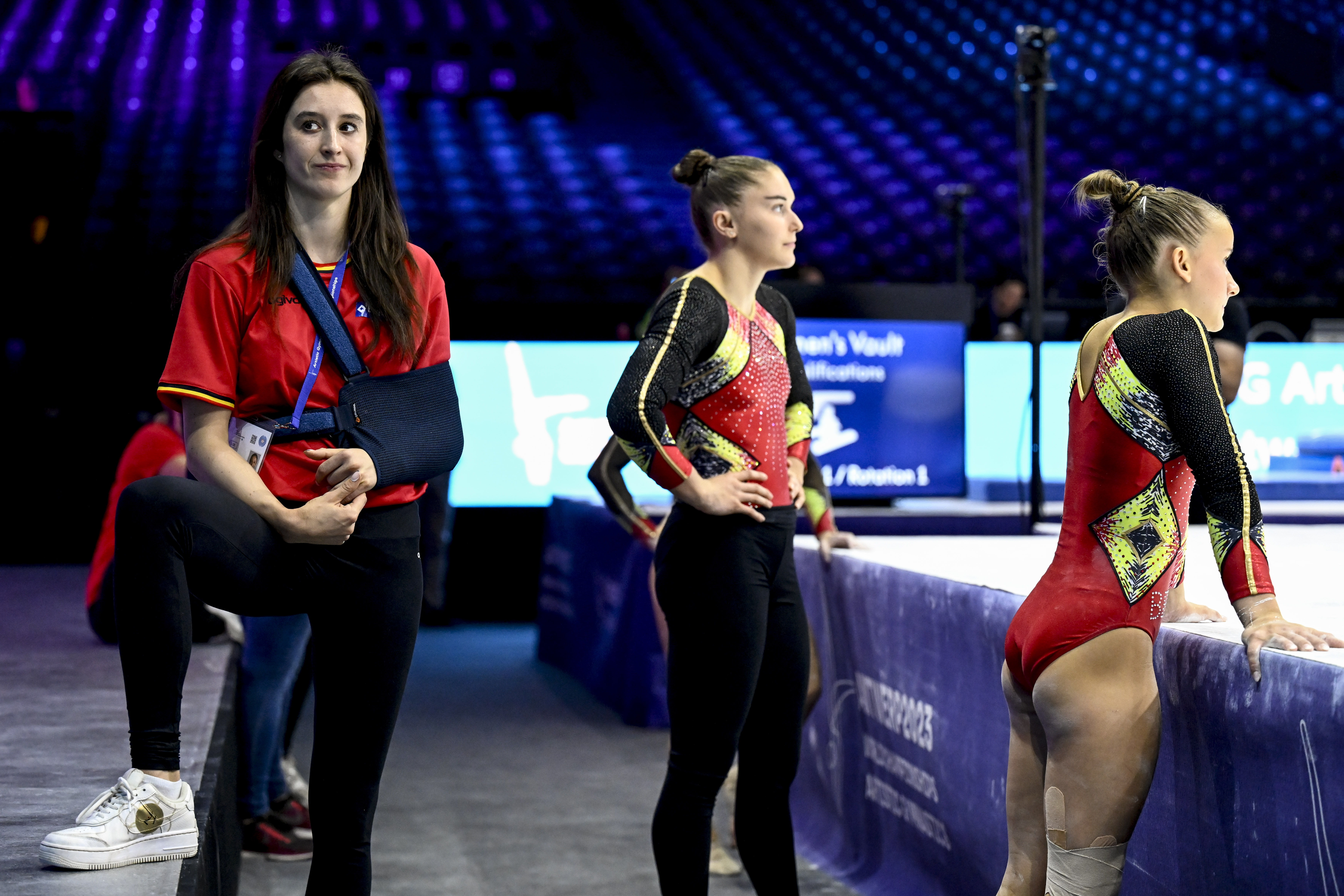 From Saturday, the world's best gymnasts will be competing at the World Gymnastics Championships in Antwerp. But Nina Derwael, Belgium's most successful gymnast of all time, is unable to take part due to a shoulder injury.
The home team will lack firepower for the eight-day tournament in Antwerp. Nineteen-year-old Lisa Vaelen, bronze medallist at the recent European Championships in Antalya, Turkey, will be absent as she recovers from glandular fever.
No Nina Derwael
The biggest loss for Belgium is Derwael. The Olympic gold medallist and two-time uneven bars world champion described missing out as "a childhood dream shattered".
"I don't know many examples of female gymnasts who have come back from shoulder injuries"
Derwael, 23, has been struggling with a shoulder problem all season and missed the European Championships. She underwent surgery in September and will be sidelined for another three months. The impact of the injury on her career is still unclear.
"There are many male gymnasts who have come back from shoulder injuries. But I don't know many examples of female gymnasts," her coach, Marjorie Heuls, said. But giving up is not an option, she added. "She is not ready for that yet. She loves gymnastics and still wants to feel the adrenaline. This is her life."
2024 Olympics
Despite the absence of two of Belgium's most talented athletes, the Flemish gymnastics federation said the goal of the tournament had not changed. Gymfed wants to reach the 2024 Olympic Games in Paris with both men's and women's teams.
Belgium will be able to send a team of five gymnasts to next year's Olympics in Paris if it finishes in the top 12 at the World Championships, provided that the US, Canada and Great Britain also finish in the top 12. If a team finishes in the top 15, Belgium will receive an individual quota, meaning that one individual gymnast will be able to compete in Paris in 2024.
Belgium's women's team - with Derwael and Vaelen - finished 11th at the 2022 World Championships, while the men's team finished 16th.
American legend
Without Derwael, Simone Biles, winner of 19 gold medals and seven Olympic medals, will be the star of the show. The American sensation won her first World Championship medals in Antwerp 10 years ago. She withdrew from the 2021 Olympic Games in Tokyo due to "the twisties", a temporary loss of balance awareness while in mid-air. The tournament in Antwerp marks the start of her comeback.
This is the third time the tournament has been held in Antwerp: the city hosted the first edition in 1903 and the 2013 edition. In 2001, the World Artistic Gymnastics Championships were held in Ghent. The competition runs until Sunday 8 October and tickets are still available.
#FlandersNewsService | The injured Belgian gymnast Nina Derwael, with her arm in a sling, during a training session ahead of the Artistic Gymnastics World Championships in Antwerp © BELGA PHOTO DIRK WAEM
---
Related news