Thousands demonstrate gainst Russian invasion of Ukraine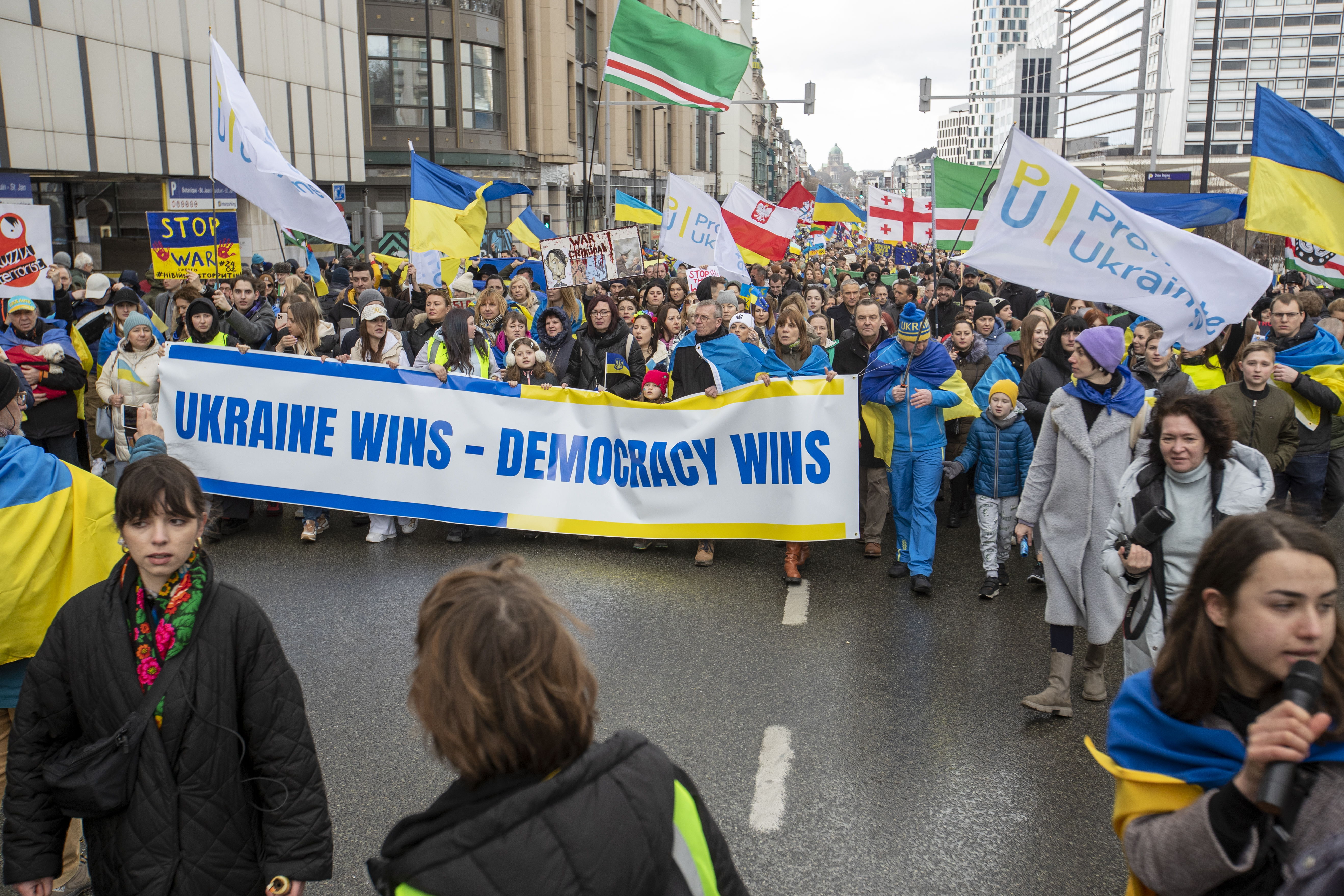 In Brussels on Saturday afternoon, several thousand people participated in a demonstration against the Russian invasion of Ukraine and for solidarity with the Ukrainian people. The rally is part of a global week of action against the war and is an initiative of Promote Ukraine, the Ukrainian Women's Union in Belgium and the Belgian committee of the European Solidarity Network with Ukraine (RESU).
The demonstration is supported by 200 active citizens and organisations. They include grassroots organisations and people actively involved in solidarity with Ukraine, associations of Ukrainians in Belgium, citizens from the cultural sector, feminists, trade unionists, people active around LGBTQ rights, and others. The protesters demand an immediate withdrawal of Russian troops from all of Ukraine and an unconditional halt to the bombing of Ukraine.
The protesters marched behind a large banner reading "Ukraine wins - democracy wins" and a large Ukrainian flag. Some protesters marched in traditional Ukrainian costumes.
"The invasion has already cost the lives of tens of thousands of Ukrainian citizens," said Marta Barandiy, chairwoman of Promote Ukraine. "Every day, the Ukrainian people face brutality and violence. Millions of citizens have been forced to flee abroad, and millions have been displaced. Entire towns and villages have been left in ruins by Russian bombing and airstrikes."
A large number of Iranians, who have been demonstrating against the Iranian regime in recent weeks, were also present. "Freedom for Iran, freedom for Ukraine, all together we will win" their banner read.
The demonstration marched from Albert II avenue to Cinquantenaire Park.
(BRV)
© BELGA PHOTO NICOLAS MAETERLINCK