Social conflict at Delhaize supermarkets sparks political debate on interference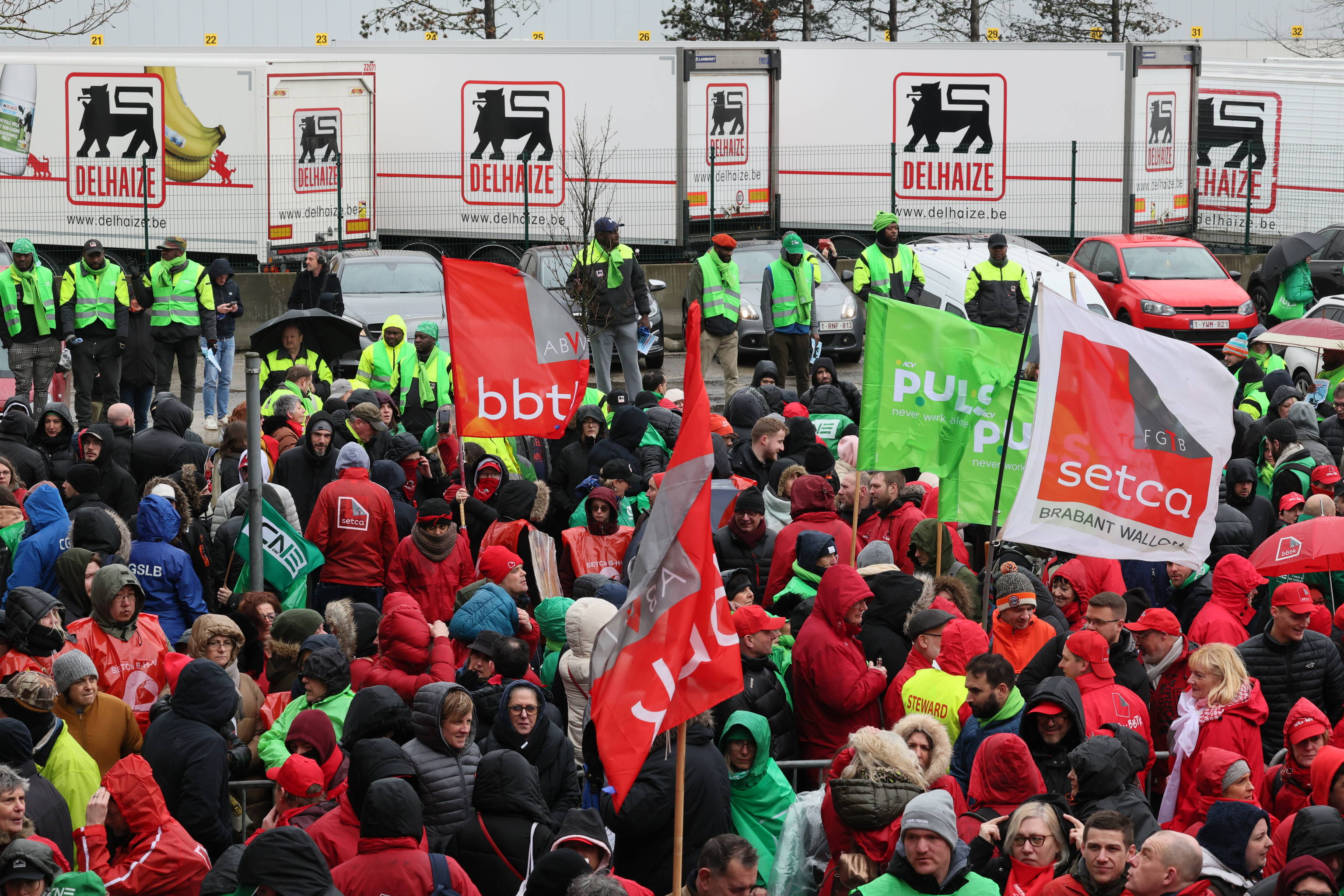 A social conflict over Belgian supermarket chain Delhaize's plans to transform its remaining stores into independently run franchises has ignited a national, political-ideological debate surrounding the supermarket sector. Whereas socialists suggested interfering politically in the ongoing conflict, libertarians hit the brakes. On Thursday, Flemish Economy minister Jo Brouns denounced an idea by trade unions to limit the number of supermarkets in Belgium.
The Delhaize supermarket chain, part of Dutch-Belgian retail multinational Ahold Delhaize, announced at the start of March that it would transform all of the Belgian stores it directly manages into franchises. Sixty-two of the 128 company-owned Delhaize supermarkets remained closed on Thursday, as staff continued to protest against the chain's plans to hand over its stores to independents.
"We cannot settle the conflict in this parliament"
Meanwhile, the ongoing social conflict that began in early March has sparked fierce political debate on a national level – exposing ideological differences within the government coalition between socialists pleading for government interference on the one hand, and libertarians denouncing the idea on the other hand.
Several MPs belonging to PS (French-speaking socialists) suggested pushing through new legislation that would ensure the independent Delhaize stores remain part of a single 'business unit', allowing union representation at the franchises. For Open VLD (Flemish libertarians) chairman Egbert Lachaert, the proposal goes too far. "We cannot settle the conflict in this parliament," he said Thursday during question time. The proposed law, Open VLD says, would mainly serve the interests of unions.
"Supermarket stop is not a good idea"
In the Flemish parliament (of Belgium's Dutch-speaking north, ed.), too, the matter was discussed on Thursday. Regional minister for Economy Jo Brouns (Christian democrats) stressed that he is not in favour of a so-called 'supermarket stop' proposed by the trade unions at Delhaize. Trade union ACV Puls recently launched the idea of a limit on the number of supermarkets per square metre, fearing that the large number of supermarkets will lead to a hyper-competitive retail landscape and result in social dumping and underpaid labour.
"There have been warnings, from academic circles, over the past decade about the threat of so-called 'food deserts' in Flanders: areas where it is difficult for the population to be supplied with fresh and healthy food," Minister Brouns stated. "So using a 'supermarket stop' to reduce supply does not seem like a good idea. It would drastically interfere with market forces and snuff out any dynamism in the sector."
On Tuesday, a new works council took place at Delhaize, but negotiations did not bring management and unions closer together. A new special works council is scheduled for next Tuesday.
Meanwhile, in Wallonia (Belgium's French-speaking south, ed.), a similar conflict is at play at retailer Mestdagh/Intermarché. French supermarket chain Intermarché took over Mestdagh's shops, previously operated as Carrefour, and plans to franchise them partly.
(BRV)
Unions protest during a meeting between trade unions and management at Delhaize © BELGA PHOTO BENOIT DOPPAGNE