Pro-European opposition gains majority in Poland, exit polls show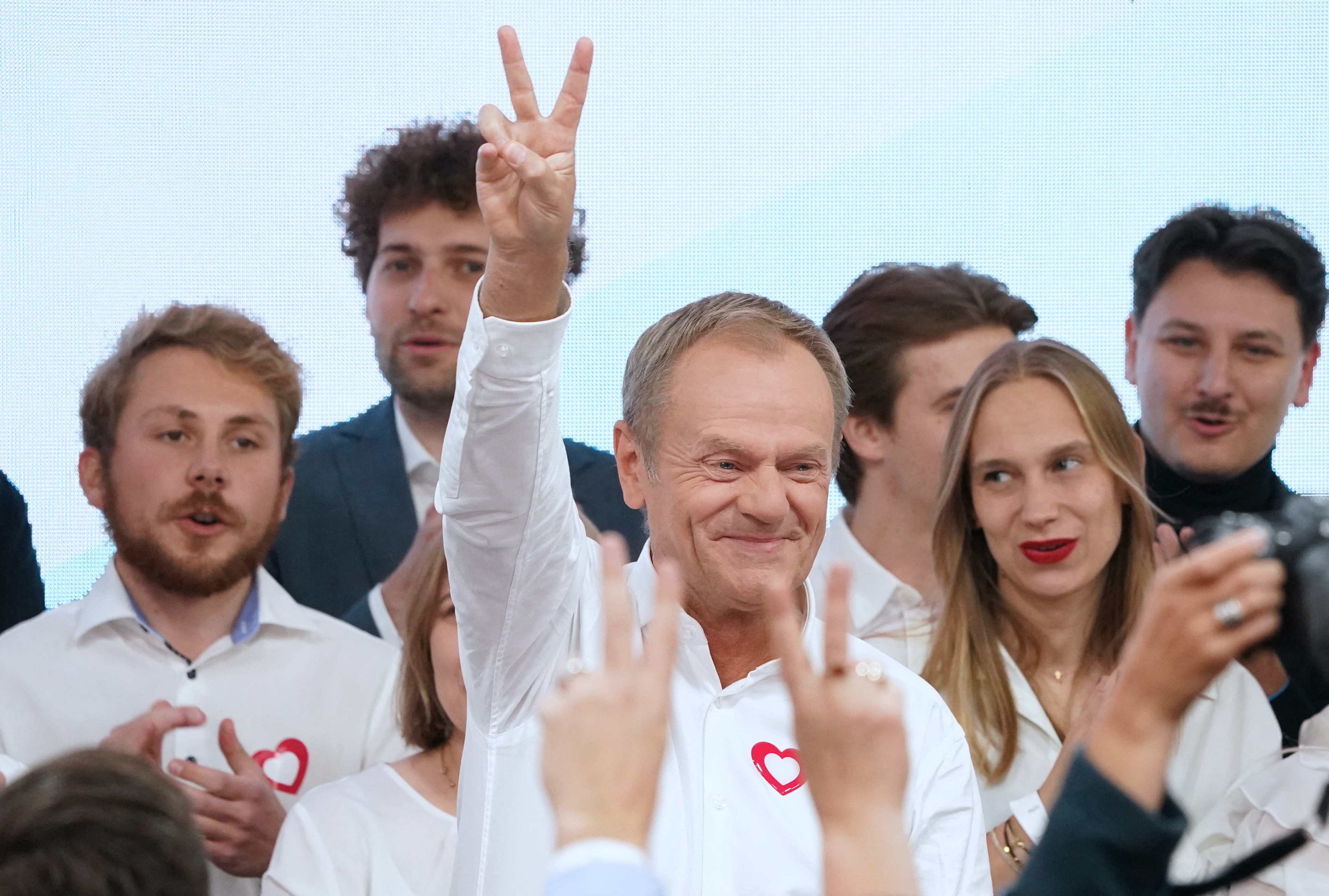 Poland's ruling Law and Justice (PiS) party could be ousted from power despite winning Sunday's parliamentary elections. The pro-European opposition parties won a majority and could form a government, according to exit polls.
The three centrist opposition parties, the liberal-conservative Civic Coalition (KO) of former prime minister Donald Tusk, the left-wing alliance Lewica and the Christian-conservative Third Way, won 248 seats in the 460-member parliament, exit polls showed. PiS won 200. Even with the support of the 12 seats of the far-right Confederation for an Independent Poland (KPN), PiS would fall short of the required majority.
"This is the end of the PiS government," Tusk said in response to the election results. "Poland has won, democracy has won, we have driven them from power (...) it is the end of this bad period, it is the end of the PiS government," Tusk said.
"iI is the end of this bad period, it is the end of the PiS government"
Polish prime minister Mateusz Morawiecki also claimed victory for his party: PiS is still the biggest party with 36.8 per cent of the vote. But PiS leader Jaroslaw Kaczynski admitted it was not certain that his party would return to government.
More than 29 million Poles, or 72.9 per cent of those eligible to vote, are reported to have taken part in Sunday's general election. The country's election commission said it was the highest turnout since the fall of communism.
Alongside the parliamentary elections, Poles also voted in a referendum on the EU's pact on asylum and migration. However, only 40 per cent of eligible voters took part in the referendum, meaning the result did not have enough votes to be valid.
Results expected on Tuesday
The votes still have to be counted. The electoral commission expects this to take until Tuesday morning, with only 20 per cent of votes counted so far.
PiS has long opposed deeper EU integration and is notorious for restricting the independence of the judiciary and the press. This has led to the EU withholding billions of euros in funding. A government led by former European Council president Donald Tusk would mend strained German-Polish relations and strengthen European unity.
Poland's main opposition leader Donald Tusk © PHOTO JANEK SKARZYNSKI / AFP