Nine suspected people smugglers arrested in Greece over fatal shipwreck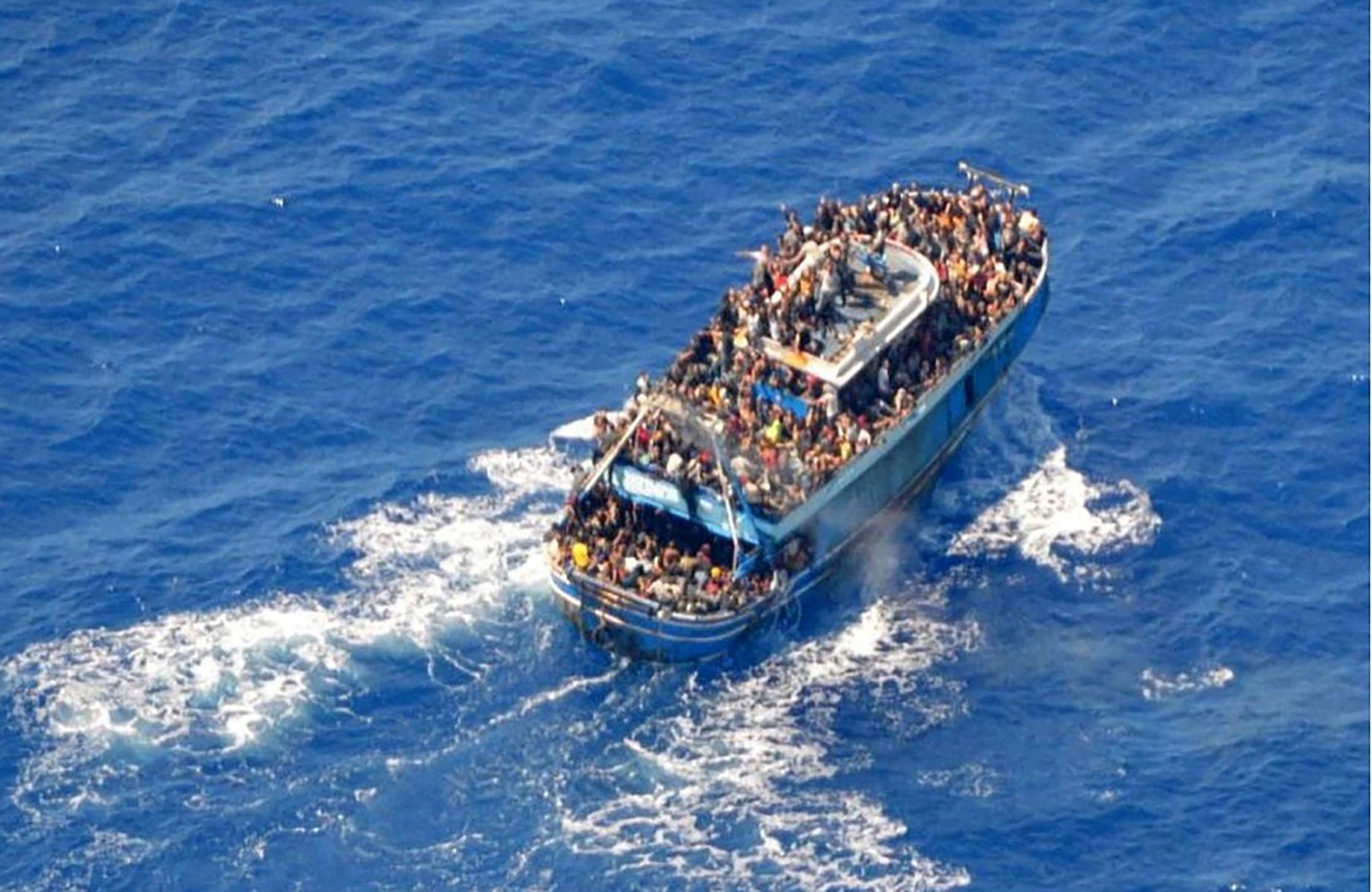 Greek authorities have arrested nine people suspected of being the human traffickers responsible for the shipwreck that killed at least 79 people in the Ionian Sea this week, French news agency AFP reports on Friday.
They include the captain of the overcrowded fishing boat, which capsized and sank off the south coast of Greece on Wednesday. Rescuers continued to search the area where it capsized on Thursday, as hopes of finding more survivors receded.
AFP reports that the boat left Egypt empty to pick up people at the Libyan port of Tobruk, before heading for Italy. The nine people arrested in Kalamata, the port where survivors were taken, are suspected of "illegal human trafficking", according to Greek news agency ANA. They include several Egyptians.
Images of the boat released by the Greek coastguard service show the decks of the boat packed with people, with reports suggesting that up to 750 were on board. 
Medics who treated the mostly male survivors told the BBC there were many women and children below deck. A Greek government spokesperson said it was common for smugglers to lock people in the hold to maintain control at sea.
Help declined
The BBC reports that contact was first made with those on board 12 hours before the disaster, via the Alarm Phone emergency helpline for migrants in trouble at sea. Authorities via satellite phone and ships in the vicinity offered assistance and gave food and water, but further help was declined. 
Greece is observing three days of mourning and has suspended campaigning ahead of the parliamentary election on 25 June, while protestors have demonstrated in Athens against national and EU migration policies.
The International Organisation for Migration (IOM) has called the disaster "one of the most devastating tragedies in the Mediterranean in a decade". Its chief of mission for Greece, Gianluca Rocco, called for "concrete, comprehensive action from states to save lives at sea and reduce perilous journeys by expanding safe and regular pathways to migration". 
The day before the tragedy, the IOM's Missing Migrants Project released a report showing that almost 3,800 people died on migration routes within and from the Middle East and North Africa in 2022, the highest number since 2017 when 4,255 deaths were recorded. The figure of 3,789 deaths in 2022 was 11 per cent higher than the previous year.
A photo released by the Greek coastguard showing hundreds of people on board the boat. Survivors said many more were in the hold © IOS/ROPI VIA ZUMA PRESS