Newly opened Climate Centre in Brussels aims to become reference in Europe
29 November 2022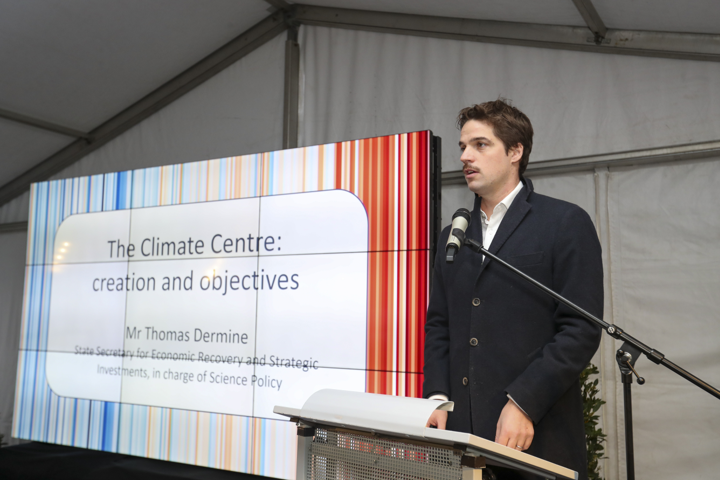 The new Belgian Climate Centre, which aims to eventually become a reference in Europe, opened in the Brussels suburb of Uccle on Tuesday morning. The centre's purpose is to coordinate climate research in Belgium and enable policymakers to make informed scientific decisions. "We want to take Belgian climate research to the next level," stressed state secretary for Science Policy Thomas Dermine, who inaugurated the centre.
The federal government had given the go-ahead early this year to set up a Belgian Climate Knowledge Centre. All climate research from various scientific institutions in Belgium will be pooled and better coordinated in the centre. This way, the impact of research programmes can be increased.
The Climate Centre will also collaborate with universities and research centres studying global climate challenges to strive for higher levels of research. Furthermore, domestic and foreign policymakers can call on the centre to make more targeted policy decisions on climate issues.
The new Climate Centre will be housed at the Belgian Federal Science Policy Office (BELSPO) in Uccle. Management of the centre is in the hands of two directors: Valérie Trouet returns from Arizona to become scientific director, and Ella Jamsin (ULB university) takes up the position of operations director.
In time, the Climate Centre will coordinate the research activities of more than 100 scientists, who can count on a team of 15 permanent staff. The federal government allocates an annual budget of two million euro for the centre's operation.
(BRV)
State secretary for Science Policy Thomas Dermine © BELGA PHOTO NICOLAS MAETERLINCK