New Dublin centre in Belgium aims to speed up return of asylum seekers in transit
26 August 2022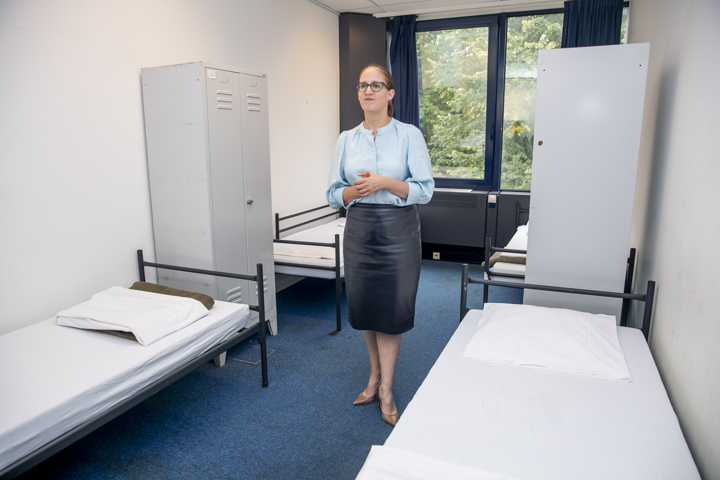 In an attempt to tackle the Belgian reception crisis, State Secretary for Asylum and Migration Nicole de Moor (CD&V, Flemish Christian Democrats) has opened a so-called Dublin centre to help speed up the procedure for asylum seekers in transit. ​ On Friday, De Moor gave the press a guided tour of the new centre that opened its doors on Wednesday. The centre can accommodate 220 people.
De Moor wants asylum seekers who previously registered in another EU country to travel to that country soon after the start of their asylum procedure in Belgium, through voluntary or forced return. Over half of the asylum seekers who register in Belgium have already passed through another EU country. It concerned 11,000 people in 2021 and 8,000 people up to and including July of this year.
A fast throughput via the new Dublin centre should also free up places in the reception network. Those who have already been registered elsewhere in the Union should be transferred to the Dublin centre as soon as possible, where the 'accosting return policy' will consist of intensive counselling and an interview on day three. Until recently, it took weeks or even months to get an interview.
The other EU country will receive a transfer request the same day and will have 14 days to reply. The absence of a reply will be considered a positive reply, although an appeal is possible. 
De Moor is counting on European solidarity.
"We want to do our part, but the other European countries have to do theirs too", says de Moor.
Not all EU countries are considered transfer destinations, however. Due to case law on the poor reception conditions in Greece, Bulgaria and Hungary, asylum seekers cannot be sent back to these countries at present.
"The Dublin rules have to be applied, otherwise we will continuously have to create new places," de Moor stressed. "That is why it was necessary to set up a specialised centre where we give priority to these cases. In this way, we are also sending asylum seekers the message that Belgium respects the rules," says De Moor. 
(KOR)
State Secretary for Asylum and Migration policy Nicole de Moor during a working visit to the Dublin Centre in Zaventem, Belgium © BELGA PHOTO HATIM KAGHAT