National Strike on Friday: public transport disruptions and more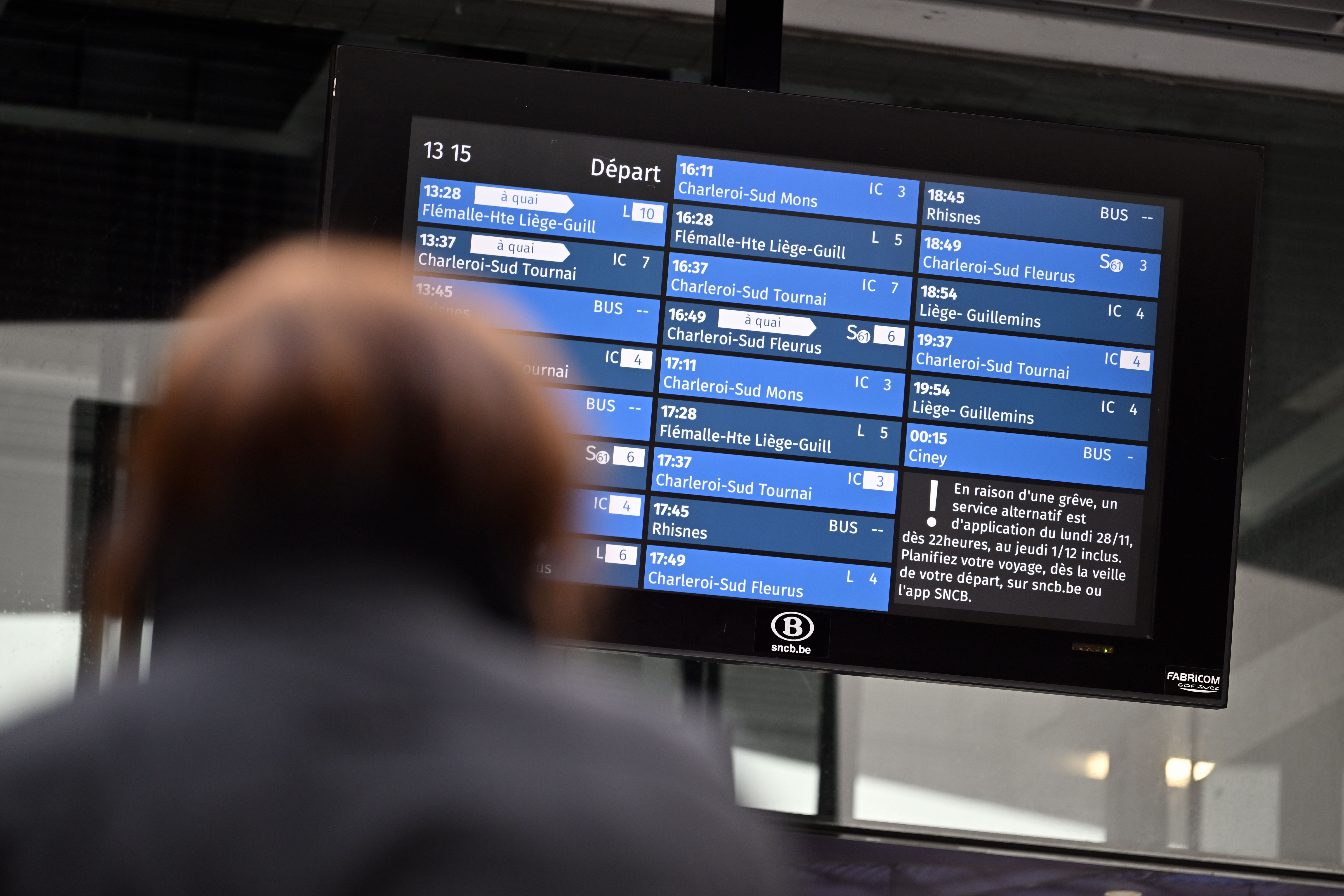 Due to the strike at public services, only a third of trains and a bit more than half of the busses will run on Friday. The disruption start Thursday at 10 pm and will last all Friday. The strike is part of a series of actions against the government's pension plans.
Half of the IC trains will run between major cities. One-third of suburban S-trains and local L-trains will run. Almost all P-trains, which are put in during the morning and evening rush hour, will be cancelled. SNCB worked out the alternative timetable based on staff - including those from rail network operator Infrabel - who have indicated they will not take part in the strike.
The disruption will be greater in Wallonia than in Flanders. SNCB says there will be no train traffic in most of the provinces of Namur and Luxembourg, around Ottignies in Walloon Brabant, and between Liège and Huy. "This is due to insufficient staff availability at Infrabel's signal boxes in Namur and Liège, which are necessary for train traffic to run safely," it reads. "Few or no trains will also stop at several other stations in the country."
SNCB advises travellers to work from home and look for an alternative. Those who do take the train should consult the route planner before leaving for the station. SNCB's screens and route planner will only indicate trains that are running.
Busses
Flemish public transport company, De Lijn, will only be able to operate an average of 57 per cent of its rides. In the province of Antwerp, 51 per cent of rides would be carried out, in West Flanders 54 per cent and in Limburg 56 per cent. In Flemish Brabant and East Flanders, the number of rides carried out is slightly higher, at 62 and 64 per cent respectively. De Lijn says it will do "everything possible to provide accurate passenger information via the route planner in the app and on the website".
Firefighters' strike
The firefighters' strike will continue until Saturday morning. The strike that started on Monday will cause disruption, especially in Brussels. According to Labourdette, representative of the Free Syndicate for Public Administration (VSOA), six fire engines will be available in the capital today instead of the usual 11. The staff shortage is expected to worsen on Friday during the national strike.
On Tuesday, between 500 and 600 fire service members in the joint union front (ACV, ACOD, and VSOA) gathered for a protest in Brussels. They are demanding more staff, more resources, and better working conditions. Current pension conditions should also change. Some met with Interior Minister Annelies Verlinden (CD&V) and Health Minister Frank Vandenbroucke (Vooruit) but were unsatisfied with the result.
​
#FlandersNewsService | Illustration picture shows a strike of the Belgian railway network, ​ Tuesday 29 November 2022. BELGA PHOTO ERIC LALMAND