Leuven tech company launches 'smallest motor in the world'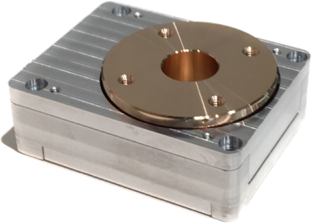 Leuven-based tech company Xeryon has developed the "smallest motor in the world", for medical devices, 3D printers and VR glasses, among others. It is investing €5 million to build a factory in Belgium, De Tijd writes.
'Most motor spin around and set gears in motion, but these wear out and lose accuracy. We do not use gears or other moving parts,' says Clijsters. 'The core of our know-how is based on vibration. We have patented that,' says Hans Clijsters, CEO and co-shareholder of Xeryon.
The technology is based on the piezoelectric effect. The micro engine consists of a block of ceramic material - barely 10 by 10 millimetres and 2 millimetres thick - that is energised and vibrates up to 200,000 times per second. For example, it can move the axes of a 3D printer in steps of 1 nanometre, a millionth of a millimetre. 'In anything where fast and precise movements are needed and everything has to be as small as possible, we come into the picture.' Think of devices for blood or DNA analysis, or dosed drug delivery, robotic surgery, the chip industry and VR glasses.
The company saw its turnover increase fivefold to EUR 1 million in three years. Its ambition is to increase that to 10 million and quadruple its workforce to 50 by 2026. 'We achieve our current turnover without effort. The world finds us, including high-tech players in Silicon Valley. How? Through Google. A design engineer at Apple searching on 'world's smallest motor/actuator' easily finds us. We get 60-70 enquiries a month from companies we have never been in touch with.'
Xeryon is now planning the construction of an assembly plant at the Haasrode business park in Belgium. The first phase should have a capacity of 50,000 motors. 'It may be counterintuitive for high-tech, but we are creating jobs for low-skilled people,' says Clijsters. 'The degree doesn't matter. The only requirement is that you are handy and have some command of the language. For this we are working together with the VDAB and the OCMW.'
The factory requires an investment of 5 million euros, 80 per cent financed by bank loans and 20 per cent through fresh capital. The rest of the planned EUR 5 million capital increase will serve to further build the team.
#FlandersNewsService | Piezo motor © Xeryon