Le Chat is back home: statues on display in the Royal Park in Brussels
9 March 2023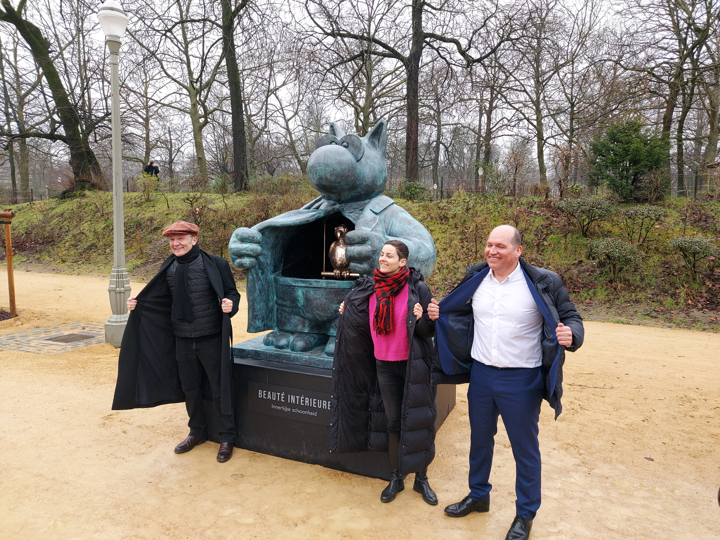 After travelling around several European cities, the bronze statues representing Le chat are back home. The little fat cat, created by Philippe Geluck is one of the bestselling Franco-Belgian comics series and the mascot of the newspaper Le Soir which published the comic strip daily from 1983 until 2013.
The imposing figures were created in miniature by Philippe Geluck himself and made in the Van Geert foundry in Aalst. Their first appearance was during the spring of 2021, along the Champs Élysées, and since then, some seven million visitors have already admired the giant cats.
The bronze statues have been installed in the Royal Park in Brussels this week and will remain there until 30 June. When the convoy passed the offices of Le Soir, the daily newspaper in which the funny cat first appeared 40 years ago, Geluck was overcome with emotion. "It's an unforgettable moment in the life of an artist, like when you publish your first drawing," he said.
Until 13 May, visitors can discover the behind-the-scenes of the creation of the bronze giants in the Huberty & Breyne gallery, Place du Châtelain in Ixelles. Sketches and models will be unveiled in the exhibition "Le Chat au Châtelain. Recent and older works". 
The statues can also become collector's items, and all the proceeds from the sales will finance the construction of the Museum of the Cat and Humour Drawing. The museum will be built on a plot of land between the Place des Palais and the Palais des Beaux-Arts (Bozar). It is expected to open in 2025 or 2026.
Each statue can be made in a maximum of two copies. Some 25 statues have already been sold at 350-380,000 euros each. Once the Brussels exhibition is over, the works will be handed over to their new owners. The others will continue to roam. Several cities have expressed interest, including Flanders and Wallonia, the Grand Duchy of Luxembourg, and Switzerland. Some statues will also be exhibited at the Olympic Games in Paris in 2024.
#FlandersNewsService | Artist Philippe Geluck with Brussels alderwoman Delphine Houba, and City Mayor Philippe Close during the inauguration of the statues of bonze representing Le Chat, the hero imagined by Philippe Geluck, that have been installed in the Royal Park in Brussels, March 9. Several of them will remain there until 30 June 2023. © BELGA PHOTO AXEL CLEENEWERCK BELGA VIDEO JEROME FETU