King Philippe kicks off Belgian World Cup campaign with humorous video
16 November 2022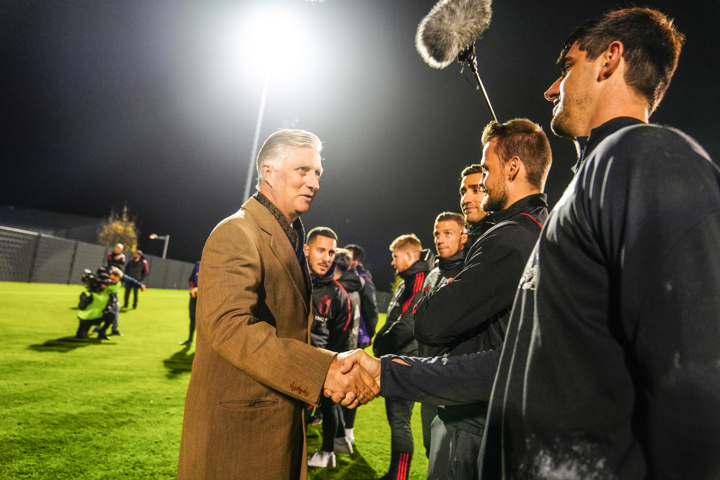 King Philippe of Belgium has launched #DEVILTIME, the Red Devils' supporter campaign for the World Cup in Qatar, along with national football coach Roberto Martinez. The Royal Palace shared a humorous video of the campaign on Twitter, where Martinez and the king are seen jointly coaching Belgium's national team.
In the short video, we first see national coach Roberto Martinez arriving at the palace. He discovers a booklet with tactical diagrams drawn up by the king himself. The monarch subsequently leads a training session of the Red Devils by giving tactical instructions to the players, including Manchester City's Kevin De Bruyne.
The Belgian national team flew to Kuwait on Tuesday, where they will begin their World Cup preparations with a practice match against Egypt on Friday at 4 pm Belgian time.
After the match at the Jaber Al-Ahmad Stadium in Kuwait City, the Belgian team will head to Qatar and the Hilton Salwa Beach Resort & Villas, about 1 hour and 20 minutes from the capital Doha. Five days later, they are set to play their first group stage match on Wednesday, 23 November (8 pm) against Canada.
After Canada, Morocco will be Belgium's second opponent on Sunday, 27 November (2 pm). The Belgians play against Croatia on Thursday, 1 December (4 pm) in the final match of Group F.
(BRV)
King Philip visits the Red Devils at the Proximus Basecamp © PHOTO HAND OUT by Royal Belgian Football Association