Jan Fabre's "The man who measures the clouds" sold for almost 350,000 euros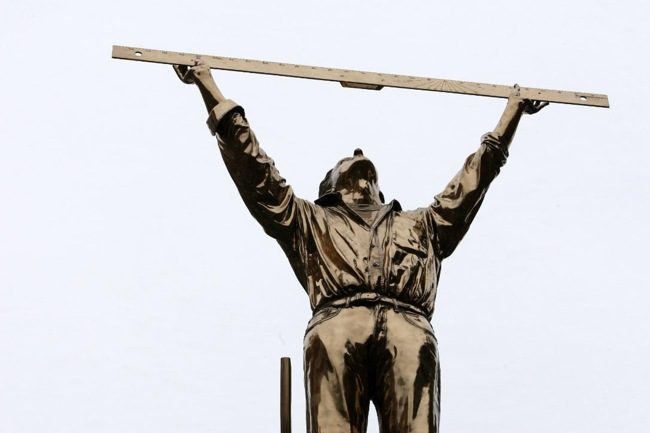 The work of art "The man who measures the clouds" by Belgian artist Jan Fabre was auctioned for 348,000 euros on Sunday. This was announced by auction house Auctim. The work of art was part of the personal art and clockwork collection of Jeroen Piqueur, former top executive of the bankrupt bank Optima. The entire collection fetched a total of more than 500,000 euros.
Last month, Fabre was sentenced to eighteen months in prison with a suspended sentence for acts of violence, sexual harassment and indecent exposure within his company. Nevertheless, there was still a great deal of interest in the work. According to auctioneer Christophe Moyersoen, a dozen candidates were still bidding against each other more than two hours after the auction closed at 7 pm. The work from 1998, of which there are several dozen versions, and which has been exhibited in various international locations, was valued at 300,000 to 400,000 euros. In the end, it was sold for 348,000 euros.
Another masterpiece from the collection, "Quelqu'un" by Belgian artist Jean-Michel Folon, was auctioned for 62,500 euros, while it had been estimated at 40,000 to 60,000 euros. The sculpture "L'oiseau amoureux" by French-American Niki de Saint-Phalle, which had been valued at 25,000 to 35,000 euros, was sold for 28,500 euros. "In total, the auction brought in over 500,000 euros, while the proceeds had been estimated at 485,000 euros. So we are satisfied," says Moyersoen.
The proceeds of the collection go to creditors in the Optima scandal. Piqueur was the top man of the bankrupt Optima Bank and was also declared bankrupt personally. He has already been convicted of large-scale tax fraud, but he is also under suspicion in the Optima bankruptcy case for misuse of corporate assets, money laundering offences, fraudulent insolvency and breaches of banking regulations. It remains to be seen whether he will actually be brought to trial for these.
(TOM)
© BELGA IMAGE