Iranian community marches through Brussels to denounce abuses of 'terrorist regime'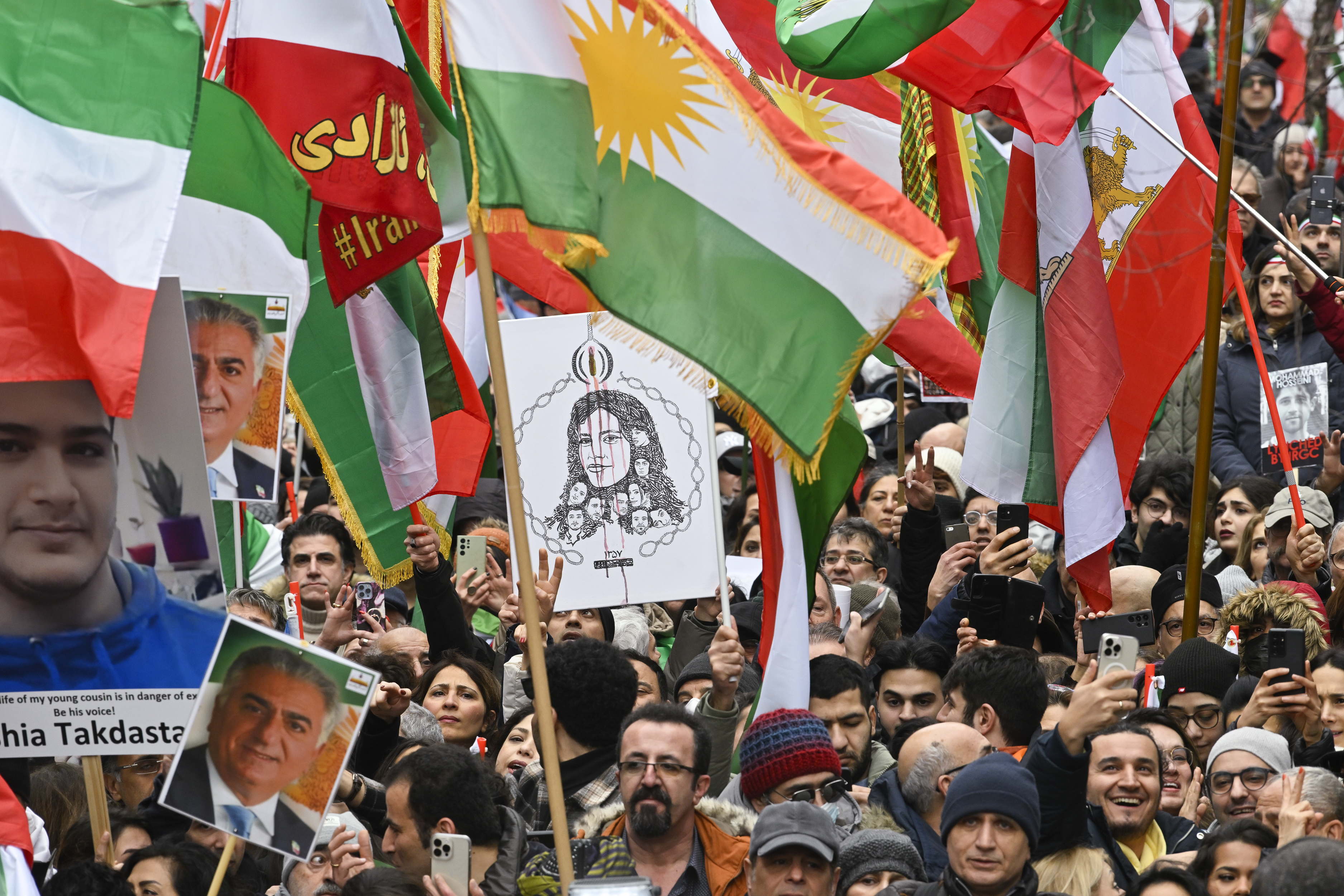 On Monday morning, the European Iranian diaspora gathered in Brussels to demonstrate against the malpractices in their homeland. The demonstrators are calling for more freedom for women and for the Iranian Revolutionary Guard Corps to be recognised by Europe as a terrorist organisation.
People had been pouring onto King Albert II Avenue at Brussels' Gare du Nord since 10 am on Monday. The demonstrators carried many Iranian but also European flags. It was an international gathering, with people from Britain, France, Germany, Norway, Denmark and Sweden.
The protesters came to Europe's capital to speak against the Iranian regime, demanding more freedom for women, and for Europe to recognise the Iranian Revolutionary Guard Corps as a terrorist organisation. Their protest signs called for the return of Iranian diplomats and the closure of embassies, an end to the regime's executions and an end to extradition treaties with Iran.
Since the death of Jina Mahsa Amini on 16 September 2022, the Iranian regime has been the subject of several protests inside and outside Iran. The 22-year-old was arrested in Tehran for not wearing her headscarf by the laws imposed on women by the Iranian government. Amini reportedly died as a result of police brutality.
The Iranian regime blocked apps such as Instagram and WhatsApp to suppress the protests. Internet access was also restricted. In recent months, around 20,000 people have been arrested and more than 500 killed.
Intimidation
"Those who protest are intimidated," Dutch-Iranian historian Peyman Jafari told De Morgen. "They are visited at home, their parents are called, and they are banned from working or studying. At the same time, life goes on. Many Iranians have socio-economic problems due to low wages and many temporary contracts. They are just busy surviving."
Despite the Iranian regime's crackdown, many citizens are determined to resist. "Many women have been wearing the headscarf less strictly or not. Furthermore, the regime is now taking a slightly less strict approach because it fears more protests," Jafari said. "Hundreds of prisoners have been released in the last two weeks to keep the peace. But there have been no significant changes yet."
Awareness
Jafari welcomes protests like the one in Brussels. " Such protests in European cities are important because they draw attention to what is happening in Iran. In addition, the international opinion may also be partly responsible for the fact that the number of executions has remained at 'only' four so far".
However, the Dutch-Iranian historian believes that significant changes are still far off. "You can only ban so many people from leaving the country and impose many sanctions. The more Iran is isolated internationally, the less pain each new step will cause. Eventually, the country becomes so isolated that it can do whatever it wants within its borders," he concluded.
People gather for a protest to support the Iranian resistance movement, Monday 20 February 2023 in Brussels.
© BELGA PHOTO and VIDEO ERIC LALMAND