International singers victorious in battle to be paid by music company in Ghent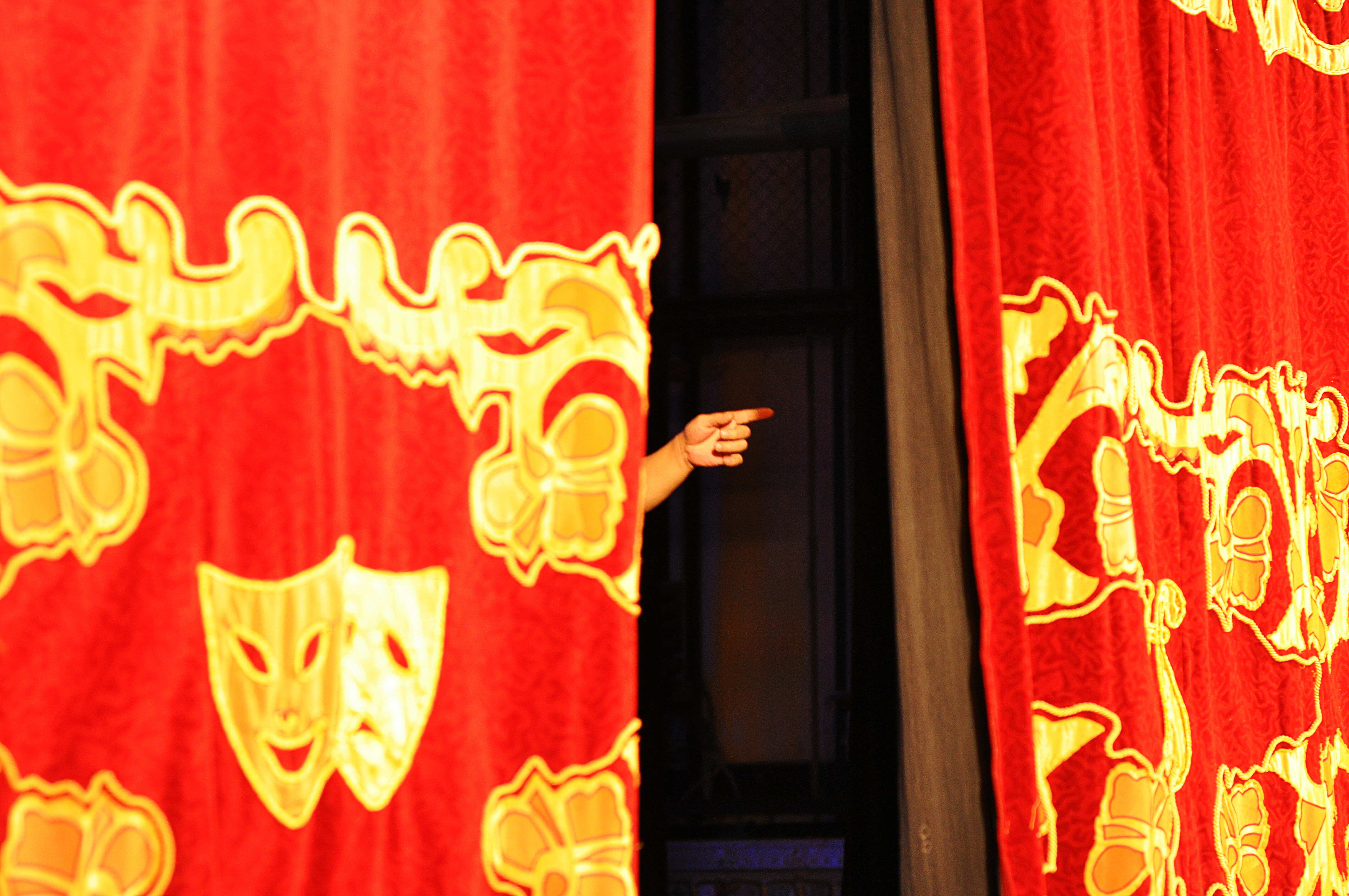 After 13 months of tense communication and eventual involvement from the Flemish Culture ministry, singers who took part in an international vocal competition in Ghent were paid the prize money they were owed on Thursday.
Five singers joined together to confront the non-profit cultural organisation Lyrica after they were deceived about prize money the company owed them. Lyrica, founded in Ghent in 1988, hosted its second annual international Rita Gorr Opera Contest in June 2022. After the board told the five winners multiple times that they would be paid, months of delays prompted suspicions from the singers.
A culture of fear
In a culture that routinely takes advantage of performers, Lyrica was one of many classical music organisations that were not forthright about their financial stability and ability to meet their own promises.
A serious issue in the classical music world, young singers often find themselves in power structures that abuse their trust, finances and mental well-being in exchange for their complicity through silence and promises of a good career. This case is an example of the hierarchical behaviour used to control singers when rules or, in this case, laws are broken.
John Boeren, the late artistic director of Lyrica and former music critic for Het Laatste Nieuws, grew increasingly evasive in his communication with the vocalists following their inquiries about when they would be paid. He threatened to ruin their careers if they continued to contact him. The outstanding payment, amounting to 5,000 euros, was owed to singers from Belgium, Australia, Israel and China. The company had also awarded prizes through paid concerts with Lyrica to be scheduled for later dates.
The singers who participated in the competition ranged in age from 18 to 40 and were overwhelmingly students or recent graduates from conservatories about to embark on the start of their careers. This contest drew singers from the whole of Europe and approximately 15 participants from China. They were required to pay a 90 euro application fee to Lyrica in addition to paying for their own travel and lodging expenses without reimbursement.
"Singers do not want a bad reputation of being difficult to work with"
After it became clear that Boeren and the treasurer of Lyrica, Patrick Vlaeminck, would not put the remainder of the funds forward, the singers began considering legal aid. Some remained hesitant as they did not want to "damage their relations within the Belgian cultural world and potentially endanger their careers.
Jessica Harper, a soprano from Australia who has lived in Belgium for nearly two years, feared potential defamation of her character if she involved lawyers. "Singers are often afraid of pursuing legal action because they don't want to get a bad reputation of being difficult to work with," said Harper, who debuted at The Semperoper in Dresden last year. She added that singers were often afraid of coming forward and risking character assassination, a large issue performers face in the music scene. "Singers are constantly taken advantage of by the system of fear instilled in the classical music world," she said.
Dirk Cools (name has been changed), a Belgian baritone and recent graduate of the Royal Conservatory of Antwerp who spoke to Belga on condition of anonymity, was the only prize-winner to receive his 300 euro award after countless email exchanges with the Lyrica board. He also won a concert with the company but said he would only participate if paid in cash upon arrival. Cools, who is also a soloist at De Munt in Brussels, received an email in response that threatened to ruin his career and criticised his "entitlement".
Political intervention
First prize winner Nofar Yacobi had been told after numerous calls with the Lyrica board that it was the Flemish ministry of Culture's fault the prize money was not available. Despite initial hesitation, the group contacted lawyers and Yacobi contacted the ministry. In the process, it was revealed how far back Lyrica's financial deceit went.
Initially, the board claimed that they could organise and fund the competition thanks to subsidies from the Flemish government which would cover the prize money. Upon being contacted, the ministry of Culture wrote to the team at Lyrica and the singers confirming that the organisation had lied to the competition participants about applying for funding. No application had been submitted, meaning they held the competition with the full awareness that they could not supply financial compensation.
Additionally, one of the prize winners found public records pointing to a 3,500 euro grant Lyrica had received from Cultuur Gent, which was supposed to go towards funding the competition.
The Lyrica board told the singers that the ministry of Culture had asked for all contact to stop and that no money was available to pay them. When forwarded this communication, the ministry issued a letter condemning Lyrica for slander and urging them to pay what they owed.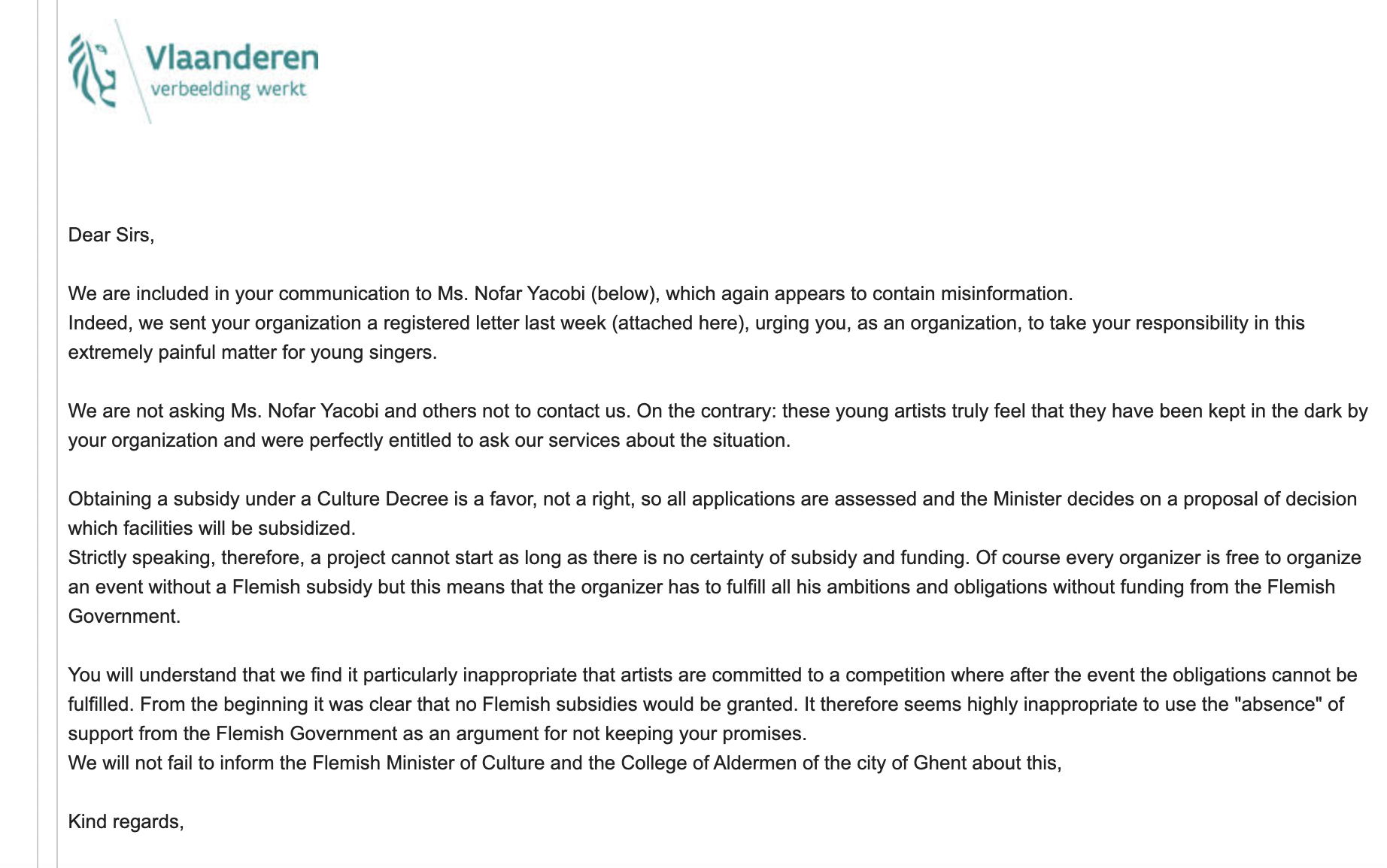 Emails between founders and singers became more apologetic once their fraud was revealed. They asked if the singers would accept a fraction of the money they were owed instead of the full amount.
In an email, Vlaemnick said: "The organisation acted wrongly by referring to rejections from the Flemish Community (Flemish Ministry) in connection with subsidies. This was a deception. For the 2019 competition, the grant was approved, and for 2021 it was rejected. For 2022, no application was submitted. Due to pride and concern for image, we wanted the contest to organise anyway and be able to pay the prizes."
On 18 June 2023, Boeren died due to complications from surgery. The news was communicated to the singers via Vlaemnick. His death froze Lyrica's bank account, but with persistence from their lawyer, the singers were finally paid in full on 13 July from Vlaemnick's personal account.
Aside from the prize money, a sense of justice drove the young singers. "Performers need to know they cannot be trampled on," says Harper. "It is totally unacceptable, and we should always stand up for our rights and the rights of other performers."
Funds unaccounted for
Lyrica still has outstanding payments totalling more than 10,000 euros owed to singers who have performed for the company over the last decade. More than 10 singers on the company's roster dating back to 2012 have yet to receive full compensation for services rendered.
Many of the singers did not pursue legal action because the legal fees would cost more than the amount they were owed. This raises the question: With a decade of concerts that hosted a paying public, where has the money gone that was garnered from ticket sales?
Singers from Lyrica past and present are in contact and hope to rectify the situation to ensure everyone will be paid in full. Harper hopes to "break the cycle that has been going on for many years".
(MOH)
#FlandersNewsService | © AGE FOTOSTOCK