Holy Blood Procession in Bruges attracts 40,000 spectators after three-year hiatus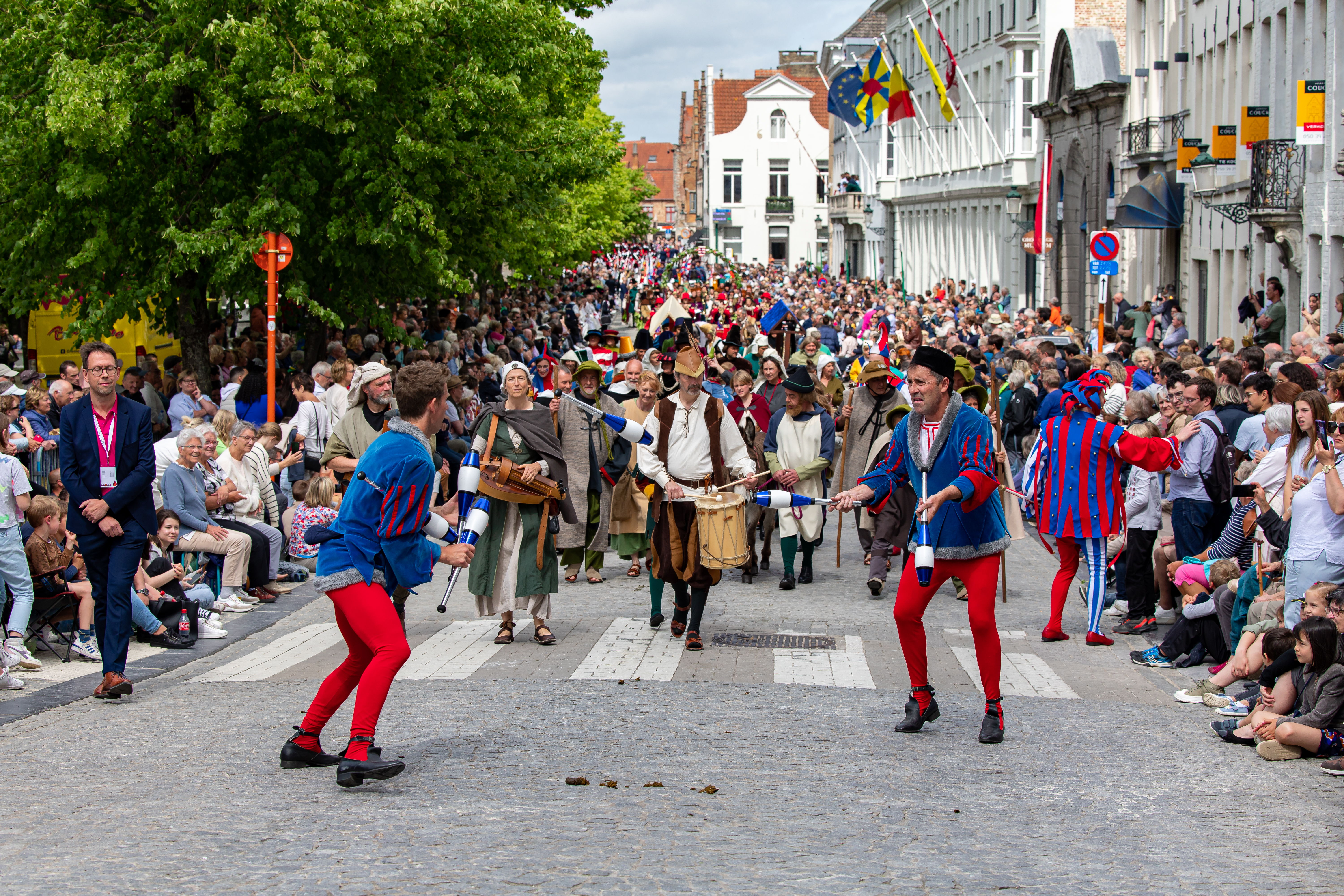 After a three year hiatus, the Holy Blood Procession once again passed through the city centre of Bruges, Belgium, on Ascension Day. According to the police, the procession attracted 40,000 spectators, about the same number of people as the last edition in 2019. The procession, in which some 2,000 local volunteers take part, dressed as Biblical figures including Christ with the Cross, dates back to 1304 and has been on the representative list of Unesco World Heritage since 2009.
The procession took place without incident. At 2.30 p.m., the procession moved from the Dijver to the Burg Square. After a Covid-19 hiatus of three years, the procession attracted a large crowd. Tickets were sold out for many locations. 
The Procession of the Holy Blood centres on a small glass phial kept in the Basilica of the Holy Blood, on the Burg square in the centre of Bruges. According to legend, the phial contains a scrap of cloth stained with the blood of Christ, collected when Joseph of Arimathea washed the body before placing it in the tomb.
The legend surrounding the relic has it that the blood liquefies on Friday (the day of the Crucifixion) and the church is open on Fridays for the faithful to pass through and revere it.
Preparations for the procession did not run as smoothly as usual due to ​ Covid-19. "Extras and organisations with whom we had worked in the past dropped out," said director Dominique Deckers.
"Several dozen new extras and collaborators had to be found. The months of delay meant looking for creative solutions to practical problems and a lot of work during the night."
The Procession is of huge importance to the city of Bruges, not least commercially. It fills the streets along its length and people can buy tickets for a seat in the tribunes along the track. As well as that, the local tourist industry is booked up months in advance, and the chocolate shops that crowd the city centre to a land-office business.
The event has been going steady since 1304, apart from the periods of the religious wars, the French invasion and the two world wars. For this edition, the extras' wardrobe was updated. More than 450 new costumes were on display, as well as a new carillon carriage. The future of the Holy Blood Procession is already assured. Just this week, the Flemish government announced that it is giving the procession a 50,000 euro subsidy for next year. 
(KR)
#FlandersNewsService
© BELGA PHOTO KURT DESPLENTER
© BELGA VIDEO MAAIKE TIJSSENS