From squatting to wandering unaccompanied minors: Belgian reception crisis far from over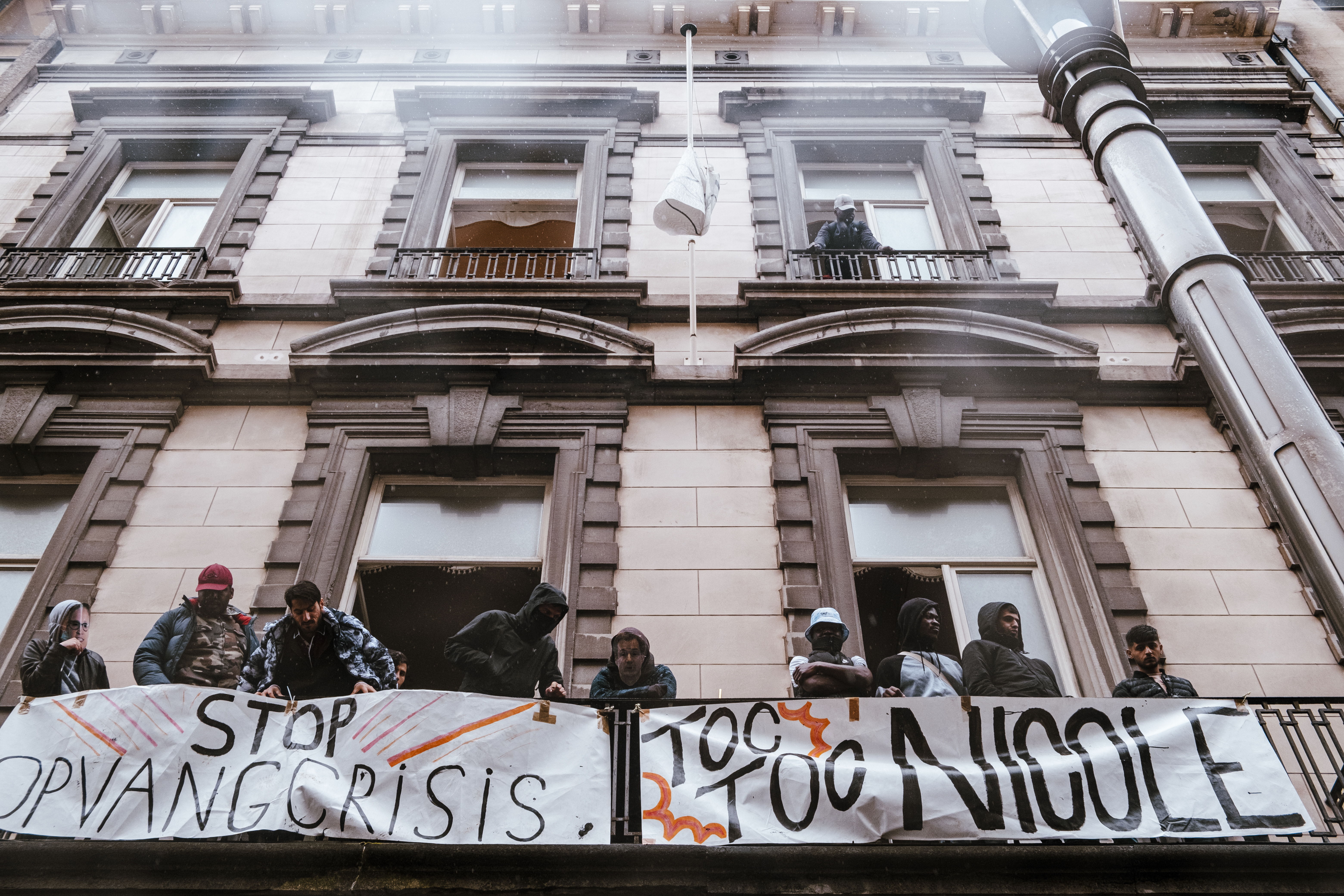 The reception crisis in Belgium seems to be far from over. While the Stop the Reception Crisis collective occupies a building in Rue de la Loi in Brussels to house 70 asylum seekers, the municipalities near Brussels Midi station are looking for a solution to provide shelter and care for unaccompanied minors.
Since Friday, Stop the Reception Crisis has been occupying the building next to the headquarters of CD&V, the party of secretary of state for Asylum and Migration Nicole De Moor. The group announced the news on TikTok on Sunday, attracting the attention of the police, who were unable to interfere.
"There is no asylum crisis, only a crisis of political will"
"We are a support group for asylum seekers who have nowhere to go, and this time we decided to move into a building next to the CD&V party headquarters. As long as Secretary of State De Moor does not fulfil her obligations, we will do it for her," said Tjara, the collective's spokesperson. "There is no asylum crisis, only a crisis of political will, which is lacking. Prime minister De Croo also has a big responsibility to solve the crisis."
There are 70 asylum seekers in the building, including 20 people from the organisation. The collective calls on other organisations to squat and open spaces for asylum seekers.
"Those who occupy buildings are not a priority"
"The government has taken steps to move people out of accommodation more quickly," said a spokesperson for De Moor. "This will free up places for people on the waiting list and new asylum seekers arriving daily. Those who occupy buildings are not a priority."
On the other side of the capital, three Brussels municipalities are asking the regional and federal governments to urgently open a reception centre for unaccompanied minors wandering around Brussels Midi station. This was reported by the Brussels Times on Monday. The presence of unaccompanied minors, mostly Maghreb boys aged between 11 and 18, has increased significantly.
"Ignoring these children and young people and only complaining that it is difficult to include them in a support system is equivalent to encouraging their social marginalisation," says Khalid Zian, chair of the Public Centres for Social Services (CPAS) of the City of Brussels. He also points to the difficulties these young people have in finding help.
Victims of exploitation
According to a recent study by the therapeutic association Lama Project in collaboration with research centre Crebis, young people with migrant status are at a higher risk of being exploited. Their migration status also means losing their social support network at a crucial stage of their lives, which can harm their mental health and make them more susceptible to addiction.
NGOs and the Anderlecht, Brussels Capital and Saint-Gilles municipalities already provide medical and housing assistance. However, it remains a challenge to provide consistent support.
At the beginning of 2023, with the support of the federal asylum reception agency Fedasil, the municipality of Anderlecht hired a project manager to set up an accessible reception centre for these young people.
Municipalities are now asking the federal and Brussels regional governments to commit to finding answers in youth protection and public health and to organise accessible housing.
© BELGA PHOTO JUSTIN NAMUR