From coast to coast: Belgium is home to the longest and fastest tram line in the world
Uniqueness from Flanders
Belgium's sandy coastline features the longest tramway in the world: "De Kusttram". The "Coastal Tram" runs along the entire length of the Belgian coast, from the French border to the Dutch border, crossing the main streets of seaside towns and serving the coast. The line is built on the seafront and provides open landscape views over the North Sea from La Panne to Knokke.
The coastal tram line is 67 km long and is regarded as the world's longest, with 68 stops. The tram can reach up to 78 km/h, which also makes it one of the fastest in the world, according to the website of De Lijn.
It takes 2 hours and 21 minutes to travel the whole distance on a fully electrified track. But travellers can also get off at different stops along the way to have fun and enjoy different scenes, such as pretty De Haan (Le Coq), fish shops in Nieuwpoort and cosmopolitan Ostend.
With 68 stops, the coastal tram passes by every 15 minutes during the day, and every 30 or 60 minutes in the evening. The day pass for this sea scenic ride is currently available for €7.50. 
"It allows us to travel along the coast without taking the car and worrying about parking", says the Belgian tourist from Brussels, William P.. "Besides, it has a beautiful landscape when it passes along the coast".
History
The coast line started out in 1885 as part of the "Belgian Vicinal tramway", a network of interurban trams that once covered the whole country. The first section was opened between Ostend and Nieuwpoort. The original route was further inland than the modern one and only short parts of the original section in Ostend and Nieuwpoort centres are still in operation. 
On its creation, the line was managed by the NMVB (Nationale Maatschappij van Buurtspoorwegen), which operated an interurban tram system throughout Belgium. In 1991, the Flemish company Vlaamse Vervoermaatschappij De Lijn took the responsibility for the coastal tram operations.
Innovative renovation
Recently, the coastal tram route between the Visartsluis Zeebrugge and Blankenberge Duinse Polders, dated from the 1980s, has been renovated. The section received an innovative technique in Flanders: a completely green bed of grass on a concrete surface. It's a German technique that provides a concrete substructure with a honeycomb motif on which the tracks lie, so no more wooden sleepers are used. Grass is sown instead of crushed stone as a top layer. Spores sag a few centimeters over time. 
According to De Lijn, thanks to the new process, less preventive maintenance is required. The pilot project will be evaluated in about four years and it will be examined whether it can also be applied elsewhere.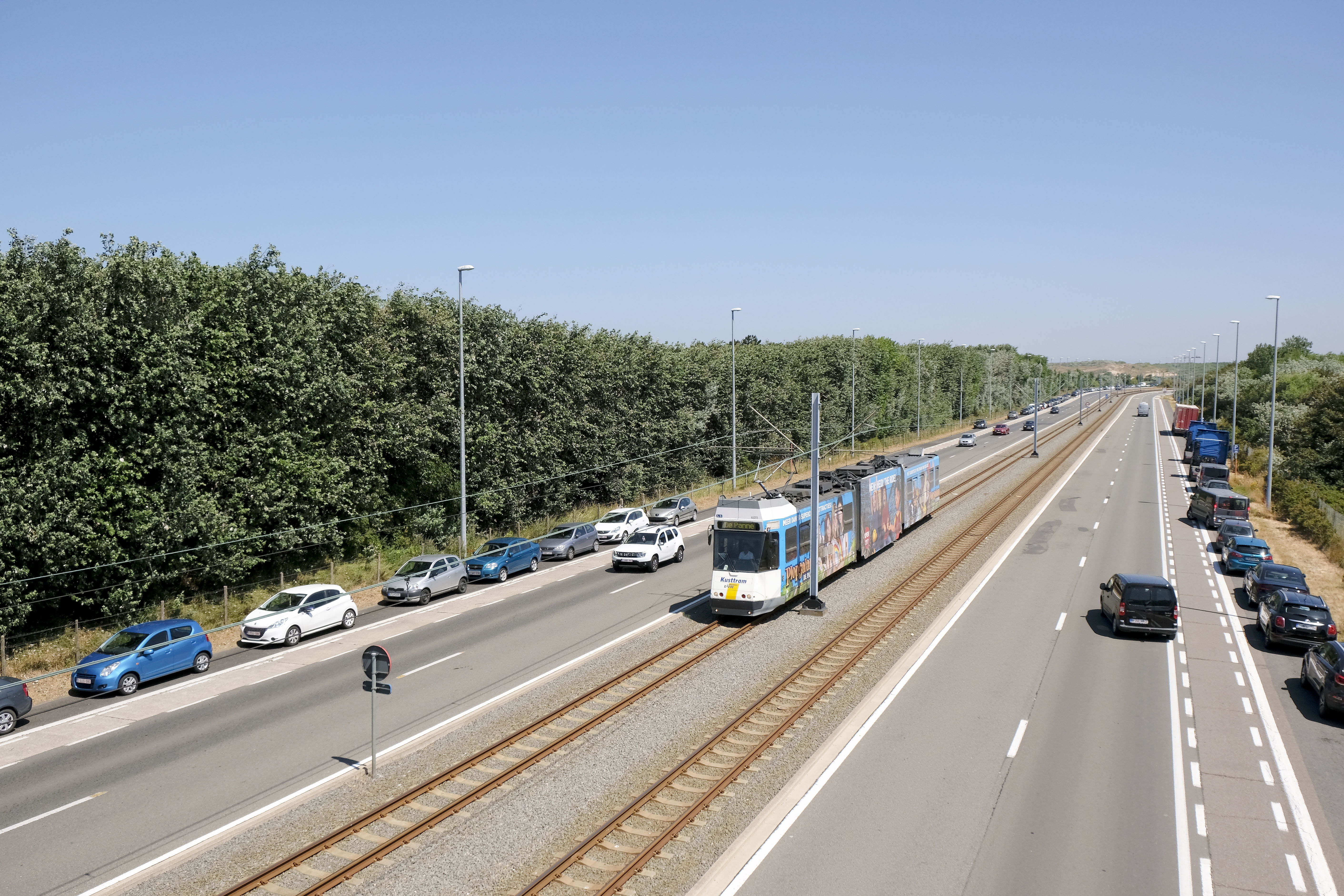 (VIV)
#FlandersNewsService
© BELGA PHOTO (Belpress and Hollandse Hoogte)