Flemish PM visits Ukraine, promises delivery of 60 generators
23 January 2023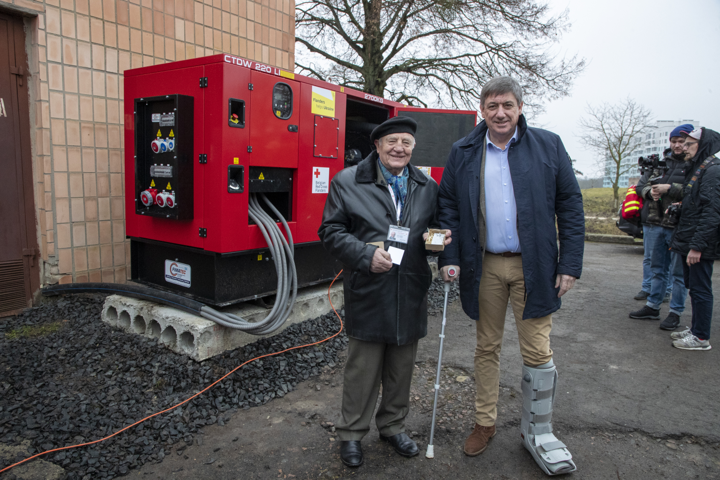 Red Cross Flanders and the Flemish government will supply Ukraine with around 60 generators, announced minister-president of Flanders Jan Jambon during a visit to the Ukrainian city of Lutsk. The government is allocating two million euros to the project.
Jambon, together with a delegation from Red Cross Flanders, visited two institutions in Lutsk on Monday. The city in northwest Ukraine relies on generators for its energy supply.
Mykola Polishchuk, president of Red Cross Ukraine, greeted them at the Dubnivska water supply company, where a 200-kilowatt generator was delivered on 14 January. Afterwards, they visited the urban hospital in Lutsk, where a 400-kilowatt generator will arrive soon.
"The first generator will ensure that almost 127,000 residents can continue to get potable water. That's more than half of the inhabitants of Lutsk," Philippe Vandekerckhove, managing director of Red Cross Flanders, said during the visit to the Ukrainian city. "The second unit provides power for a hospital with a capacity of 700 beds, for about 40,000 patients a year."
"This is one of the first generators in a whole series," Jambon explained during the visit to the water supply company. He also stressed his solidarity with the Ukrainian people. "Your struggle is also our struggle. It is a struggle for democracy, identity and Western values."
Sixteen generators have already arrived in Ukraine. Red Cross Flanders and the Flemish government will deliver more generators to the Ukrainian cities of Lutsk, Odesa and Rivne in the coming months.
© BELGA VIDEO NICOLAS MAETERLINCK
#FlandersNewsService | Red Cross Ukraine president Mykola Yefremovych Polishchuk and Flemish minister president Jan Jambon during a visit to the generator of the water intake station 'Dubnivska' in Lutsk, Ukraine. © BELGA PHOTO NICOLAS MAETERLINCK