Flemish government could reach for a 'balanced' budget in 2024, say social partners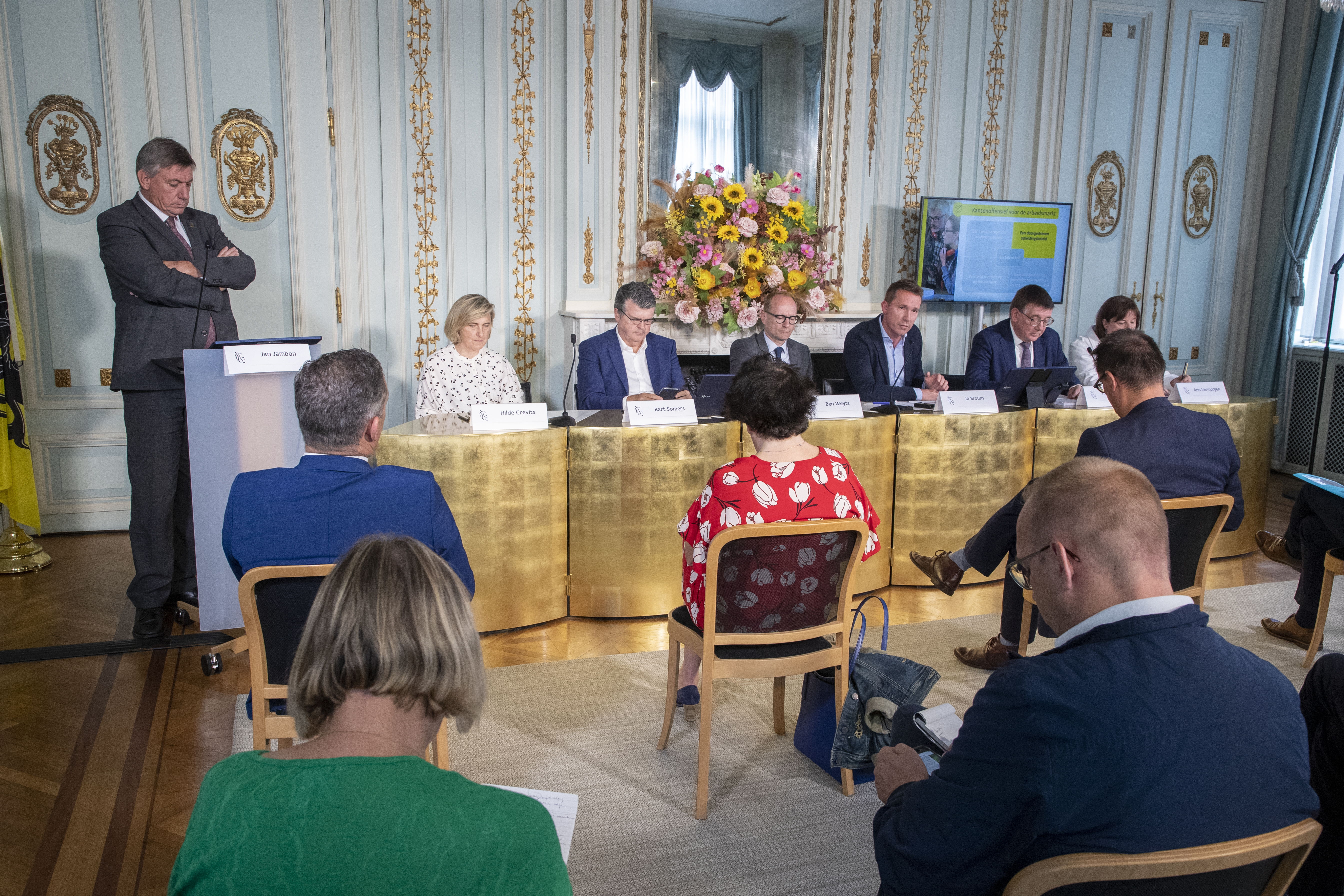 The Flemish government can aim for a balanced budget by the end of the legislature in 2024. This is apparent from calculations by the Social and Economic Council of Flanders (SERV). The council of the Flemish social partners, like the Jambon government itself, does not include the Flemish Resilience Recovery Plan and the Oosterweel project within the budget target. The SERV is also aware that there are many economic and social uncertainties, ranging from inflation to the Ukraine crisis and rising energy costs.
For this year, if policy remains unchanged, the SERV is taking into account a budget deficit of 3.7 billion euros, a slight deterioration of 181 million euros compared to the adjusted budget. From next year, a budget deficit would be systematically narrowed, with a projected deficit of 1.7 billion euros in 2023 and 1.2 billion euros in 2024.
Without the recovery plan for Flemish Resilience and the construction costs for Oosterweel, the deficit will fall to 620 million euros in 2023 and even to 263 million euros in 2024. This means that Flanders will more than meet its budget target. Additional efforts are not necessary, according to the SERV. Last week, Prime Minister Jan Jambon made it clear that he wants to establish a balance as soon as possible, but he spoke of 2027 or 2026.
However, setting a watertight fiscal path is almost impossible in the current macroeconomic conditions. There are too many economic and social uncertainties for that. Economic growth is slowing and inflation is soaring. In the meantime, society is still recovering from the corona crisis and immediately has to bow to new crises such as the Ukraine crisis and rising energy prices.
The inflation surge has a favorable effect on the budget result at the Flemish level. This is because most Flemish receipts, such as the large amount of federal grants, increase in line with inflation, while many expenditures follow inflation only partially or with a delay.
Nevertheless, the SERV warns the Flemish government "not to be blind to the negative impact of the inflation surge" on certain sectors, companies and households. The SERV therefore advocates "targeted support" without using the budget as a buffer, as was the case before the corona crisis. 
"We do not express an opinion on who should receive this targeted support. That is a matter that the policymakers have to decide on," says SERV chairman Hans Maertens.
(VIV)
#FlandersNewsService
© BELGA PHOTO (NICOLAS MAETERLINCK) Flemish Minister President Jan Jambon, Flemish Minister of Welfare Hilde Crevits, Flemish Minister of Domestic Policy and Living Together Bart Somers, Flemish Minister of Education and Animal Welfare and Sports Ben Weyts, Flemish Minister of Employment, Economy, Social Economy and agriculture Jo Brouns, Hans Maertens and Ann Vermorgen during a press conference of the Flemish Government, together with SERV representatives in Brussels, on July 1, 2022.