Flanders: not the sunniest destination, but plenty of solar energy
1 November 2022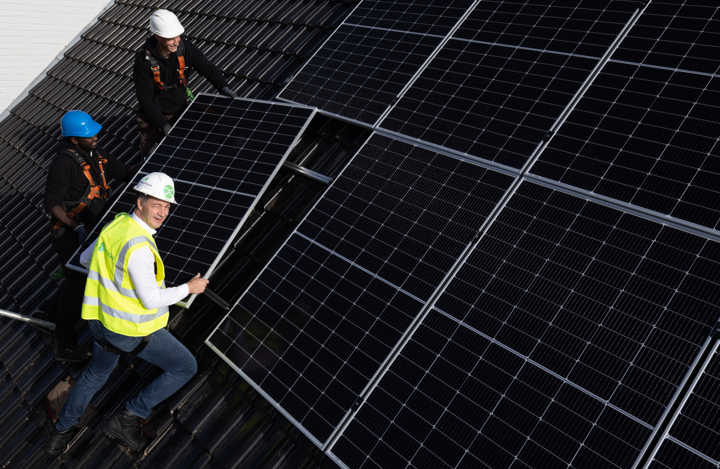 The share of energy from renewable sources in Flanders is growing steadily, as is solar energy. Since the start of the energy crisis, solar panel installers could barely keep up with demand. But even before the crisis, Flanders was already a solar energy advocate. The region is therefore among the leaders within Europe, as with 612 W of solar energy per inhabitant, Flanders only lags behind Germany (646 W) and the Netherlands (629 W). 
That the three European frontrunners want to further strengthen their position is illustrated by the project in the North Sea, where German energy company RWE and Dutch SolarDuck will install the floating solar park 'Merganser' in 2023, presumably off the coast of Ostend. The system with triangular modular floating platforms (floating with 'floats' above the waves on which solar panels can be mounted) should give both companies experience to later commercialise their floating solar parks on a larger scale. 
Merganser is not the first solar energy project off the Flemish coast. Dutch company Oceans of Energy already installed a small installation off the coast of Ostend in 2019.
Energy crisis
Meanwhile, the ongoing energy crisis is causing Flanders to increasingly encourage the potential of solar energy onshore as well. For example, the Flemish minister for Immovable Heritage Matthias Diependaele (N-VA) is adjusting the conditions for assessing applications for solar panels on monuments. 
"The current acute energy crisis and long-term climate solutions force us to adjust our vision of immovable heritage: renewable energy generation must also be possible on our monuments," said minister Matthias Diependaele (N-VA). Flemish social housing companies, for which minister Diependaele is also responsible, will also equip a third of their patrimony with solar panels over the next five years, accounting for 395,000 solar panels on a total of 52,500 social housing units. 
Increasing potential
The Flemish industry is also increasingly appreciating the potential of solar energy. Ghent, for instance, is a leader in generating solar energy. The city does so with the help of some 16,000 solar installations spread across the roofs of companies, municipal buildings, and homes, accounting for 126 megawatts. Recently, the project of the City of Ghent and the Vlaamse Energie Maatschappij (VEB) on Rigakaai, which provides 15,000 solar panels, also won a European prize.
Meanwhile, the number of large battery parks is also increasing. According to the newspaper De Tijd, capacity in Belgium would triple by the end of this year. Those batteries, often investments of tens of millions of euros, should ensure that more and more solar energy can be stored at times when there is an abundance of cheap power. Large battery parks will thus play an increasingly important role in keeping the electricity grid balanced and in storing renewable energy for moments of low sunshine, which is not uncommon in the region. 
Disclaimer: Since the outbreak of war in Ukraine, self-sufficiency seems to be the keyword, especially when it comes to energy supply. In recent months, several countries have revised their energy policies to cope with the shortage of gas and oil. Flanders, too, is moving towards a greener energy policy. In this series, we dive deeper into Flanders' renewable energy landscape. What does the region already have to offer and what does the future hold?
(AHU)
#FlandersNewsService | ​ Prime Minister Alexander De Croo assists with the installation of solar panels of the EnergyHome formula by EnergyVision, Wednesday 19 October 2022 in Meerbeke, Ninove. EnergyVision places panels free of cost on the roofs of participating citizens, and charges a fee for energy used by the inhabitants of the house. ​
​© BELGA PHOTO Benoit Doppagne