Flanders gives Belarusian opposition leader Tsikhanouskaya key to Brussels office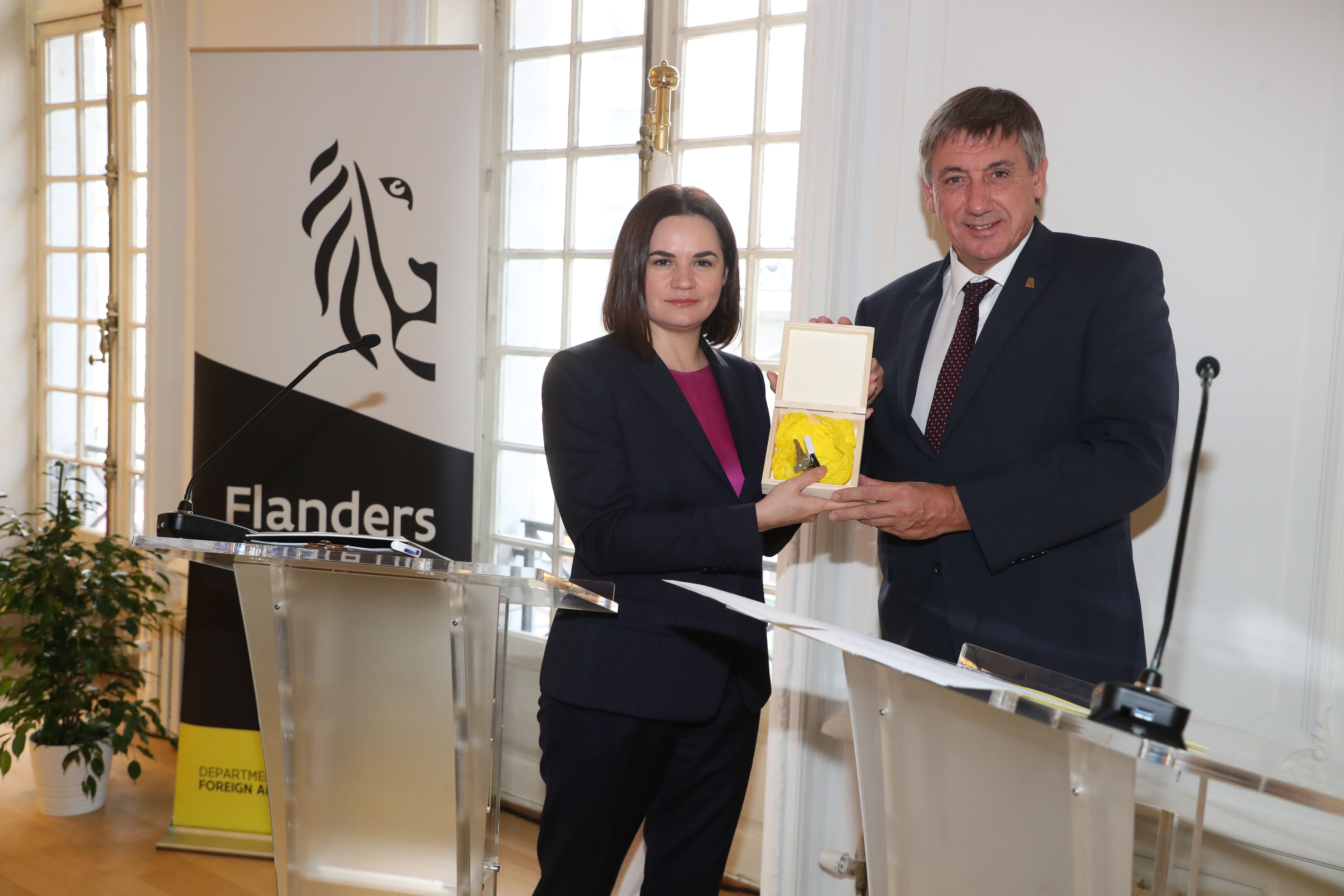 On Wednesday, minister-president of Flanders Jan Jambon handed Belarusian opposition leader Svetlana Tsikhanouskaya the key to an office in Brussels, provided to her free of charge by the government of Flanders.
Jambon went on a mission to Lithuania in the spring and met with Tsikhanouskaya. Among other things, he undertook to see how Flanders could further help the Belarusian civilian movement, which is resisting Aleksandr Lukashenko's regime. Flanders is also providing financial support to two civilian movements opposing the regime.
Tsikhanouskaya had expressed that she could use an office in the heart of Brussels. Flanders found it in rue Arenberg. It is a vacant office of the government of Flanders that is provided free of charge.
"When I met opposition leader Tsikhanouskaya in the Lithuanian capital in early May, I was struck by the fate of her husband and so many other Belarusians who are in prison or mistreated because of their political activities or their rebellion against the regime," Jambon said.
"Lukashenko's regime makes it clear that core European values such as democracy, freedom and free speech have no place there. And while the international community's attention has been focused on Ukraine since 24 February, we should not forget that persecution and violent repression continue in Belarus. Moreover, the dictatorial regime is involved in the bloody Russian incursion into neighbouring Ukraine and risks being sucked into the war, to the discontent of the Belarusian people. A needless war, which Russia will not win."
Flanders does not recognise the outcome of the August 2020 presidential elections in Belarus. "I hope that one day, in the not-so-distant future, the current regime in Belarus will fall and freedom will triumph over tyranny," the minister-president concluded.
(TOM)
#FlandersNewsService
© BELGA PHOTO NICOLAS MAETERLINCK / BELGA VIDEO MAARTEN WEYNANTS