Farmers' protest disrupts New Year event of Flemish Environment minister's party N-VA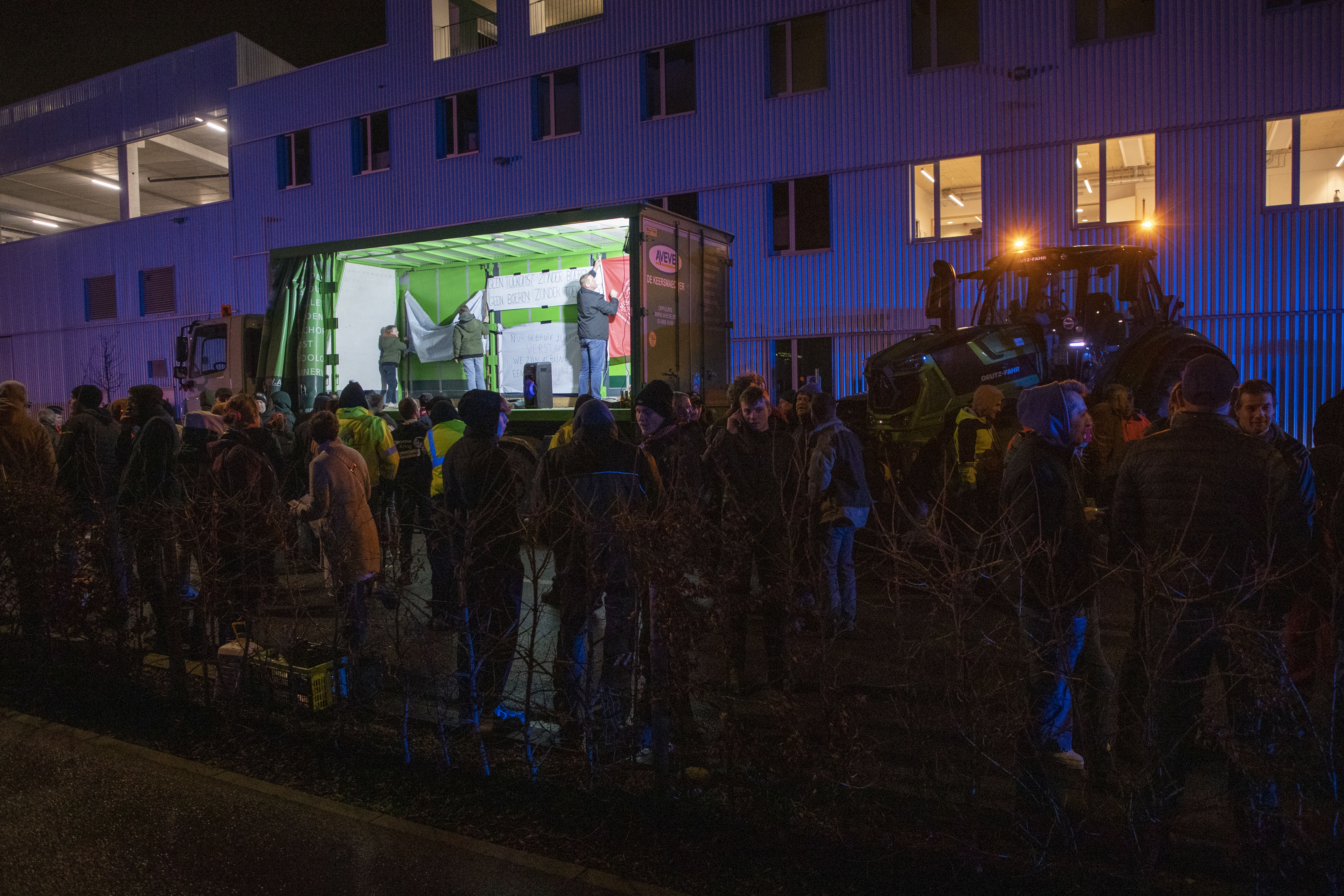 While N-VA, Flemish Environment minister Zuhal Demir's party celebrated their New Year party on Saturday night, farmers protested at the entrance. The farmers had descended to the event in columns of tractors to campaign against the nitrogen agreement.
"An N-VA party is taking place, but for us farmers and the rest of the population, there is no reason to celebrate," argued poultry farmer Gunter Klaasen. "They ensure that food security is compromised and the future of agriculture becomes very uncertain. Under the current Programmatic Approach to Nitrogen (PAS), almost nothing will get a permit again."
According to the farmers, Flemish minister Demir is in charge of the PAS agreement, which must reduce nitrogen in Flanders.
Thanks to the nitrogen agreement, we can avoid a total permit drama like in the Netherlands
During his speech, N-VA president Bart De Wever praised Demir's approach. "Thanks to the nitrogen agreement, we can avoid a total permit drama like in the Netherlands. It is up to us to explain this to Flemish farmers and offer them guarantees for the future," he said.
The farmers' aim on Saturday night was to make their voices heard. "We want to reach people with our signal and open their eyes," Klaasen said.
PAS agreement
The PAS agreement has already caused a lot of commotion. The agricultural sector considers the agreement too strict and unfeasible, while environmental organisations believe that the agreement does not go far enough.
The PAS should reduce high nitrogen concentrations in the air, provide additional protection for European nature through nitrogen remediation and provide a framework for permitting activities that emit nitrogen.
The Flemish agreement states that pig and poultry farms must reduce nitrogen emissions at a stable level by 60 per cent by 2030. The pig population must be reduced by 30 per cent by 2030. The most polluting farms will have to close their doors by 2025. This concerns some 40 companies. They will receive compensation.
By 2026, 120 other farms will have the opportunity to stop voluntarily. Within the new rules, a correction mechanism is provided for smaller family farms and organic farms. The Flemish government also supports young farmers who want to invest in new technology.
European Habitats Directive
The PAS programme was drawn up to comply with the European Habitats Directive. This obliges the European member states to actively protect and restore the natural areas that are part of the Pan-European Natura 2000 network, with the general objective of preserving or restoring habitats and protecting species.
Nitrogen deposition is a significant environmental pressure on the Natura 2000 network. With no change in policy, it prevents the established conservation objectives from being met.
#FlandersNewsService | A farmers protest pictured during the traditional new year's reception of Flemish nationalist party N-VA, in Mechelen, Saturday 14 January 2023.
© BELGA PHOTO & VIDEO NICOLAS MAETERLINCK