Famous Belgian horse Ros Bayard out again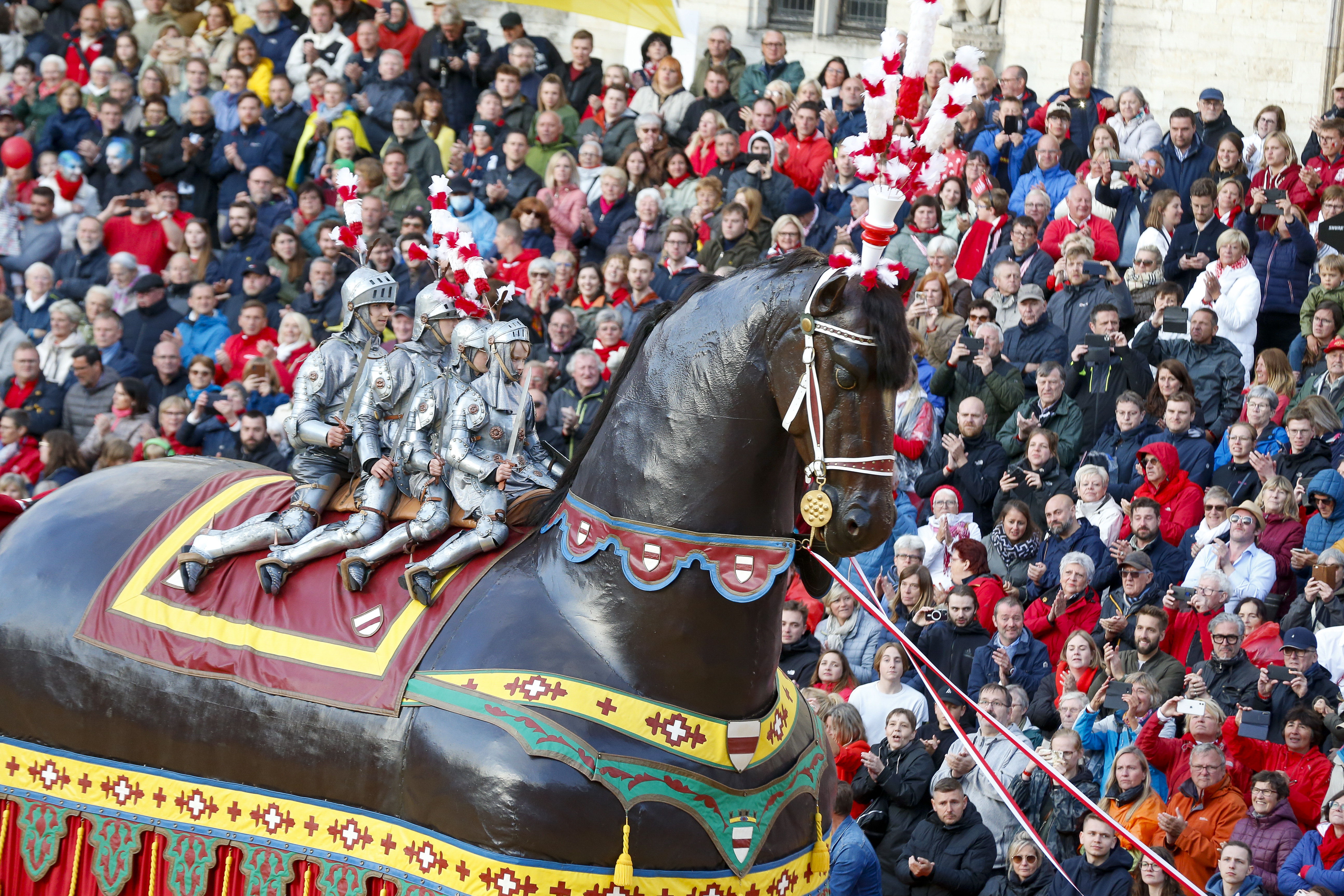 The famous Belgian horse Ros Bayard has left its stable again after more than 12 years. On Sunday, the entire city centre of Dendermonde was transformed into a large event zone and Ros Bayard made its official Ommegang, a decennial procession featuring the heroic horse.
The tragic saga and the iconic horse are still important symbols in the folk festival and the chivalrous story has been celebrated for centuries. Dendermonde has the wooden horse in its possession since 1461.
The saga tells how the youngest son of Aymon, lord of Dendermonde in the time of Charlemagne, could tame the strongest horse in the area, the Ros Bayard. The horse was capable of understanding human speech and is said to have saved his master and his three brothers, carrying them at the same time. But when, after an unequal battle with Charlemagne's troops, their father fell into animal hands, the Ros was delivered and drowned with millstones.
Four brothers
On the back of the legendary horse this edition: Maarten, Wout, Stan and Lander Cassiman. Four consecutive brothers who - so a charter prescribes - are between 7 and 21 years old on the day of the circumambulation. They not only had to be born in Dendermonde, they also had to have lived there continuously. Moreover, the same goes for the parents. If they meet these conditions, they can be chosen to embody the four heme children.
The Cassiman brothers were carried in teams of 12 pallbearers and covered a distance of 4.8 kilometers in just over 5 hours. Besides the extras and international acts, 200 animals walked in the procession: some 150 horses but also geese, sheep, oxen and dogs.
Dendermonde is not the only city in the country where a Ros Bayard passes through the streets, but the celebration is very popular. The last time an ommegang was organized was on May 30, 2010. As a rule, the tradition is followed up every 10 years. But for the past two years, the festivities were cancelled due to the corona pandemic.
#FlandersNewsService
© BELGA PHOTO NICOLAS MAETERLINCK - Decennial procession featuring the heroic horse, Ros Bayard, in Dendermonde. ​ Legend says this 'Bayard' horse saved his master (Reynout) and his three brothers (Ritsaert, Writsaert, Adelaert), the 'Four Sons of Aymon'.
© BELGA VIDEO JONAS D'HOLLANDER