Commission vice-president promises more support for psychiatric patients in Geel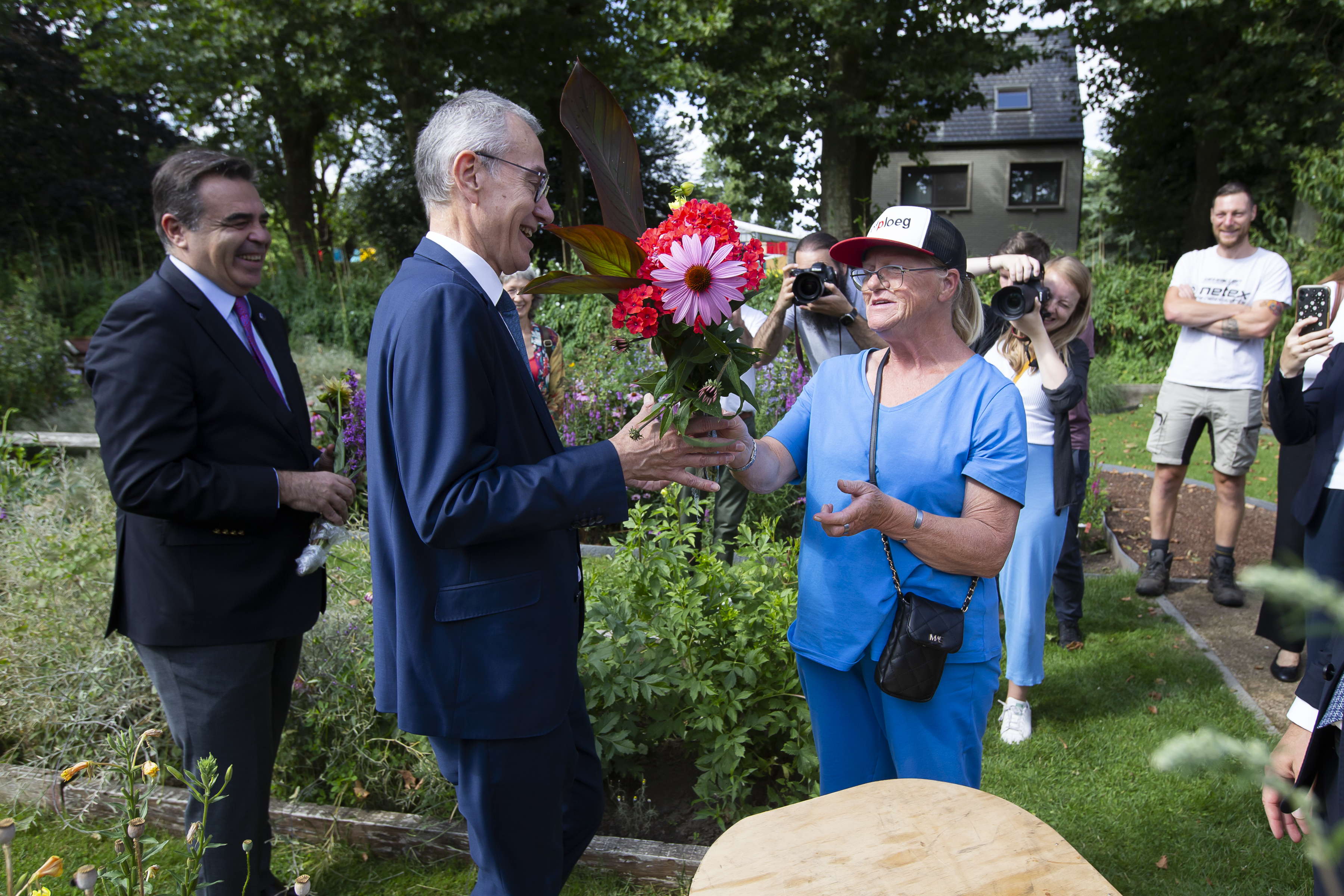 The vice-president of the European Commission visited the Public Psychiatric Care Centre (OPZ) in Geel on Monday with Belgium's Health minister. They pledged more support for the project in which families provide foster care and the reintegration of about 150 people with psychiatric problems.
Margaritis Schinas and Frank Vandenbroucke (Vooruit) visited the OPZ, which provides organises a specific form of residential care in Geel, Antwerp province, and the surrounding area for people who cannot live independently due to psychological vulnerability.
As an alternative to an institution, the OPZ matches patients with foster families who, in principle, host them for life and provide them with a sense of family. The families do not receive any training, as the aim is to keep therapy and family life strictly separate. "The emphasis with us is not on the disorder, but on what is possible with inclusion in the community and social life," says OPZ general director Hans Verbiest.
Destigmatising mental health
Schinas said he visited the project because it was an existing example of what the new European action plan for mental well-being aims to achieve: destigmatisation, deinstitutionalisation and a universal right to care.
"We don't want to impose that in a top-down way," he said. "There is not one model that the European Union wants to see implemented everywhere. Here in Geel, for example, we see a unique project in terms of scale and because it builds on a long tradition of foster care. We want to create the right conditions, provide resources and further rely on local and regional expertise in their projects. This is a world-class project."
Schinas wants to use the initiative to arrange a meeting in Geel for organisations such as the OPZ that provide foster care for people with psychiatric vulnerability.
Vandenbroucke also pledged more support for the OPZ. The federal government is investing an extra 330 million euros in mental healthcare by the end of the legislature.
"This concerns investments in, for example, hospitals and crisis shelters, but also here in Geel," he said. "I intend to increase financial support, which has stood still for 25 years except for indexations, by 50 per cent per family. In the OPZ, we want to provide 24 beds with a stronger framework to act better in complex psychiatric situations."
Vandenbroucke also called foster care in Geel a unique project. "People with psychiatric problems get the right care here, not only in the hospital but also in normal family life," he said.
"I have enormous respect for the people who are involved in this. It is a long-standing tradition in Geel but also incredibly topical. It is good that the European Commission is now showing that mental well-being is not just an issue in Belgium, but something that we must tackle together in Europe."
#FlandersNewsService | EU Commission vice-president Margaritis Schinas and Belgian Health minister Frank Vandenbroucke receive flowers from a patient at the OPZ in Geel © BELGA PHOTO KRISTOF VAN ACCOM / © BELGA VIDEO Tijs Vanderstappen
Related news