EU hails Ukraine's "considerable efforts" to join the block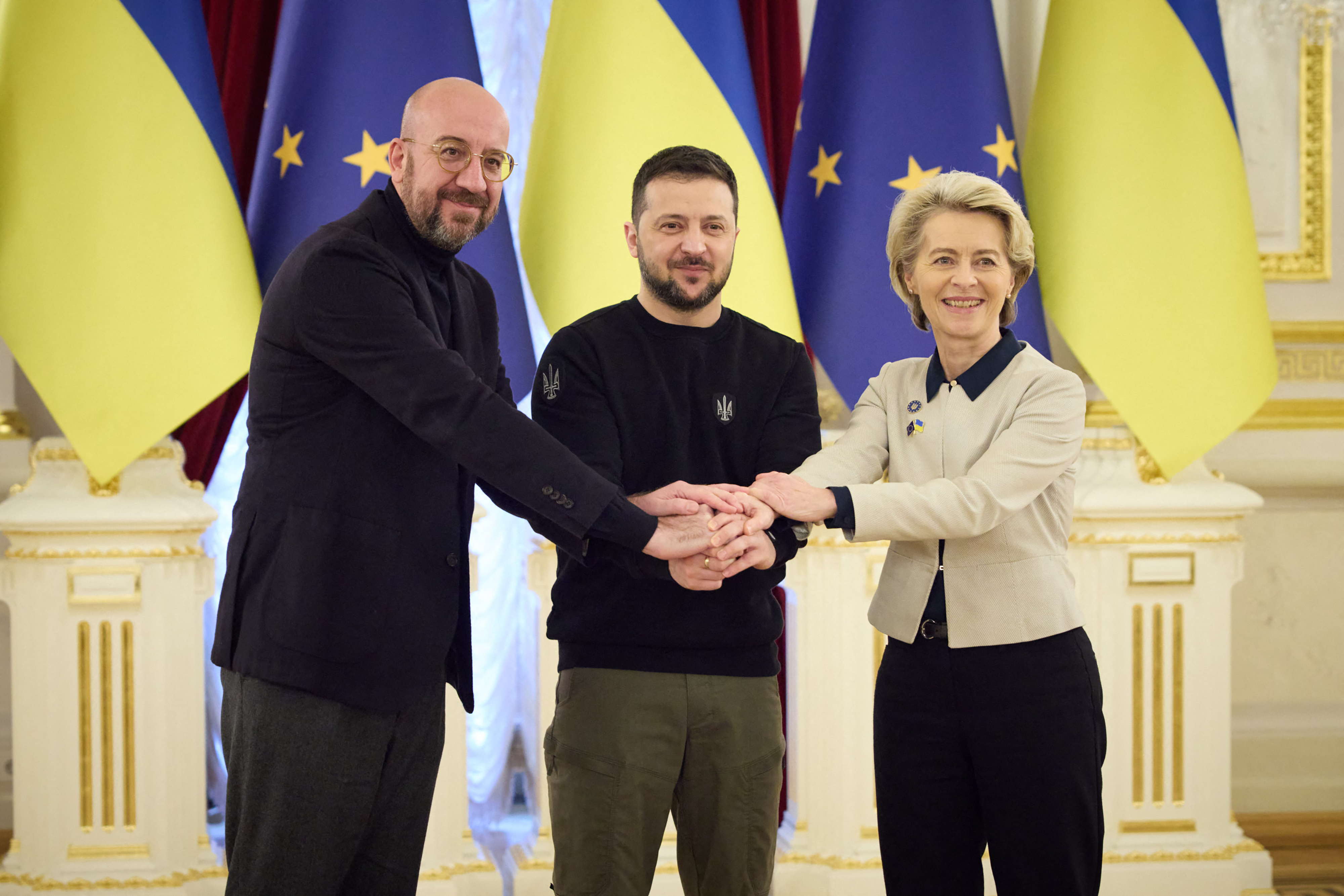 The European Union underlined, at the end of an unprecedented summit this Friday, February 3, in Kyiv, the "considerable efforts" made in recent months by Ukraine on the road to membership, arranging a meeting at the end of the year for the 27 EU Member States to take a stand. 
Taking stock of the EU-Ukraine summit alongside Ukrainian President Volodymyr Zelensky and EU Commission President Ursula von der Leyen, European Council President Charles Michel recalled the EU's unanimous agreement in June, despite previously expressed misgivings, to grant Ukraine the status of a candidate country.
"Today, together with the President of Ukraine and his staff, we were able to take stock of progress. The President of the EU Commission and I salute not only the efforts, but also the progress made in just a few months by the Ukrainian party," said Charles Michel. He mentioned reforms to the judiciary and the fight against corruption, while encouraging the country to strengthen the rule of law.
The European Commission, which published its analytical reports on the European prospects of Ukraine, Moldova and Georgia on Friday, will produce an oral report in the spring and then a written report in the autumn, Von der Leyen detailed. "I am deeply impressed with the accuracy, quality and speed with which you deliver results while at war," she testified to Zelensky.
The matter will be placed on the table of the Member States (Council) "before the end of the year", promised Charles Michel, "and the Member States will have to give their opinion on the matter". The Belgian underlined the importance of such a decision "for the coming decades", in terms of "security, democracy and freedom on European soil".
The process of joining the EU is traditionally a long one, with the opening of accession negotiations being only one step. The course is merit-based and ultimately requires the unanimity of the 27.
(VIV)
European Council President Charles Michel (L), Ukrainian President Volodymyr Zelensky (C), European Commission President Ursula von der Leyen (R) posing during an EU-Ukraine summit in Kyiv on February 3, 2023. © BELGA PHOTO (Handout / Ukrainian presidential press-service)