Drought effect: Belgium braces for poor potato harvest this year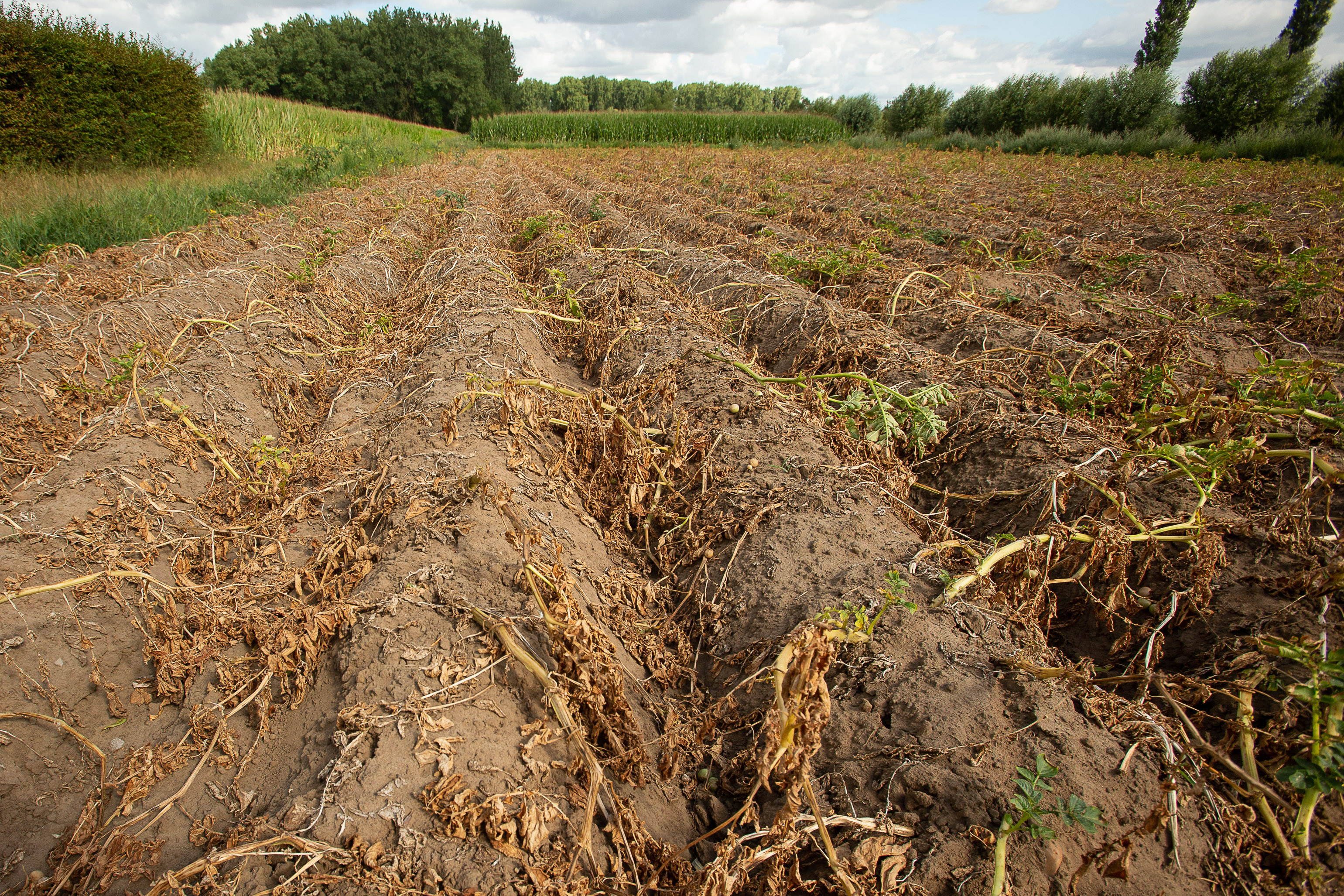 Farmers are bracing for an exceptionally poor potato harvest, marked by severe drought and high temperatures which have dilapidated fields. 
This July was the driest on record since 1885, with an average of only five millimetres of rainfall across the country. When harvest starts in mid-September, Wallonia expects a yield between 35-40 gross tonnes per hectare. Typically, one hectare should yield 44.5 tonnes. A good yield would typically be 45 tonnes per hectare, an excellent one: 50 tonnes.
At the end of June, farmers were eagerly expecting a large harvest. "Potatoes were 15 days ahead. The main varieties, such as the fontane and the challenger, have since lost this lead and are back below the average yield," Pierre Lebrun, director of the Walloon Potato Sector Association (FIWAP), told Belgian newspaper La Libre.
However, the lack of rainfall is not uniform across Belgium, and some potato growing regions in Belgium have received as much as 20 millimetres of rain.
"These crops will resume and progress for a few days," Lebrun noted. However, for even better growth, more sunshine, cool temperatures, and rain need to arrive.
"In the best case, we can harvest a few tonnes more in these regions and have a gross yield of more than 40 tonnes per hectare," the association's director stated. In drier growing areas, farmers can only pray and look to the skies.
During the 2018 droughts, Walloon farmers were able to restart growth after months without rain. It is hoped that this will be possible again this year, especially with the fontane and challenger varieties.
During the last drought, Wallonia yielded 37 tonnes per hectare, down 27% from the year before. Between 5-10% of potatoes grown in 2018 had to be discarded.
A difficult year
"This year, Belgian potatoes are suffering from the longest period of drought in recent history. Late growing potatoes have hunkered down, waiting for the return of the rain," Lebrun said. For those planted earlier, the harvest has already begun, and yields are just slightly under average.
Rain is not only important for growing potatoes, but also to be able to harvest them. With dry soil, it is nearly impossible to uproot the tubers. In this case, they must be left in the soil until the arrival of rains.
"It is possible that farmers leave the crops as long as possible in order to make a few tens or even a hundred kilos more per hectare. One year, we had to wait until 15 October to start the operation," Lebrun explained.
Ultimately, the farmers' representative warned that Belgium was heading towards a "poor harvest." Naturally, this will have an impact on prices in the supermarkets. Combined with other factors, such as the price of energy, this could be considerable.
For farmers signed into fixed contracts with potato product producers, most making frozen chips and croquettes, poor harvest could even mean losses.
Potatoes are not the only crop in trouble this year. The General Farmers Syndicate estimates that 70-80% of bean crops will be lost as a result of drought, and 20% for sprouts. Onions, maize, and beets are all smaller in size this year, and often less numerous.
(VIV)
#FlandersNewsService
BELGA PHOTO (JAMES ARTHUR GEKIERE) Dry potato plants in De Pinte, East Flanders.