Christmas tree arrives on Grand Place in Brussels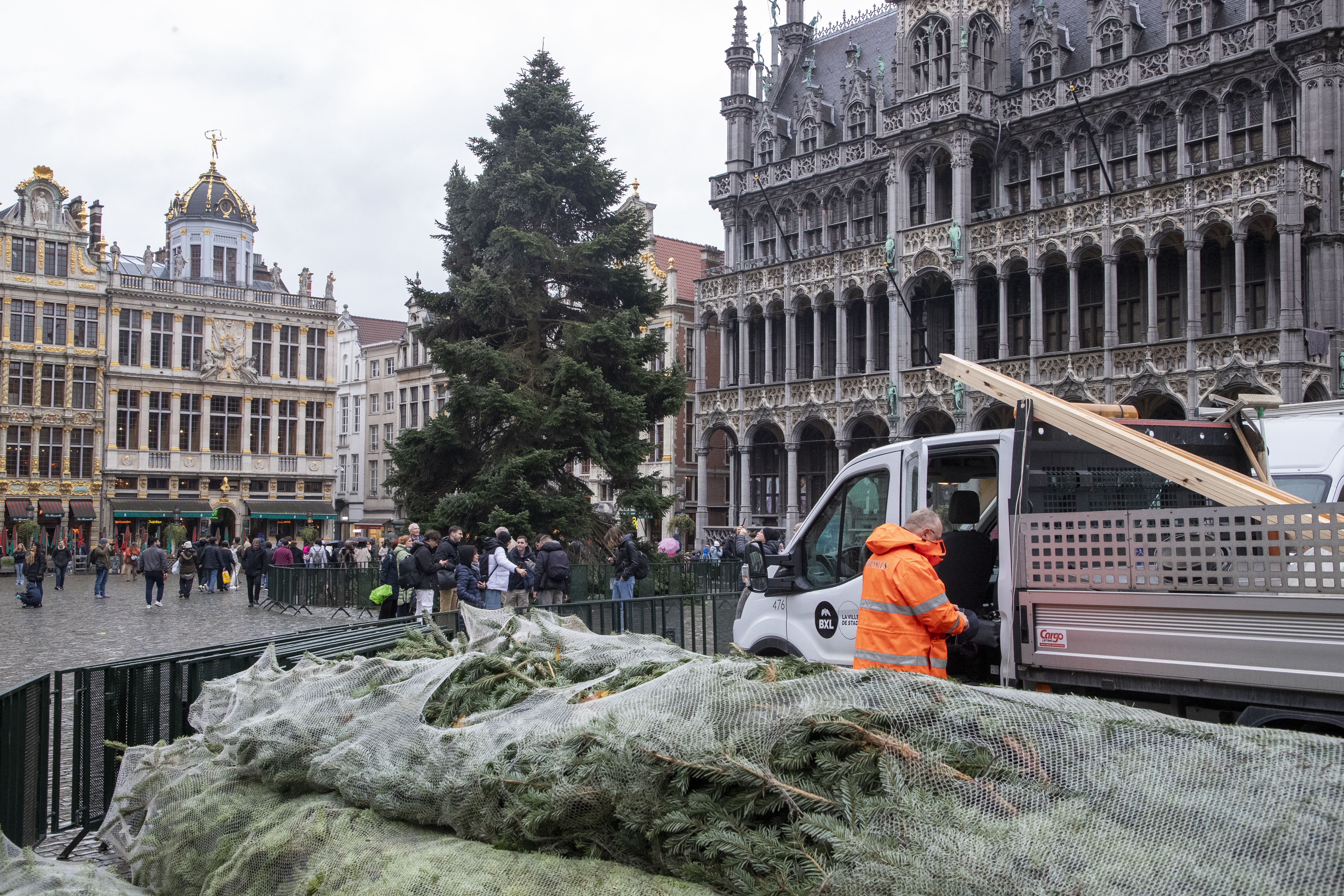 In the early hours of Thursday morning, the traditional Christmas tree arrived at the Grand Place in Brussels, where it will be on display until 7 January.
The tree is a 22 m Nordmann fir and is around 50 years old. The tree was taken from the garden of 87-year-old Maria, who lives in Lier, Antwerp, and her late husband, Jozef.
"Until yesterday, the tree stood in the garden of a house in the charming town of Lier in the province of Antwerp. It took five decades to grow into the giant it is today," said Brussels Major Events, the organiser of the city's winter festivities.
"By donating it to the city of Brussels, the owners are now giving it a place worthy of its mighty appearance: on the most beautiful square in the world, where hundreds of thousands of visitors will admire it."
Pierre Demesmaeker of the Inter Arbo tree nursery discovered the pine tree in the backyard of the house three years ago. After being felled on Wednesday, the tree was transported in a special convoy to the Grand Place, where it was installed on Thursday.
The Nordmann fir is adorned with 140 ornaments from the 11 Indigenous nations of Quebec, who are guests of honour at the city's Winter Wonders event. The ornaments include a Mi'kmaq star, a snowshoe, an inukshuk and a dreamcatcher, as well as 50 white light beads and a 2 km garland of LED lights. Decorating will take place from 18 to 20 November.
Winter Wonders
The lights will be switched on on Friday 24 November in a celebration featuring traditional dance and song by the Indigenous nations. The show marks the start of the city's Winter Wonders event.
The festival will light up several squares and streets in the city centre, including the Grand Place, Place de la Monnaie, Sainte-Catherine and De Brouckère, and outside the centre. Brussels by Lights will light up 168 streets in the region with snowflakes, snowmen and other works of art.
The event, which includes Christmas markets, food and drink stalls and a variety of activities, including ice skating, will take place throughout Brussels from 24 November to 31 December, every day from 12.00 to 22.00.
© BELGA PHOTO NICOLAS MAETERLINCK / BELGA VIDEO MAARTEN WEYNANTS