Brussels students build electric race car from biodegradable flax fibres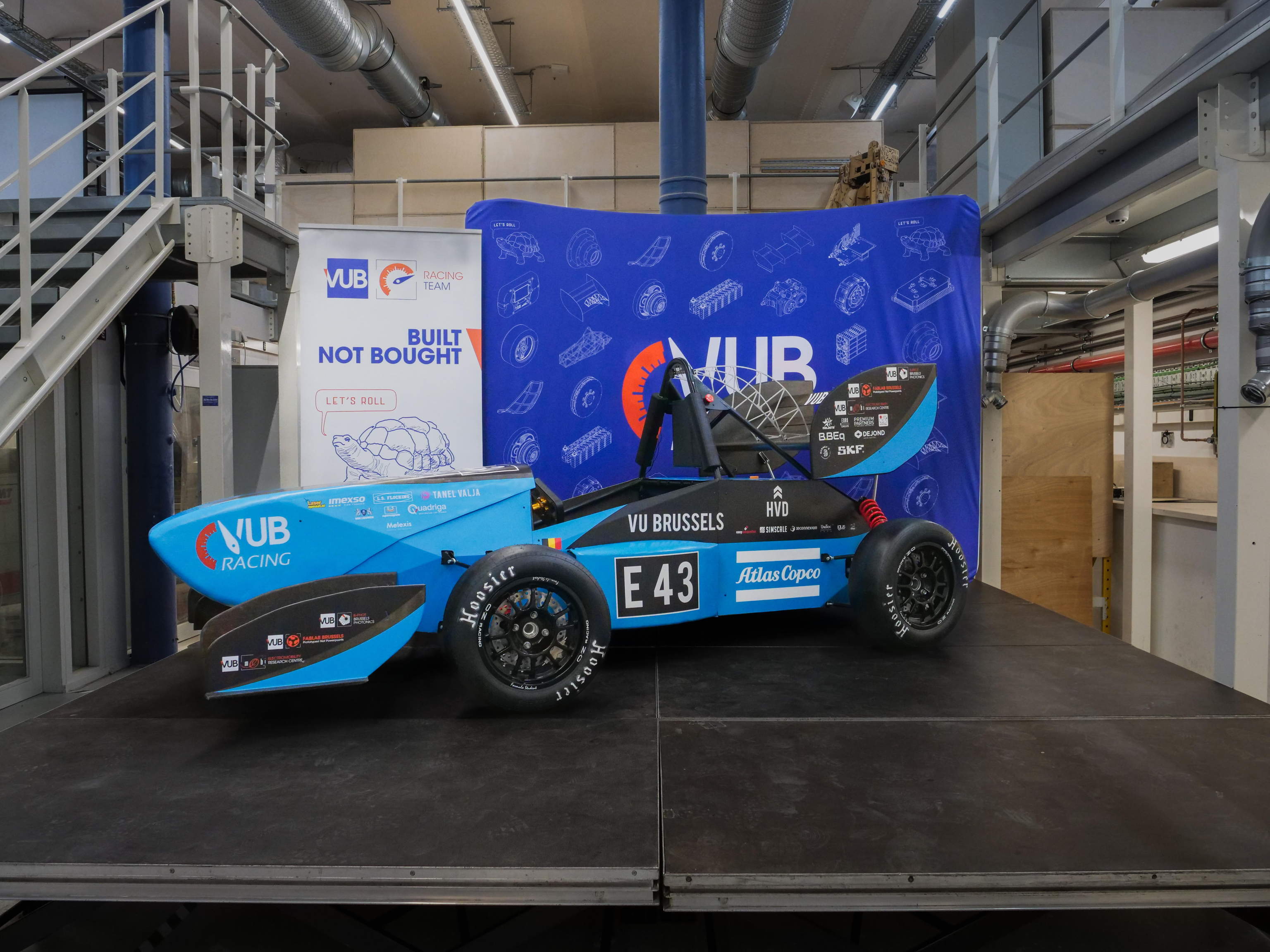 Students of the Vrije Universiteit Brussel (VUB) have built an electric racing car using biodegradable flax fibres. The car was presented on Thursday evening at the Fablab in Brussels and will represent VUB at the international Formula Student competition, an engineering competition for students from all over the world.
"The use of flax fibres is a world first. As a result, the car emits fewer greenhouse gases, and the fibres are also biodegradable," said engineering student Alexis Salmon, team manager of VUB Racing.
"Traditionally, motorsport uses carbon fibres. The production process results in pollution and high emissions, and the material is very difficult to recycle. Using flax fibres instead reduces the emissions from production by a factor of 37."
Using the biocomposite, a material made from natural raw materials, "is a way of promoting culture and innovation within our team and pushing the boundaries of technology", says Salmon. "This is how we are inspired to experiment, innovate and develop new cutting-edge approaches. This benefits not only our race team but also the industry in general."
"This year, we also designed a homemade engine. Only a handful of Formula Student teams are crazy enough to do that"
Under the motto Built not Bought, the VUB students try to build the car entirely by themselves every year. "This year, we also designed a homemade engine. Only a handful of Formula Student teams are crazy enough to do that," says deputy team manager and student Sam Dilmaghanian.
Multifaceted approach
Students from the faculty of Social Sciences, Arts and Philosophy, bioengineers and business students at are also taking part in the project. "There is so much more involved. For instance, we have an applied linguistics student working on our communication, computer science students working on our self-driving platform and business engineers helping us attract partners," says Salmon.
The Formula Student competition is an engineering competition for students around the world. Teams design, build, test and race a small-scale formula-style racing car. The VUB Racing project started in May 2017. Ghent University and KU Leuven are also participating in the race.
"Thanks to the enormous passion and commitment of this year's team, our goal is to finish in the top 10 in each race. That would show that our small team from Brussels can compete against the bigger teams," Salmon said.
(BRV)
© BELGA PHOTO HAND OUT VUB