Brussels Flower Carpet returns in August for 50th anniversary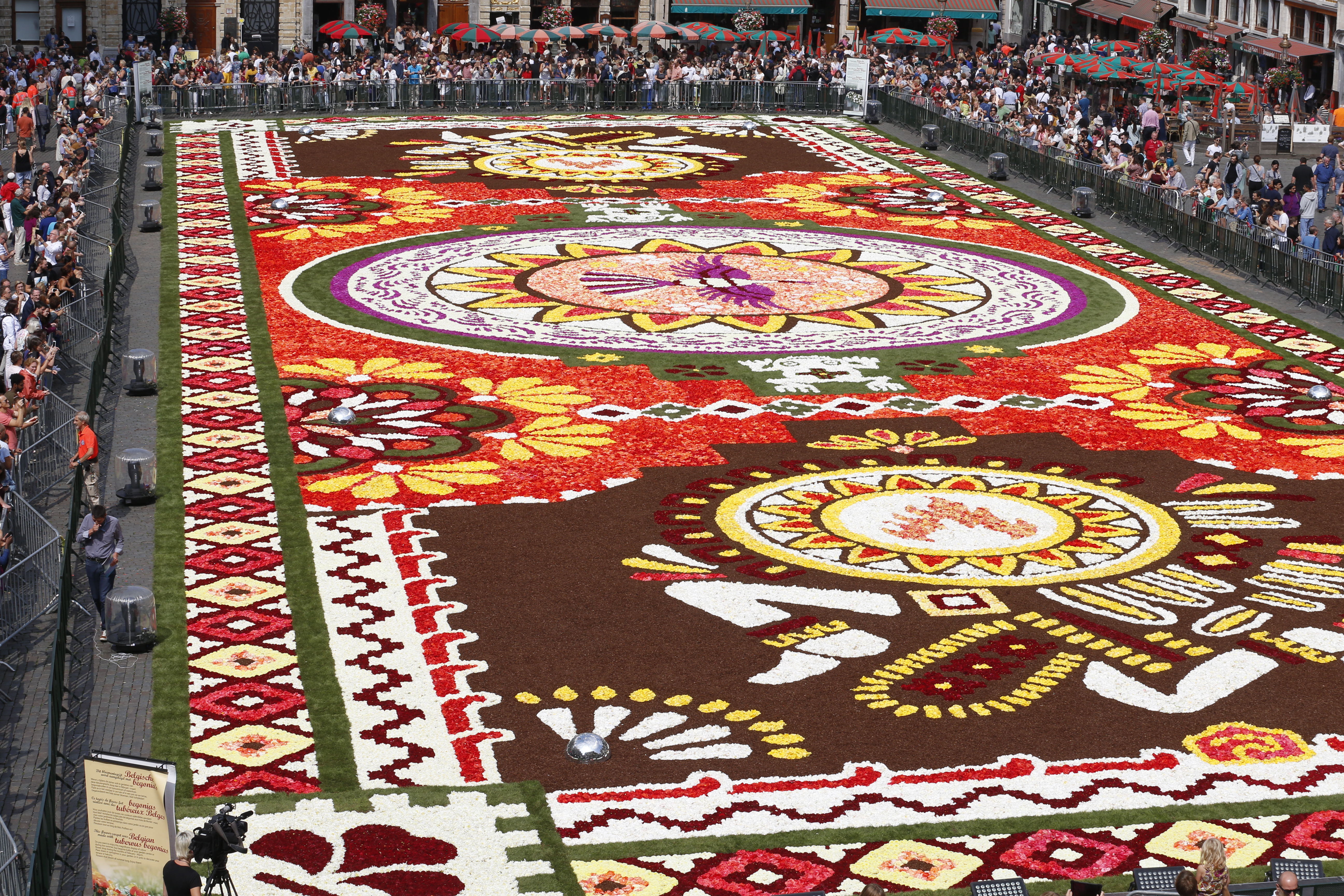 After almost four years of absence, a large Flower Carpet will once again brighten up the cobblestones of Brussels' Grand Place. The 22nd edition will take place from August 12 to 15. The 50th anniversary of the event will be celebrated with a return to the very first Brussels flower carpet from 1971.
"The Flower Carpet is an unmissable event on the cultural and tourist agenda," says Delphine Houba (PS), alderwoman for Culture, Tourism and Major Events of the City of Brussels, and president of the Non-Profit Organisation Flower Carpet of Brussels.
The event is normally organised every two years, but the 2020 edition had to be cancelled due to the pandemic. Last year, the city was decorated with flowers in several places, but the last real Flower Carpet dates from 2018.
For Fabian Maingain (DéFi), Brussels alderman for economic affairs, the return of the Flower Carpet is synonymous with the tourist highlight of the summer. The Flower Carpet is an important boost for the Brussels hospitality sector.
Inspiration for special carpet
The inspiration for the special carpet dates back to 1970, when two aldermen from Brussels visited Oudenaarde's flower carpet. The idea quickly grew for the capital city to have its own carpet. Etienne Stautemans, chairman of the professional association for Flemish ornamental plant cultivation and green spaces (AVBS) at the time, was given the special assignment of creating the first carpet.
As a tribute to Stautemans, the Floral Carpet is reconstructing his first design this year. All the elements of this first design will be present in the 2022 carpet, including the Saint Michael archangel and the Belgian lion.
"To highlight the versatility of our ornamental plant production, we have also incorporated other flowers produced in Flanders, such as chrysanthemums, into this year's Flower Carpet," says Filip Fontaine, Managing Director of the Flemish Centre for Agro- and Fishery Marketing (VLAM), partner of this edition.
The design of the 2022 edition is the fruit of a collaboration between Mexican artist Roo Aguilar Aguado and Koen Vondenbusch, a student of Etienne Stautemans and his successor Marc Schautteet, who has been working on the Brussels Flower Carpet for 28 years. Together, they spent more than 280 hours reconstructing the pattern of the 1971 carpet, based on plans drawn by Stautemas himself.
The Flower Carpet will be erected on August 12 between 09:00 and 13:00. The official opening with a sound and light show will take place that same day at 10 pm. On the following two days, the spectacle will be repeated in the evening between 21:00 and 23:00. Tickets for the panoramic view from the Town Hall balcony are on sale via www.flowercarpet.be.
(KOR)
The 2018 Flower Carpet on the Grand Place of Brussels, Belgium, during its construction © BELGA PHOTO NICOLAS MAETERLINCK