Belgium to mint gold 12.5 euro coin for Queen Mathilde's 50th birthday
25 January 2023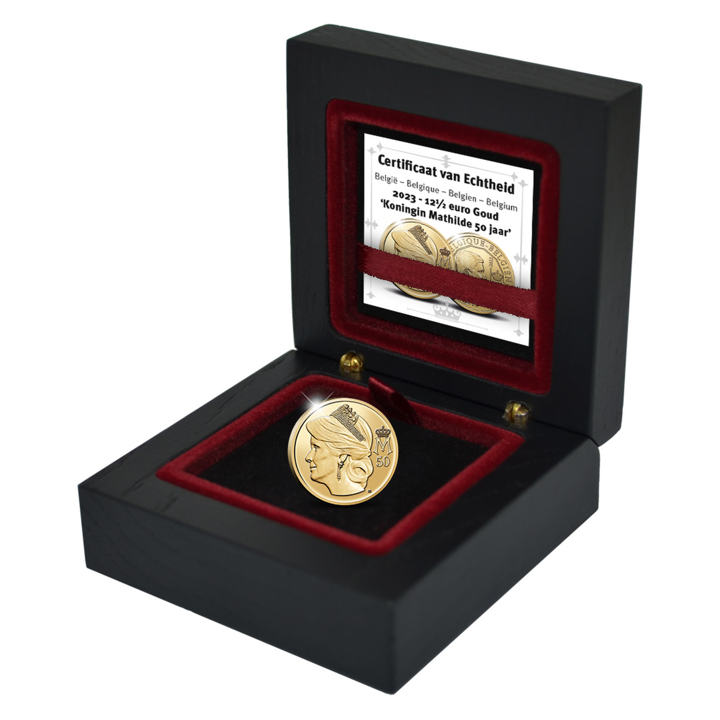 The Royal Mint of Belgium (KMB) has designed a gold coin to mark Queen Mathilde's 50th birthday. A maximum of 2,500 copies of the 12.5-euro coin - which will cost €159 each - will be minted.
For the first time, the portraits of Queen Mathilde and King Philippe can be seen together on a gold commemorative coin, says the KMB. One side of the coin features Queen Mathilde in profile, along with her monogram (an 'm' with a crown above) and the number 50. The other side features King Philip and the country's name in three languages.
The Mathilde coin is Belgium's first commemorative coin of 2023. With it, the KMB and Finance minister Vincent Van Peteghem want to "thank the queen for her unconditional support for the country, its inhabitants and the many social projects she has championed in recent years", reads a press release.
The gold coin, which comes packaged in a luxurious case with a numbered certificate of authenticity, costs 159 euros, according to the website www.herdenkingsmunten.be.
© ROYAL MINT OF BELGIUM / ROYAL PALACE BRUSSELS