Belgium at loggerheads with China after concerns over its involvement in EU infrastructure
27 October 2022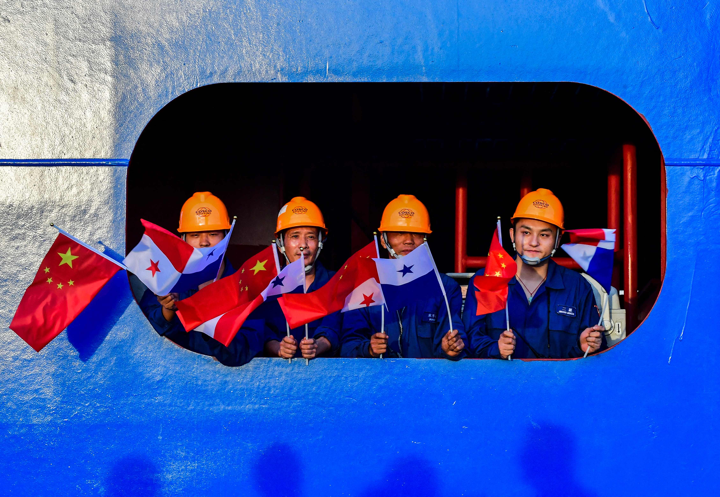 For a while concerns are rising in the European Union over China's involvement in European infrastructure. Also in Belgium. After a study on the potential danger of China's influence in the Port of Antwerp was published by Belgian professor Jonathan Holslag, the topic was hotly debated.
Earlier this week Politico revealed a leaked diplomatic dispute between Belgium and China. In an interview Belgian Foreign Affairs minister Hadja Lahbib had cited Holslag's study, warning that China's commercial ships could be "converted into warships for military equipment." ​ She also added that "together with the rest of the EU, we have to reduce our strategic dependency on China." Chinese officials demanded the interview to be retracted but the foreign affairs ministry declined to do so.
Without much discussion, Cosco became a majority shareholder of a container terminal in the Belgian port of Bruges in 2017. ​ But today, in the light of the energy crisis which is largely caused by the European dependency on Russian gas, alarm bells are ringing all over Europe when it comes down to long-term strategic threats. Belgian prime minister Alexander De Croo admitted that European countries in the past had been "a bit too complacent" regarding China. ​
The concerns on China's rising power are not only being debated in Belgium. While the German Chancellor Olaf Scholz doesn't seem to have a lot of problems with Chinese involvement, protests are rising. Recently a controversial deal was made with Cosco in one of the terminals at Hamburg. According to Reuters the German foreign ministry was very unpleased with this deal. They wrote in a note that the investment "disproportionately expands China's strategic influence on German and European transport infrastructure as well as Germany's dependence on China". They point to "considerable risks that arise when elements of the European transport infrastructure are influenced and controlled by China - while China itself does not allow Germany to participate in Chinese ports".
At the moment there is little agreement between EU governments over how to act but there is increased focus on this kind of foreign threat. Since 2020, the EU has been conducting FDI screenings where foreign investments are monitored. Belgium also reached an agreement this summer to develop a screening mechanism for foreign investments in sensitive sectors. This should prevent critical infrastructure in our country from coming under the control of investors from outside the European Union.
Crew members of Chinese Cosco Shipping Rose container ship wave Chinese and Panamenian flag before China's President Xi Jinping and Panama's Juan Carlso Varela, arrive at the Cocoli locks in the expanded Panama Canal, in Panama City, Panama on December 3, 2018. ​ © BELGA PHOTO LUIS ACOSTA