Belgian PM meets with Zelensky, commits to finance Ukrainian grain shipments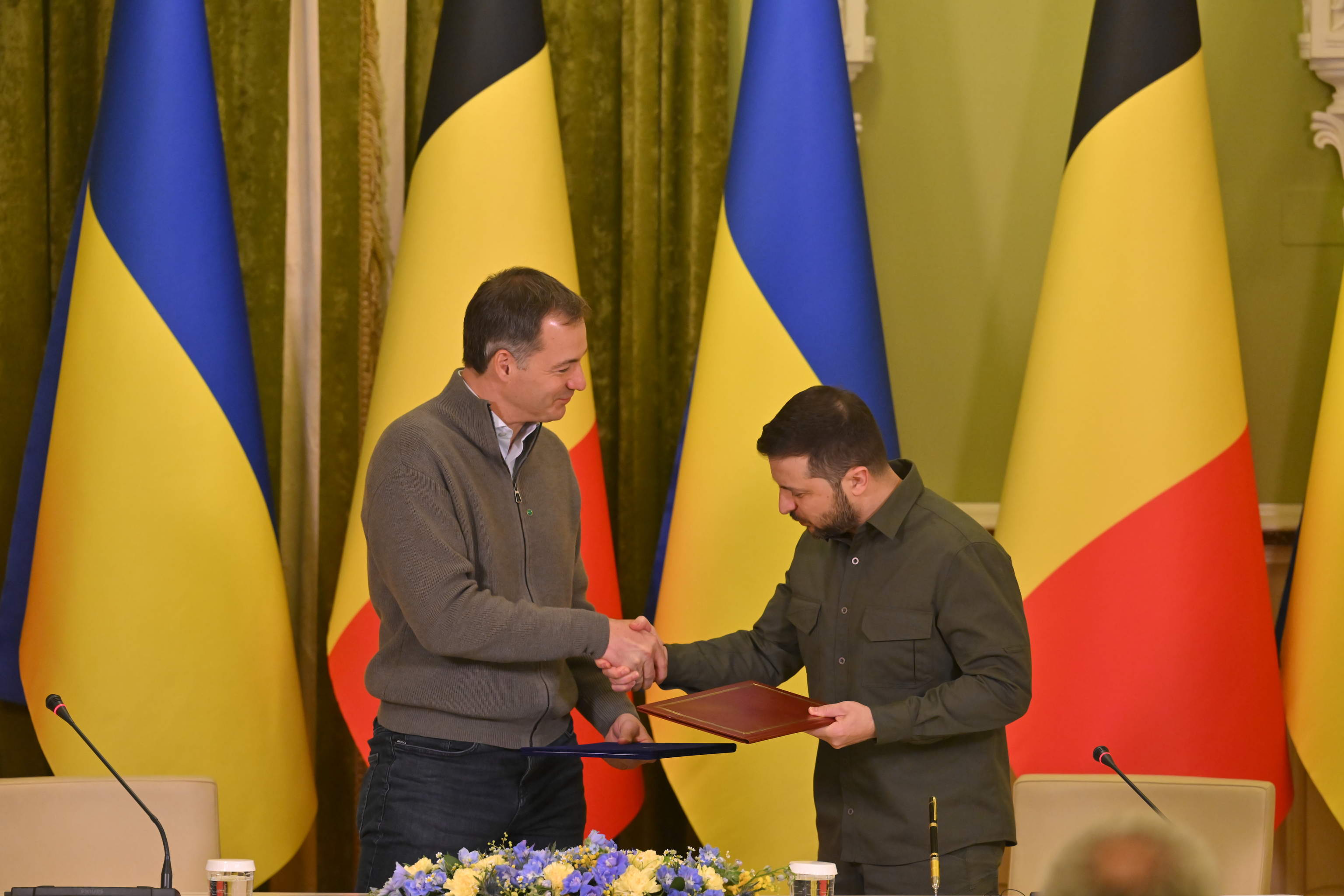 Belgian prime minister Alexander De Croo, together with Foreign minister Hadja Lahbib, met Ukrainian president Volodimir Zelensky in Kyiv on Saturday. De Croo and Zelensky signed a joint statement in which Belgium joins an initiative to finance grain shipments from Ukrainian ports to the south.
Zelensky thanked De Croo for the support Belgium has provided to Ukraine. "Our negotiations and cooperation are very fruitful and in each other's interest," the Ukrainian president said.
The president also noted that the visit comes on a "very special day", namely the commemoration of the millions of victims of the great famine in Ukraine in 1932 and 1933, the 'Holodomor' in Ukrainian. Kyiv considers the famine a genocide by Stalin's regime.
Zelensky accused Russia of now deliberately causing another famine. "We are doing everything possible with our partners to remedy this," he said. Zelensky referred to the 'Grain from Ukraine' initiative to finance grain shipments from Ukrainian ports to the south. Belgium, he said, is one of the first countries to join this initiative.
"We are happy to be part of this," De Croo said. "This helps that some countries do not fall into a famine, but also helps the Ukrainian economy."
Zelenski had also updated De Croo on the state of Ukraine's energy system, following recent Russian missile attacks. "We see Russia targeting your population and energy infrastructure, to put your people in the dark and cold," the Belgian prime minister said. "Today, at this difficult moment, it is important to be here."
The prime minister also elaborated on the various forms of support Belgium has already provided to Ukraine, including generators, as well as fuel, machine guns and artillery. "We will continue the support as long as it is needed, and do whatever it takes," he also said. "Belgium supports Ukrainian sovereignty and territorial integrity."
Meanwhile, the Belgian Council of Ministers approved a new package of military assistance to Ukraine. This includes ten underwater drones, "which allow detecting all underwater threats, mines and spy equipment," according to Belgian Defence minister Ludivine Dedonder. "They will all be delivered to Ukraine by the end of May in several stages." 
Belgium will also provide the Ukrainian military with mobile laboratories that can be "deployed near a chemical, bacteriological, radiological or nuclear incident".
(TOM)
Belgian prime minister Alexander De Croo and Ukrainian president Volodymyr Zelensky shake hands during a visit to Kyiv. - © BELGA PHOTO POOL PHILIP REYNAERS