Belgian minister Kitir visits US Amazon union: "Bizarre that a union is being questioned"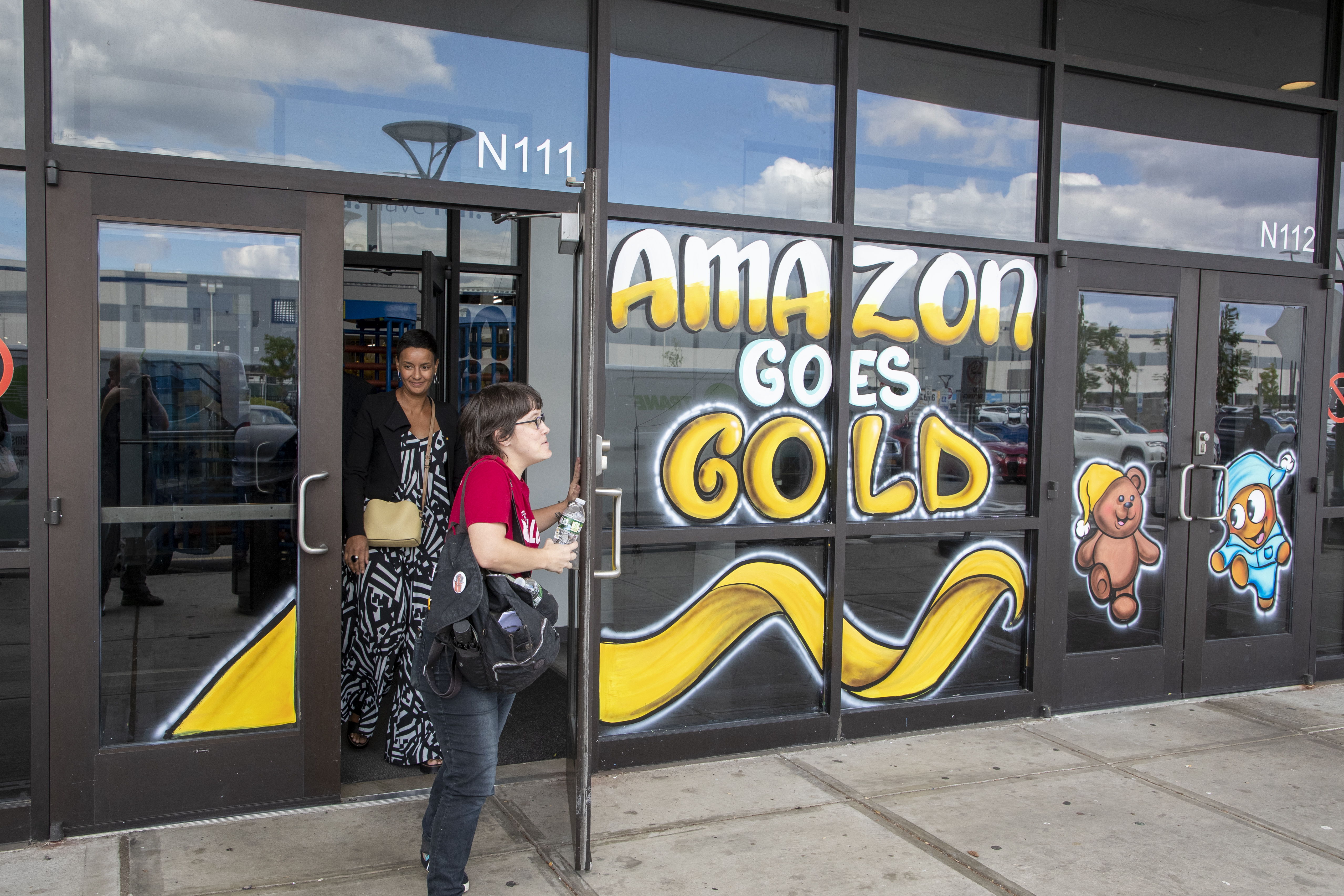 On the sidelines of the United Nations General Assembly in New York, minister of Development and Metropolitan Affairs Meryame Kitir (Vooruit) visited the first-ever union in an Amazon warehouse in the US on Tuesday. Six months after the union's historic breakthrough, the online giant is still trying to block the recognition. "Very bizarre to find that a union is being questioned," Kitir said.
For a former union representative at Ford Genk, the US reality comes across as "bizarre".
"I have known otherwise. The union was there and that was not questioned. Collective solutions were offered so no one was left behind. Today I am here at a multinational company where working conditions are totally different and there is no organisation to even engage in social dialogue to improve the living conditions of workers," the Belgian minister noted.
With more than a million employees, Amazon is the second-largest private employer in the United States. The company has long been under the microscope because of workers' complaints about deplorable working conditions, low wages and huge productivity pressures, but despite this it managed to keep unions out of its US sites for a quarter of a century.
However, that changed when Chris Smalls began an impromptu strike at Amazon's JFK8 warehouse in New York's Staten Island borough in March 2020, protesting the lack of protection against the coronavirus. When his dismissal followed shortly afterwards, Smalls and a group of activists launched a campaign to form a union. To everyone's surprise, they won a vote at the warehouse on 1 April: 2,654 workers voted to form a union, the Amazon Labor Union (ALU), 2,131 against.
Distrust
In the US, barely 10 percent of workers belong to a union. Many view unions with distrust and prefer a direct relationship with employers. US media therefore labelled the vote at JFK8 as one of the biggest union victories in decades. The organisers gained cult status, but the path got bumpier.
A vote at another depot on Staten Island failed. Amazon refused to recognise the ALU and filed a pile of objections to the vote with the labour authorities (NLRB), including the use of unauthorised campaign tactics. It forced the union to launch strike campaigns in other depots. Earlier this month, the ALU scored its first victory in this legal battle, but the battle does not appear to be over yet.
"Any company in the United States that loses a union vote has a playbook ready to delay everything as much as possible. They have as much money as it takes to do that, we have to fight back with what we receive in donations," Connor Spence, the secretary and treasurer whose flat served as the campaign's headquarters, said.
The ongoing fight is working on the minds of some supporters of the ALU.
"Some understand that it will take a while, but others are losing faith. That is exactly the purpose of these delaying tactics."
If the ALU succeeds in gaining its recognition, Amazon will be obliged to enter into negotiations for higher wages or better working conditions. These union members do not harbour much faith in constructive social dialogue with Amazon in the future, but they do hope that their struggle will fuel the enthusiasm of workers in other locations.
"I don't want to sound dramatic, but I really think this could be the precursor to a revolution," campaign leader Julian Mitchell-Israel argued.
The next step could come in mid-October, when a vote is planned at a warehouse in Albany.
(AHU)
© BELGA PHOTO NICOLAS MAETERLINCK - Minister for Development Cooperation Meryame Kitir pictured during a visit to ALU Amazon Labour Union on Staten Island in the margin of the 77th session of the United Nations General Assembly (UNGA 77), in New York City, United States of America, Tuesday 20 September 2022.