Belgian Migration minister called on to find solution for crisis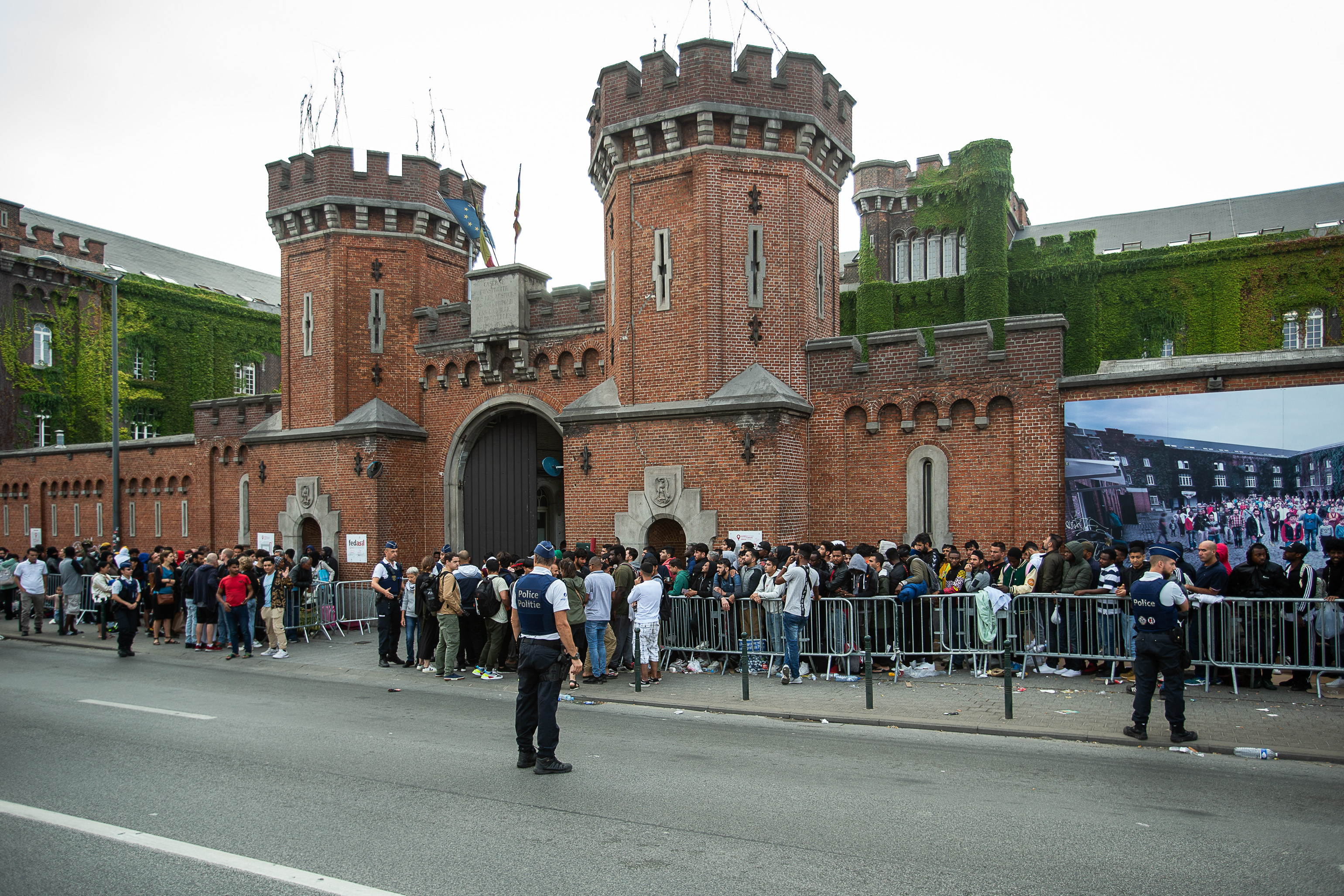 Dozens of asylum seekers were still waiting at the entrance of the Fedasil registration centre at the "Little Castle" (Klein Kasteeltje or Petit-Château) in Brussels this Friday 19 August. Brussels Mayor Philippe Close urgently called on the State Secretary for Asylum and Migration, Nicole de Moor, to find a quick solution, especially now that the tensions between the local population and the asylum seekers at the reception centre are reaching record levels.
The Belgian system for receiving asylum seekers and refugees has been completely saturated for months. This has led to people sleeping on the streets instead of receiving the reception they are entitled to. This week, the situation has reached boiling point. 
On Thursday, around 150 refugees camped outside the closed gates of the Brussels' reception centre, with long lines of people sleeping on the floor, painting a dire picture of the situation. 
The police moved the entrance to the front of the building near the canal following complaints by locals. This resulted in the centre closing as staff no longer had a separate entrance that aims to guarantee their safety. Staff were also not made aware of these changes.
De Moor wrote on Twitter on Thursday evening that what happened at the Klein Kasteeltje "cannot be repeated," adding that the doors must be opened.
While the centre re-opened its doors on Friday (under the supervision of police and only for family reunification and minors) an immediate and concrete solution to the situation continued to be lacking.
Tackling the roots
De Moor is already in the midst of discussions with the Public Buildings Administration to speed up plans to move the registration centre from the 'Klein Kasteeltje' to a site in Schaerbeek, away from the city centre, according to reports from De Standaard.
However, the location in itself is not the issue at the heart of Belgium's migrant crisis. A lack of capacity to provide shelter is.
Flanders' approach
But even with the re-opening of the new centre in Berlaar, more needs to be done, according to Refugee Work Flanders (Vluchtelingenwerk Vlaanderen) policy officer, Thomas Willekens.
"It takes more than Berlaar. It takes more than shortening procedure times in the long run. The house is currently on fire and must first be extinguished before you can start rebuilding it. First, give shelter to everyone who is entitled to it," he said on Twitter.
(VIV)
#FlandersNewsService
© BELGA PHOTO & VIDEO (JAMES ARTHUR GEKIERE) Entrance of the Fedasil registration center Klein Kasteeltje in Brussels, Friday 19 August 2022