King visits Guiana Space Centre on eve of 'launch of the decade'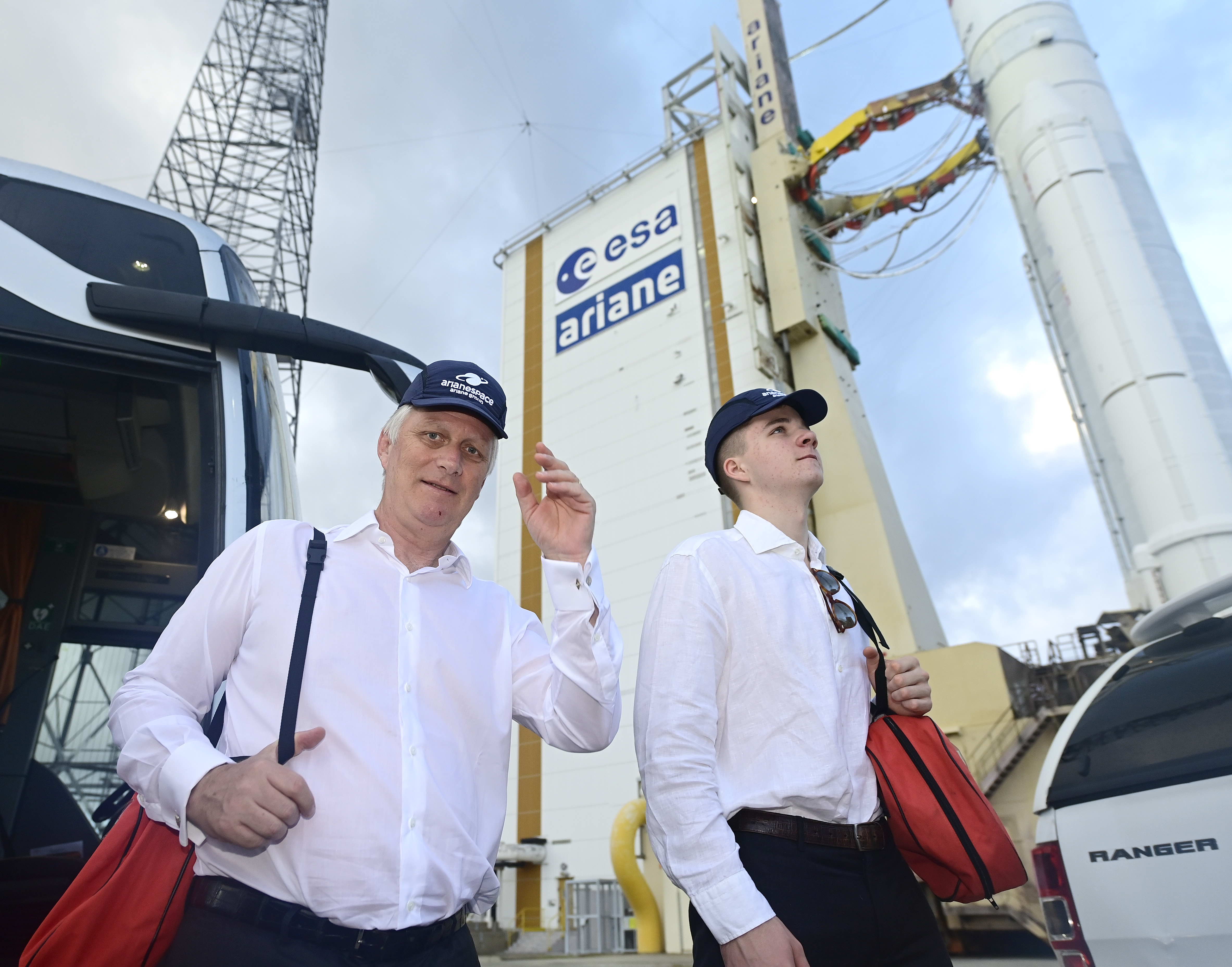 On Wednesday, Belgium's King Philippe and his son Prince Gabriel visited the Guiana Space Centre in French Guiana, an overseas department in South America. The visit occurred on the eve of the long-awaited launch of the Jupiter Icy Moon Explorer (Juice) satellite.
The king and his son visited the Ariane 5 launchpad, from which Juice was due to be launched on Thursday on a mission to explore Jupiter and its moons. The pair then flew over the centre by helicopter and received a briefing on the challenges involved in the "launch of the decade".
King Philippe had left on Tuesday morning from the Melsbroek military airbase north of Brussels. For the first time on an official visit, he was accompanied by his 19-year-old son.
Juice is a European Space Agency (ESA) mission and will be the first spacecraft to orbit a moon other than Earth's. The unmanned craft is expected to arrive at Jupiter by mid-2031 to investigate the gas planet's atmosphere, magnetic environment and rings.
The king is passionate about space travel and attended the departure of Dirk Frimout, the first Belgian in space, in 1992. In 2002, he attended the return of Frank De Winne, Belgium's second-ever astronaut and former commander of the International Space Station, after his first space trip. He was also present for De Winne's second departure in 2009. Last year, he received Josef Aschbacher, ESA general director, and Raphaël Liégeois, the newest Belgian astronaut now undergoing training.
Juice's launch is scheduled for Thursday at 9.15. local time (14.15 Belgian time) and will be the last mission for the Ariane 5. Its successor will be inaugurated in late 2023. In case of poor weather, the operation will be rescheduled. Météo France is currently predicting thunderstorms for Thursday morning. The king may stay up to an additional 24 hours.
Belgium, with a 305 million euro contribution over the period 2023-2027, is the fifth largest financier of the ESA.
(BRV)
© BELGA PHOTO POOL DIDIER LEBRUN
© VIDEO POOL EMMANUEL TALLARICO