Belgian innovation: the first hydrogen panel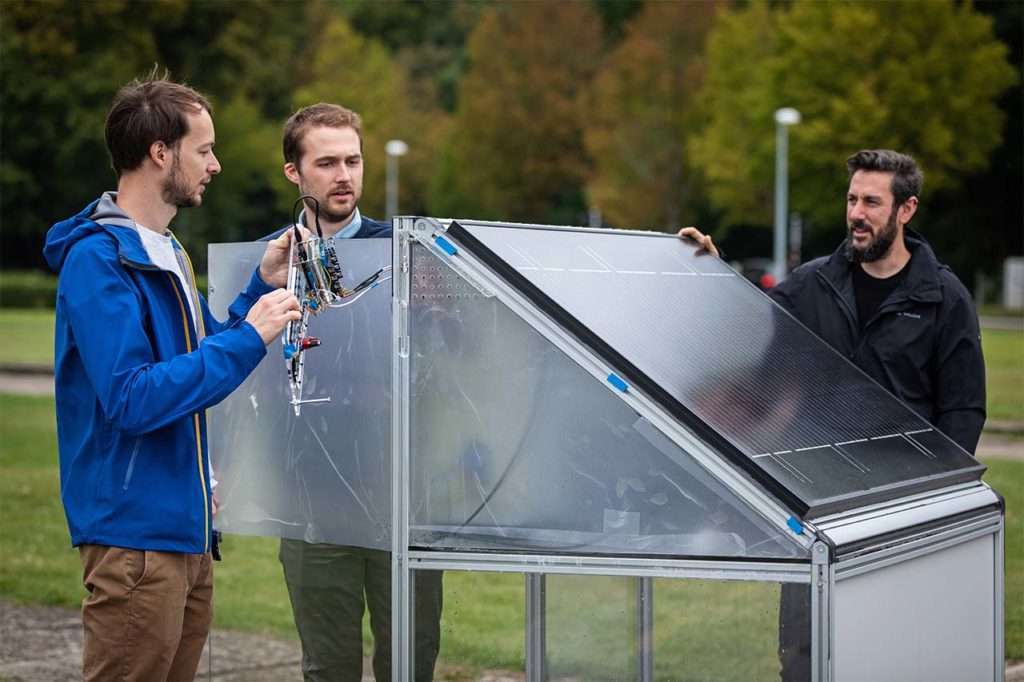 Belgium universities are well known for their excellent research and development concerning cleantech and renewable energy. This year Reuters has for the fourth time in row ranked KU Leuven first on the list of the most innovative universities in Europe. This was again confirmed when last month the project of three KU Leuven bioscience engineers ended up in the finals of the European Inventor Award.
Johan Martens and his two graduate students, Tom Bosserez and Jan Rongé have invented the first solar panel capable of extracting clean hydrogen fuel from air. Current methods to extract hydrogen are typically very energy intensive, require massive facilities and often involve the use of precious metals. Their hydrogen panel has neither of these problems and still promises an an efficiency of 15%. That's more efficient than the traditional ways of producing hydrogen gas.
''With our hydrogen panels we can produce much more renewable energy, without needing anything. In the discussion about hydrogen, the question is often asked whether there is enough renewable energy to create green hydrogen. But we don't need renewable energy to produce hydrogen, the process is direct', explains Jan Rongé.
The process is simple. Air contains water vapour. The hydrogen panel captures this from the air and uses energy from the sun to split water molecules into hydrogen and oxygen. In doing so, the panel uses only low cost materials and does not contain scarce elements such as platinum. The panel has an outlet for pure green hydrogen. This can be stored under pressure or transported by pipeline.
In Belgian weather conditions, the panel can produce an average of 250 litres per day on an annual basis. Twenty of these panels could heat and supply electricity for a well-insulated house with a heat pump all winter long. If you also install a solar thermal collector and traditional solar panels, you have enough to get through the year.
The project is now partnering with gas infrastructure company Fluxys to test the quality and composition of the produced hydrogen throughout the year. Hydrogen panels are installed on top of the roof of Fluxys' gas laboratory where the composition and the quality of the produced green hydrogen will be investigated. 'The aim is to find out whether this composition corresponds to what Fluxys has in mind. We are investigating whether the hydrogen panels can be used to supply the hydrogen network that Fluxys is building. And the results are positive for the time being.'
The three scientists have now set up a spin-off 'Solhyd' that will take care of the further development, production and marketing of the panel. 'But it is not the case that within five years just anyone can switch to hydrogen at home. Initially we are looking mainly at industry and heavier transport', says Rongé.
However, hydrogen panels could in future provide a solution to another new problem that is emerging as more and more roofs are covered with solar panels. Because of the limited capacity of our electricity grid, the 1% of solar panels sometimes fails. This is because too much energy is pumped into the grid. 'On a sunny day, it can happen that the grid becomes oversaturated. This is mainly because the underground electricity cables are not thick enough. The gas network has a larger capacity. If we could cover some of the roofs with hydrogen panels, the electricity grid would be burdened less while we produce and collect more energy.'
#FlandersNewsService
© The Solhyd project