Belgian banks linked to Chinese forced labour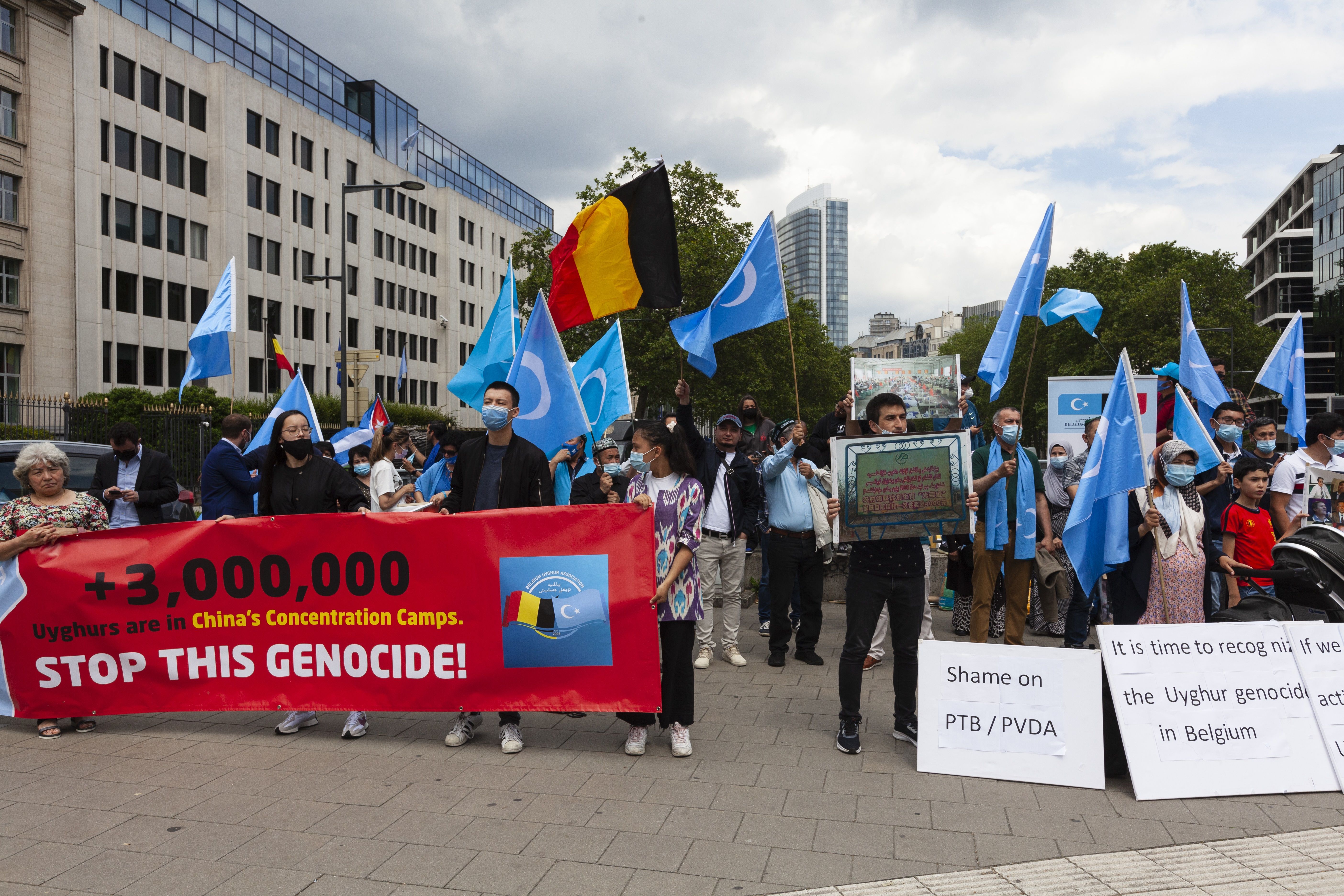 Investment funds of Belgian banks KBC and BNP Paribas include companies exploiting Uyghurs in Xinjiang. De Standaard reported this on Friday.
KBC's June 2022 half-year report shows that the bank offers investment funds of Chinese companies known for their human rights violations and ethically dubious activities in China's Xinjiang province: Hikvision, Xinjiang Goldwind Science and Technology and BGI Genomics.
These companies provide surveillance equipment for the government, electricity for Uyghur detention camps and analyses of genetic data that the government demands from its citizens. According to the US NGO Campaign for Accountability, Xinjiang Goldwind works with Uyghur forced labourers in at least one of its factories.
BNP Fortis Paribas also had an investment fund with Xinjiang Goldwing Science and Technology and the Agricultural Bank of China in 2021. The latter is affiliated with the Xinjiang Production and Construction Corps (XPCC), the first to be put on a European sanctions list for its leading role in exploiting and persecuting the ethnic minority.
Moreover, an (unknown) part of banks Fintro and Schroders' returns depend on such companies, some of which are already on US or Australian sanctions lists.
BNP Fortis Paribas says it has dropped the questionable companies in 2022. "We no longer have active investments in those companies and only offer a general index fund in which Xinjiang Goldwing has a 0.08 per cent weighting," BNP Fortis Paribas reports to De Standaard.
KBC also points out that it is a 'passive index fund', meaning it does not actively invest in those Chinese entities. "We already have a strict exclusion policy, relying on external data suppliers. Those companies do not meet the thresholds used to exclude them from our funds."
The Uyghurs are Turkic people living in China's Xinjiang autonomous region. With about 12 million people, they make up 45 per cent of the region's population. The Uyghurs are oppressed and discriminated against by the Chinese government, which considers them apostates. More than a million Uyghurs and other Muslim minorities have been detained by China in 're-education camps' in Xinjiang.
China wants to re-educate the Uyghurs to make them loyal to the Communist Party and is trying to eradicate the Uyghur culture. As a result, the people in the camps and locals in Xinjiang are constantly monitored in many ways. Cameras with face recognition hang everywhere, and mobile phones are examined.
Rally of the Uyghur community in Brussels. - 8/7/2021 ​ - ​ Belgium / Brussels / Brussels ​ - ​ Between 30 and 50 people (Uyghurs and others) gathered today near the seat of the federal government and parliament as the Belgian Chamber of Deputies voted to recognise the risk of genocide against the Muslim minority in China. Despite the threat of a diplomatic crisis between the Kingdom and China, the House voted unanimously (except for the PTB) to recognise the risk of genocide.
© Nicolas Landemard / Le Pictorium