Be Gold: Belgian Olympic Committee renews support for young athletes until 2032
7 March 2023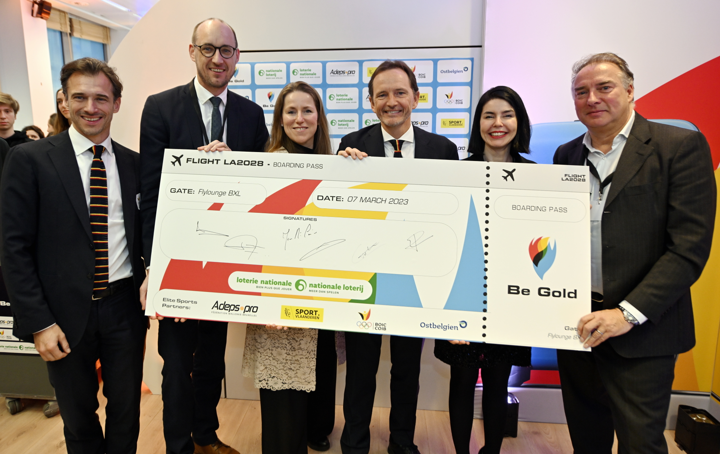 The chairman and CEO of the Belgian Olympic and Interfederal Committee (BOIC), Jean-Michel Saive and Cedric Van Branteghem, announced this Tuesday, March 7, the extension of the Be Gold project until 2032. The program contributes to developing young sports talents in Belgium aiming to achieve a Top 8 at the Olympic Games and a Top 3 at the Paralympic Games. The BOIC wants to continue to support these young athletes on their path to the top of their sport.
"This project has been running since 2004. We are very proud that we can continue until at least 2032," Saive said. The ambition remains the same. "We aim for as many medals and top eight positions at the Olympic Games as possible. We aim for medals for the Paralympic athletes, support them, all between the ages of 13 and 23," he added. ​ 
Over the years, the BOIC has worked on 499 projects and 2,888 athletes. "We offer them individualised support, we want to meet the specific needs of each athlete. The successes are already there, and we want to build on that in the future," Saive detailed.
Van Branteghem also explained the expectations for the coming years. "We want to do even better at international youth championships. The number of athletes under our wings is growing and so we are also aiming for more top eight rankings and medals," he said. 
The Paralympic athletes are also part of it. "Several para-athletes are already part of Be Gold. That goes hand in hand with the values of the BOIC. We are also very happy with the support of our partners. It is teamwork, a bit like redemption. And I am familiar with that", concluded Van Branteghem with a smile.
(VIV)
BOIC-COIB CEO Cedric Van Branteghem, Vice-prime minister and Finance Minister Vincent Van Peteghem, German Community Minister of Culture, Tourism and Employment Isabelle Weykmans (PFF), BOIC - COIB chairman Jean-Michel Saive, Federation Wallonia - Brussels Minister Valerie Glatigny and Sport Vlaanderen administrator Philippe Paquay signing the extension of the Be Gold project until 2032 in Brussels, on 7 March 2023. ©BELGA PHOTO (ERIC LALMAND)