Allies fall short of defence spending in NATO's 2022 annual report
21 March 2023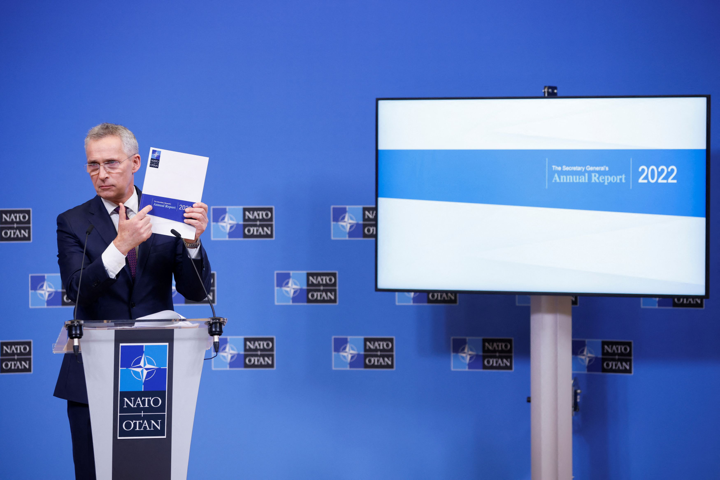 NATO Secretary-General Jens Stoltenberg held a news conference at headquarters in Brussels today. He revealed the 2022 annual report saw only 7 out of 30 alliance members spending at least 2 percent of their GDP (Gross Domestic Product) on defence. The 7 include Estonia (2.12 percent), Greece (3,54 percent) Latvia (2.07 percent), Lithuania (2.47 percent), Poland (2.42 percent), the United Kingdom (2.16 percent), and the United States (3.46 percent). While the countries in Europe with the largest economies fell markedly short of the 2 percent target in Germany (1.49 percent), Italy (1.51 percent), France (1.89 percent), and Belgium (1.18 percent). 
"In a more dangerous world, we need to invest more in defence."
Stoltenberg was vocal about his wish for allies to up their military spending in the short term. He stated, "There is no doubt we need to do more, and we need to do it faster. The pace we have when it comes to increasing defence spending is not high enough. In a more dangerous world, we need to invest more in defence."
During the conference, Stoltenberg commended the resolve of the Ukrainian people against Russia's aggression and made a point of acknowledging the successes of NATO over the past year. "President Putin," he said, "wanted less NATO, but he has got exactly the opposite: more NATO".
Approximately one year after Russia's invasion of Ukraine, NATO allies have been in deep discussions about the next moves to adapt the spending target. With the war on European soil, several allies have requested more military spending, but not all members are eager to raise their pledges. 
Regardless of individual allied members' views, Stoltenberg has made it clear he expects an agreement to be reached at the NATO summit in Lithuania this July that would see 2 percent as a minimum to be invested in defence
HM - PHOTO NATO Secretary-General Jens Stoltenberg holds a news conference to present NATO's annual report for 2022, in Brussels, Belgium March 21, 2023. ©REUTERS/Johanna Geron